MORNING WALK INTO YEO VALLEY
WEATHER: a very pleasant day, the warmest of the year so far, clear sky to start then fluffy white clouds and an afternoon breeze
I was back on my usual patch this morning after spending the last two mornings seeking new species elsewhere, it was great to be back. It was a lovely tranquil stroll with just bird song (and a hundred sheep) for company, how marvellous.
From my front door I could hear Goldcrest in the Sycamores and a Pheasant in the meadow, I saw the usual two Red-legged Partridges and a few Wood Pigeons too.
The morning light was exquisite, I took pictures of the Jackdaws standing in their usual place on the chimneys of the house along the road, House Martins, House Sparrows and Starlings were also seen around the houses. Three Common Swifts were flying up to the eaves on a couple of the houses.
Western Jackdaws
I kept my appointment with the Kingfisher except he failed to turn up, I got a couple of flight views but that was all. Many birds were out enjoying the superb morning light and lots were in song. I filmed Blackcap, Chiffchaff, Chaffinch and Collared Dove, but I aslo heard, Robin, Wren, Blackbird, Song Thrush, Goldfinch and Great Tit.
Common Pheasant
Common Chiffchaff
Chaffinch
Blackcap
Along the river Yeo I saw a second Kingfisher and almost got a picture of it, a Jay flew over my head and landed nearby but failed to pose for a picture too. After not sseing the Long-tailed Tits for quite a few days I bumped into a flock today, it was good to see 9 in the party and all of them had grown their long tails now.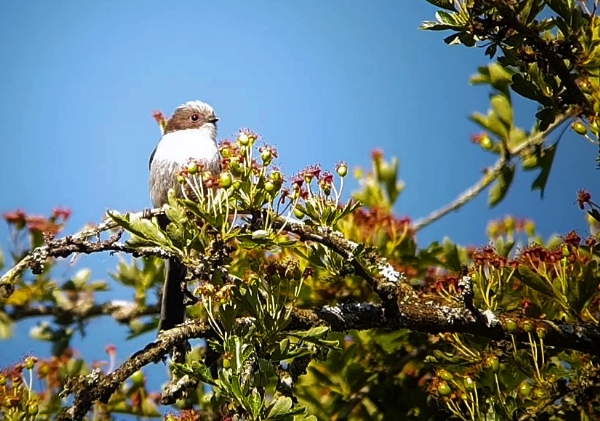 Long-tailed Tit
A Marsh Tit appeared in the bramble clumps, it was so active I couldn't get it in the scope long enough for a picture, so another species went un-photographed, is there such a word??
The next piece of excitement was a Little Egret flyover and then a few minutes later even greater excitement when a Red Kite circled over the meadows before drifting off towards bradford Abbas. Just a couple of weeks ago I would gone potty over a Red Kite sighting but now they are becoming a common sight in these parts.
Red Kite
I heard two Green Woodpeckers calling and I had a Great Spotted Woodpecker flyover, several Pheasants showed up throughout the walk and good number of Demoiselle damselflies were on the wing.
Small Garden Bumble-Bee seen in the garden
Large White, in the meadow
I was back home at 9:30am and for the rest of the day we sat in the garden reading or dozing off, It was so relaxing just sitting in the sunshine with a lovely cooling breeze.
Pied Wagtail collecting food for chicks in the meadow this afternoon