RSPB HAM WALL – NOAH'S LAKE, SHAPWICK – RSPB CATCOTT LOW
WEATHER: a pleasant morning with increasing levels of cloud, light showers later, very light wind if any. Temp 16C
I had another great day out with my Welsh buddy, Nigel, we met up in the car park at Ham Wall at 7am. Whilst I waited for said Welshman (not usually late) i saw a raptor flying beyond a row of trees, it looked remarkably like a BLACK KITE, I never got a great view of it but it looked good for the kite. As there was no other observers and no other reports later of such a bird, I dismissed it as Marsh Harrier.
Bambi came out to see us today
Once Nigel had turned up we walked straight to Noah's Lake where two of our main targets birds were to be found, we walked along the old train-track besides the main drain and enjoyed many sightings in the hedgerow and on Meare Heath lake. Blackcaps, Chiffchaffs and Willow Warblers joined the throngs of Blue, Great and Long-tailed Tits. We saw a couple of Roe Deer on the other side of the Drain (Canal), they didn't seemed bothered by us at all.
Great Egret with two Little Egrets and a Grey Heron
As we stood sifting through the dozens of ducks and egrets on the Meare lake a Cetti's Warbler exploded into song behind us but did not show. Great and Little Egrets sat preening with a Grey Heron whilst many Gadwall & Mallards fed alongside Wigeon, Mute Swans and dozens of Common Coots.
one of the first birds of note on Noah's lake was this Bittern - can you spot it in the reeds?
The hide at Noah's is now open, we joined two other birders in there, they quickly got us onto the BITTERN that was standing in the reeds on the opposite side of the lake, nice one! An Osprey sat on a pole, it flew off and attempted to catch a fish three time without success. This bird had a blue ring on its leg with the code JJ6 written on it.
record shot of the Osprey
As usual Noah's Lake was topped up with birds, hundreds of them! Coots accounted for about 50% and Greylag Geese numbered over 200, also Gadwall were very numerous as were Mallards. Nigel picked out the single BLACK-NECKED GREBE, our main target bird, quickly followed by a Reed Bunting then a Common Whitethroat and then a Reed Warbler. At this point I felt like packing up and going home, even the other guys in the hide thought Nigel was my Guide!!!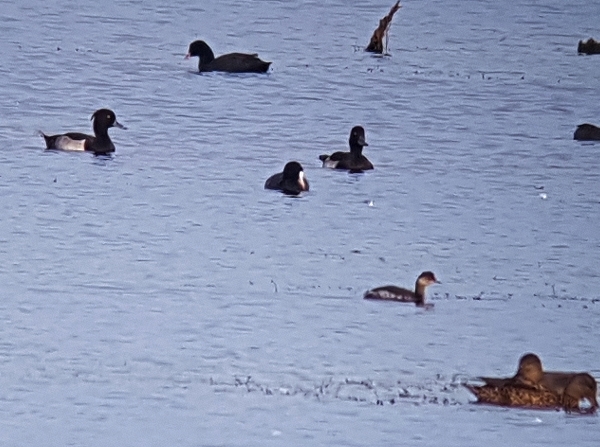 record shot of the Black-necked Grebe with Tufted Duck, Gadwall and Coot
We also found Tufted Duck, more Wigeon but we didn't see Teal or Shoveler. A pair of Egyptian Geese was unexpected, Great-crested Grebes were! A female Marsh Harrier caused havoc by landing on an island not too far from the hide, the Coots shot off in all directions.
female Tufted Duck
Before we left the area we stopped in the Alder wood to look for woodland birds and came up with a couple of Treecreepers and the usual Blue & Great Tits. We did note Great Spotted Woodpecker further along the walk and we added Coal Tit to the day list on the way back to the car park.
Common Snipe with a shy Lapwing
After a quick coffee break we made our way onto the Ham Wall Reserve, taking the main track to viewing platform 1 and then we crossed the main drain and walked to viewing platform 2. Birds seen in the bushes along the way included more Blackcaps, Willow Warblers and Chiffchaffs as well as an abundance of Long-tailed Tits, they appear to have fared extremely well this year.
Egyptian Geese
From various lookout points onto the open lagoons and marshes Nigel 'showed me' a number of other species such as: Teal, Shoveler, Common Snipe, Green Sandpiper and on the main lagoon a couple of graceful Pintail highlighted our walk. A Water Rail called but failed to show, lots of Great Egrets, Little Egrets, Cormorants, Grey Herons and another pair of Egyptian Geese were also nice to see. Marsh Harriers featured several times during the walk, but we failed to find Bearded Tit or any other waders.
a pair of Pintail, eclipsed male on the left - Little Egret behind them
From Ham Wall we drove round to RSPB Catcott Low reserve, the hide is now open but it had six people in there and none of them were wearing masks. We sat in the car park and ate our lunch, in the meantime we saw 10 Cattle Egrets in the field adjacent to the car park, they were snatching flies off the cattle, what a delicious lunch they had!!
the obligatory Cattle Egret shot - very soon they will not get the headlines because they are so common here
We eventually got into the hide and saw many more Cattle Egrets (my count was 41), we had just missed a Wood Sandpiper which had flown over to a distance part of the reserve. We did find three Whinchats, a single Stonechat, seven Snipe dropped in and a few Gadwall were feeding very close to the hide with a couple of Lapwings.
the Gadwall - loved by so many birders, you can see why
Other observation from the hide included: Common Kestrel, several Great Egrets and two Common Buzzards, one of them was almost fully white in plumage? We left at 1pm, on my way home I saw another 22 Cattle Egrets not far from the reserve, they really are getting common on the levels.
I added 38 species to the September list which now stands at 73.