LANKHAM BOTTOM & CHEDDAR RESERVOIR
WEATHER: cloudy with sunny spells and some light showers. Temp mid-teens.
Well September continues with another great day in the field and more species added to my monthly list, I added four more today taking my September total to 86. I started the morning at Lankham Bottom which is a small reserve about 10 miles south of Stoford. A steep escarpment faces westward and consists of a steep sloping grazing meadow and mixed scrub, it is a great place for birds and butterflies.
sunrise over Lankham Bottom
A heavy dew soaked my boots and trouser bottoms in no time, it was just before 7am when I arrived and it appeared very quiet to start with. I saw a flock of Linnets, numbering over 50 birds, flying over a maize field above the reserve.
looking westward down into the valley or Bottom
Gradually the birds came out to play, I saw Stonechats, Chiffchaffs, Blue Tits and hundreds of Pheasants! The Pheasant are obviously bred and released for shooting, there must have about 300 in one field below me in the bottom of the Bottom (valley).
some of the hundreds of Pheasants in the valley
the scrub where most of the birds were seen
Soon I started finding a few goodies, several Common Whitethroats appeared in the brambles and then a mixed flock past through the scrub, I saw Long-tailed Tit, Blackcap (4), Chiffchaff (2), Blue Tit & Great Tit.
Common Stonechat
It was on my return walk that I saw most birds, the dew had dried out and the bushes became quite lively, I found my target species the Yellowhammer, then I saw a pair of noisy Jays fly over and I heard a Great Spotted Woodpecker, these woodland species were quite a surprise out here.
Yellowhammer
Just before I left I scanned the upper scrub area for the last time and got onto a Whinchat so I walked up the slope to get a little closer and soon I found three more!! The Whinchats were given a hard time by the Stonechats, which is understandable, but then the Whitethroats joined in and a Robin.
two of the four Whinchats seen
Whinchats a little closer
I returned home around 9:30am and just after 10am Dawn and I set off with picnic on board to Cheddar Reservoir, a Grey Phalarope had been found there yesterday and again this morning, I was hoping to see it today. We arrived with dark clouds threatening rain but it held off during our walk around the perimeter of the reservoir, a walk of 3.4Km.
the very circular Cheddar Reservoir
a flotilla of Swans with Coots in front of them
The Phalarope was, of course, showing at the furthest point away from where we parked but that wasn't a problem, we took our time and ambled round admiring the views and the birds on the water, Hundreds of Eurasian Coots were joined by dozens of Mute Swans, Canada Geese, Great Crested Grebes and Mallards.
the star of the show - Grey Phalarope
We eventually arrived where the Phalarope was feeding, it was frantically zipping around as Phalaropes do, picking off small flies from the surface of the water. We watched in amazement at the distance the bird covered in a very short time, it had a habit of travelling about 300 meters and then turning around and covering the same ground over again, it wasn't bothered at all by the small crowd of admirers and allowed a very close approach.
We continued our walk to the sailing club centre where most of the wild ducks were feeding and roosting, I picked out a single Pintail, a single Red-crested Pochard (which was fast asleep), a single Little Grebe, eight Teal and dozens of Mallards. The concrete sides to the reservoir held a good number of Pied Wagtails and many Cormorants sat on buoys or fed in the water, there was supposed to be a European Shag out there but I never found it.
Pintail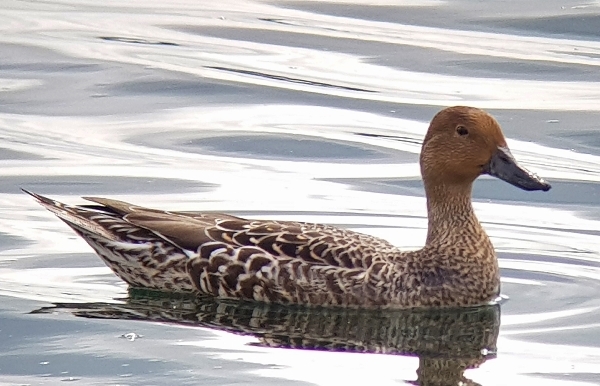 what a beauty - just look at the markings on this Pintail
After a couple of hours we drove into the town of Cheddar then up through the famous Gorge, it was jam packed with tourists which put us off from stopping. We ate our picnic sitting in the sunshine on a grassy bank about two miles from the gorge. I noted a few butterflies whilst eating my sandwiches: both Large and Small Whites, Red Admiral and a few Common Blues fluttered by.
you will have to believe me that this a Red-crested Pochard
My last wildlife observation of the day was that of a Common Darter dragonfly which ws perched in the garden as I sat drinking a late afternoon cuppa!
Common Darter