VISITS TO: RIVER LIM, AT UPLYME & LYME REGIS – TRINITY HILL NNR - SEATON MARSHES – WEST & EAST BEXINGTON - MAIDEN CASTLE, DORCHESTER
WEATHER; overcast, with some sunshine, very light drizzle later, no wind. Max Temp. 20C
It was an eventful day with plenty of good birding at a number of excellent sites, I was once again with my good friend Nigel who as usual was also my chauffeur. Nigel collected me just before 7am and we drove straight down to the coast at Lyme Regis which is just over the Dorset border in Devon.
Unofrtunately the Dipper was hidden slightly behind some hanging bramble stems
We parked in Uplyme by a bridge over the River Lim and our target species was found by Nigel in a matter of a few minutes, it was a (White-throated) Dipper. This bird quickly disappeared and we spent sometime looking for a second bird which Nigel promptly found. We also saw a couple of Grey Wagtails and a Kingfisher dashed upriver whilst Nigel wasn't looking.
We made second stop in the area, this time at the beach, we parked at the bottom of the main street of Lyme Regis and scanned the bay from the edge of the car park. We saw Cormorants and a couple of Shags on the rocks at the end of the Cobb and a Rock Pipit flitted about around our feet but we did not see the wintering Eider Duck which had recently arrived for its second winter (we found out later that apparently it is usually in the small marina further along the beach from where we were standing)….Doh!!!
Our next stop was at a small reserve at the top of the hill near the A35 called Trinity Hill LNR, it consists of woodland an open wet grassland and a small area of heathland. We tried our luck to see if we could find a Dartford Warbler (we have no knowledge of any breeding there) it was just a recce really. We did find a very large mixed flock with over 20 Long-tailed Tits and the accompanying Blue, Great and Coal Tits with a few Chiffchaffs thrown in. But not much else was seen except for a few Goldfinches, two Chaffinches and a single Greenfinch.
the view from the Ilsand Hide at seaton Marshes - there are 14 Little Egrets in the picture
Seaton Marshes is one of our favourite places especially the island Hide which is situated at the end of a concealed (from the birds) boardwalk out in the middle of Black Hole Marsh. The waders get so close to you it is magical at times and today was no exception. A juvenile Ruff fed close to the board walk with a few Dunlin, some Redshanks and several Ringed Plovers.
juvenile Ruff
The usual large flock of Black-tailed Godwits were present and behind them a couple of Bar-tailed Godwits fed on the mud. A total of 10 species of waders was found (11 if you include Lapwing as a wader), we saw a few Oystercatchers and singles of Greenshank, Common & Green Sandpiper. Only Teal and Mallard represented the ducks and 14 Little Egrets made an impressive sight especially when 12 of the thm decied to feed a tight group. We ate our picnic lunch in warm sunshine back I the car park before setting off.
Dunlin and Ringed Plovers
From Seaton we travelled along the coast to Bridport and along the coast road to West Bexington where there is a car park right on the beach, our intention was to walk to the beach below East Bexington (which borders the Abbotsbury Swannery). We underestimated the distance and decided that it would be best if Nigel turned back and drove the car round the East Bexington beach instead of walking. Before he left we found Common Stonechat and Common Whitethroat in the scrub behind the pebble beach near a flock of House Sparrows..
Greenshank
The pebble beach began to rise into a mound as I walked eastward, it was the beginning of Chesil Bank which was quite large by the time I got to East Bexington. In the meantime I enjoyed sightings along the way of a dozen or so of Common Stonechats, Swallows and House Martins.
this Wheatear wasn't just showing off its balancing technique - it genuinely had an injured leg
Just past the first house along the beach into East Bexington, a small meadow held three Northern Wheatears, two Whinchats, two Meadow Pipits and a family of Stonechats. I also saw Common Buzzard, Common Kestrel and most of the common garden birds, Dunnock, Robin, Wren, Blackbird, Blue and Great Tits.
juvenile Black-tailed Godwit taken by Nigel
At The beach car park below East Bexington I was re-united with Nigel and we climbed the pebble bank to scan the sea, according to recent reports two Great Northern Divers had been feeding there for the past few weeks. Not today I'm afraid, we saw zilch on the water, we did see the three big gull species loafing on the pebble bank and a few Black-headed Gulls on the wing but nothing else.
the obligatory Wheatear on a fence-post picture
For our final birding venue we decided to visit Maiden Castle, Nigel wanted to photograph a Whinchat and I wanted to find a flock of Corn Buntings. We parked on the north/western boundary and took a track along the edge of some large grass meadows and began walking towards the huge Hill Fort which was about a mile away. About half down the track we decided once again that we had taken on too much of a walk for Nigel's dodgy knees and so he went back to the car to drive around to the main car park at the foot of the Castle, but not before we watched a couple of Chifchaffs, some Blue Tits and a huge mixed flock of Rook and Jackdaws.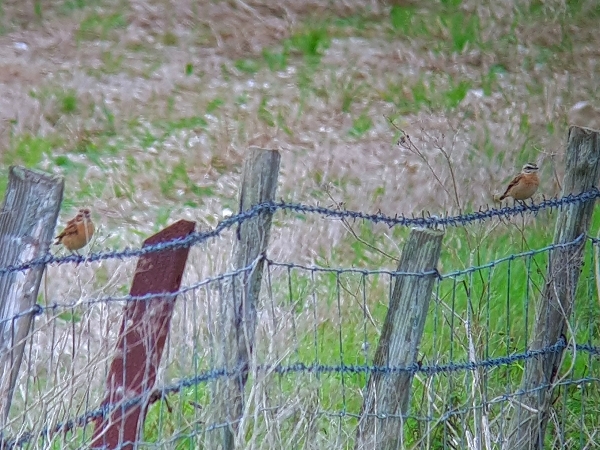 Whichats on the fence
It was pretty quiet in the meadows and it wasn't until I reached an area of set-aside that birds started to appear, I could see many birds flitting about in the 'wild' area and along a hedgerow. I was soon watching a very large flock of Linnets, with some Goldfinches and Chaffinches. I picked out a few Wheatears along a fence-line and then I started seeing Whinchats, lots of them.
Whichat in a bush!
Nigel parked the car and began to walk up the hill to where I was standing, in the meantime a male Common Redstart popped out of the hedge and sat on a fence-post. Once Nigel arrived the Whichats decided to gather in numbers, I counted 11 together along the fence and 5 more in the scrub, this was the largest number I had seen in the UK at any one time!! Nigel got his few photographs but I never saw a Corn Bunting!!
Common Redstart
We left at 4:30pm and drove to my home where we sat in the late afternoon sunshine drinking acuppa before Nigel drove back to Chepstow, another 1 ½ hours for him!!