LANKHAM BOTTOM
WEATHER: overcast with very light wind to start with, brighter later with long sunny spells. Temp 5-12C
I returned to Lanham Bottom determined to add Ring Ouzel to my local area list. I set out at 7:45, it was dull and overcast but there was no wind whatsoever. I parked at the most easterly gate and walk along the top of the reserve with the emerging sunlight behind me. It was beautiful, the scenery is truly magical and the air was as still as death!
A view from the top gate as you enter the reserve at Lankham Bottom
I searched the hawthorn trees for thrushes and soon I found 'four and twenty blackbirds' feasting on the berries, many of them were 'Continental Blackbirds' having dark bills and no yellow eye-rings. I found a couple of Song Thrushes too and plenty of Redwings, but I didn't see Mistle Thrush, Ring Ouzel or Fieldfare.
one of the two Song thrushes in the scrub
Many of the flocks of birds I saw just two days ago had disappeared, I did find a dozen Yellowhammers but I didn't see more than a couple of Linnets and no Meadow Pipits were present.
'Continental' Blackbird
I walked along the semi-circular hill top looking down into the Bottom which looks like the biggest amphitheatre you are ever likely to see, it took me an hour to get to the other side as so many Blackbirds had to be checked out.
a proper good old English Blackbird
I found Stonechats, Robins, Chiffchaffs, Blackcaps, Dunnocks, Wrens, Blue & Great Tits and I saw a party of Long-tailed Tits but there were far fewer birds in the area than there was during my last visit. A few Herring Gulls flew over and very large mixed flocks of Jackdaws and Rooks appeared over the hills.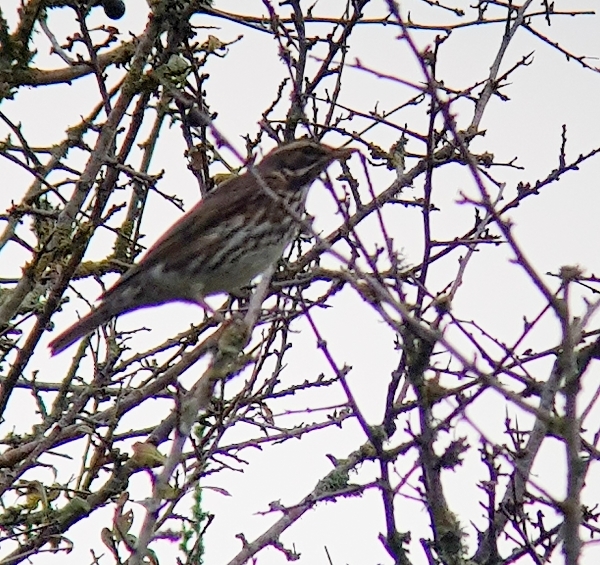 record shot of a Redwing, you know how flighty these birds can be
the view down to Cattistock Village, you can just make out the church
At one stage I saw a couple of Redwings on the ground feeding with a flock of Chaffinches and then a small flock of Goldfinches dropped into the scrub with a couple of Linnets, but that was all I saw. I left the area just after 10am, don't worry, I shall return and I shall have pictures of a Ring Ouzel pretty soon!!