MORNING WALK INTO YEO VALLEY
WEATHER; grey, dull and wet. Temp 12C
I can't believe that I woke up at 9am!!! Half the day gone and I was still in bed, wow!! It was almost 10am by the time I got out and it was raining, in fact, it never stopped raining for the whole 90 minutes I was out. Despite the weather I had a great time and to be fair the rain was only light, I took the usual walk into Yeo Valley.
As I entered the track into the valley a Kestrel flew off the top of a telegraph pole just ahead of me, it landed on the far side of a large oak about 50 meters ahead, I couldn't see it perched and as I got nearer it flew off down the valley. Straight after that a Jay flew across the track from the alders, then second bird and finally a third. They all flew up and over Rook's Hill, I still do not have a picture of this very shy corvid. Yet, if I go into Nine Springs Park in the centre of Yeovil they are so much more obliging, they practically feed from your hand, they are completely habituated to humans.
Following the winding route of the stream I kept my eye on the water in the hope of seeing an Otter and at the same time I kept an occasional eye on the canopy of the alders in case a flock of Siskins flew in. I heard a Green Woodpecker and when I turned around look for it, a flock of birds caught my eye flying high heading southwest towards Sutton Bingham Reservoir. I binned them and saw that they were LAPWINGS!!! Wow!!! Another year-patch tick, 14 of them. They tried to sneak past by flying behind me, but they went onto my list. What a week I am having, that is the third patch tick this week, remember I saw Shoveler and Marsh Harrier just a few days ago.
Well, I was high as a kite by now and a little rain wasn't going to spoil my fun. I continued to the hawthorn hedge and saw that dozens of Fieldfares and Redwings were devouring the berry crop. The flock was much bigger today than it was yesterday, I estimated that it was between 50-70 and included a much higher percentage of Redwings than it did yesterday.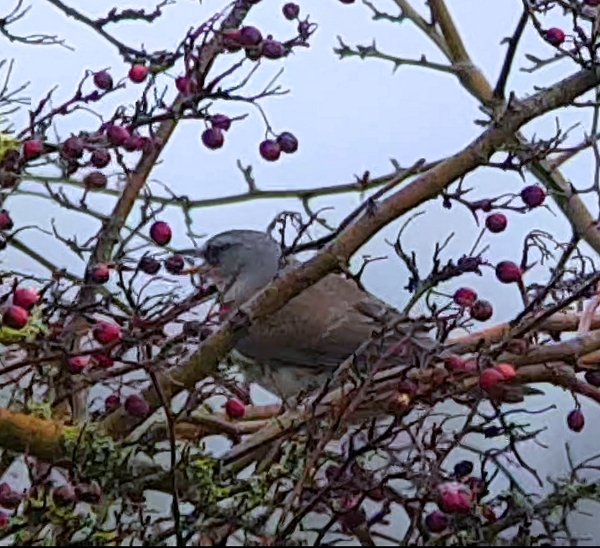 a berry-eating Fieldfare
I used my skillfull stealthiness to get nearer, aha! It worked this time. I noticed that many of these winter thrushes were also feeding on the ground behind the hawthorn bushes. Then a Pheasant appeared amongst them, it walked right through the flock and made for and interesting photograph.
a Pheasant flushing a Fieldfare
A Pheansat, a Starling and three Fieldfares - note that the RH Fieldfare has light pale spots on its wing covets - this is a juvenile bird
Filedfare showing off its grey rump
Filedfare showing off its white underwing - have you had enough of Fieldfares yet?
Then all of thrushes took to the air, they flew towards me and over the line of alders, I soon realised that there was a lot more than I estimated at first, I reckon at least 150 to 200 birds were now in the valley.
a Song Thrush - this would have a much better picture if wasn't for a twig, right inline with the bird
The rest of the walk produced little else except for a view of a Goldcrest at the confluence of the stream and the River Yeo. I stood there for a while as the rain increased in intensity and was fortunate to see Song Thrushes and Blackbirds nipping in and out of the blackthorn to steal the ever-decreasing supply of sloes. I felt a little twinge of guilt as I watched them taking the last few sloes as I recalled that I had recently 'stolen' a couple of kilos of sloes to make sloe-gin!!
A herring Gull foraging in the middle of the field was, to be sure, the was the very first Herring Gull that I had seen this year actually on the ground in the valley, another first, whoopee!
As I climbed the slope up to Rook's Hill a female Mallard flew up off the river, a November first and then I spotted the Kestrel again. she was sitting on the top of the dead tree. I used my super-stealth tactics once again to get closer, click, click it did the trick!
The Kestrel was in the can, this is most probably the female that I have seen throughout October and November, I guess she has decided to spend the winter here, I do hope she stays and tries to breed next year.
Just then the Kestrel was spooked by a large flock of finches, they flew very close to her. About 40 Siskins and Goldfinches flew around for a while before disappearing upriver.
Kestrel spooked by Siskins?? Shouldn't it be the other way round??
That was my last piece of excitement, I walked up and over Rook's Hill with the rain in my face, it was nice to get back home so that I could dry out.
Watching the feeders later on I noted Nuthatch, Blue Tit, Great Tit, Goldfinch and Robin. A male Common Pheasant sat on our fence for a while, don't ask me why it did not drop into the garden, it just sat there for about 30 minutes and then dropped back into the meadow.
Maybe that this was the same Pheasant that featured in the earlier pictures and had come for its payment??
Now where did I put my gun???