WEYMOUTH – LODMOOR – FERRYBRIDGE & PORTLAND HARBOUR
WEATHER: freezing to start, with mist and cloud. Cleared later. Temp 0-8C
Dawn and I decided to drive down to coast and get some fresh sea-air, we packed a picnic, filled our coffee flask and after scraping the ice from the windscreen of the car wet set off. It was just before 9am as we left Stoford and we arrived at the back entrance to Lodmoor some 40 minutes later.
The sky over Lodmoor as seen through Dawn's eye
It was a cloudy morning but you could see a band of blue sky to the north and west with blue patches above us, there was very little wind, only a very light breeze, but it was cold. We set off walking to the west side of the reserve, noting a few species along the way including, Redwing, Song Thrush, Linnet, Magpie, House Sparrow, Collared Dove, Starling and Jackdaw. As we walked along the west track heading towards the beach we saw a Marsh Harrier high above the reserve. This was one two Harriers that plagued the reserve the whole time we were there, a female and an immature male, they kept putting up all the waders and some of the ducks.
Eurasian Teal
Mediterranean Gull with a Black-headed Gull and the head of a Lapwing
Along the west track we found Eurasian Teal, Lapwing, Dunlin, Shelduck, Common Snipe ( a flock of 50+ flew around at one stage), Dunlin (5), Shoveler and lots of Mediterranean Gulls were mixed in with Black-headed Gulls. A Kingfisher flashed by as we neared the largest pool, in the far end of this pool was our target bird, a RED-NECKED GREBE, it was fishing right in front of the birding shelter from where a few people were enjoying great views.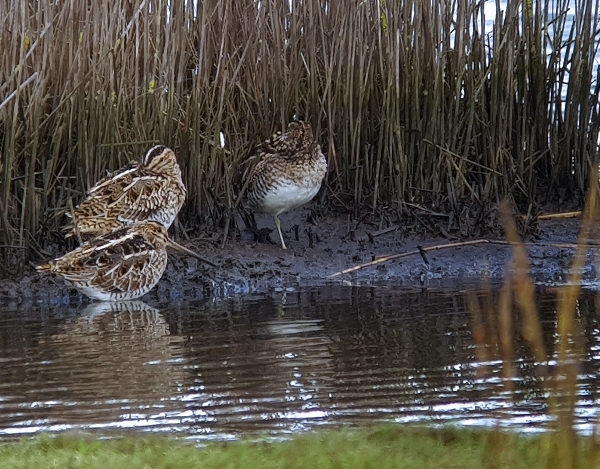 Common Snipe
Dunlin
By the time we arrived at the birding shelter along the south track the Grebe had decided to hide up a channel!!! It did eventually show but it was quite far off, apparently it has a habit of doing that most days. Nevertheless, we enjoyed our scope views and we also added Little Egret, Canada Goose, Gadwall and Wigeon to our day list.
record shot of the Red-necked Grebe
Little Egret with Black-tailed Godwits (there is a Snipe in this picture, can you see it?)
We continued our walk to the central track that bisects the reserve and that is where we met up with Guy Campbell, our birding pal from Yeovil. We walked together to the north track where we departed for a while. Dawn and I walked back to our car noting Tufted Duck, Common Pochard and Little Grebe.
Lapwing with Dunlin
two shots of the young male Marsh Harrier
We then drove to Ferrybridge and parked behind the derelict Ferrybridge Pub where we could scan the Fleet and the Ferrybridge mudflats and at the same time eat our picnic lunch and more importantly take a cup of coffee!! (I wish Penny Hale was here with her filter coffee and yummy cakes). From our picnic bench we found a small group of Red-breasted Mergansers, a few Oystercatchers and scoping the mudflats we added Great Black-backed Gull, Ringed Plover & Turnstone to the list and we saw many more Dunlin.
Red-breasted Merganser
Guy caught up with us again, he had scanned Portland Harbour from across the road and saw Black-necked Grebe (2) and not much else. Guy set off for Portland Castle whilst we finished our drinks, he missed the most noteworthy bird of the day!! A BARN SWALLOW!! Yes on the 26th November a Swallow was feeding just in front of us, it swooped down to the water a couple of times, flew around the pub and disappeared, well I never!
looking acroos to Chesil Bank and the Fleet, you can see the rdige of cloud that hung over Weymouth all day
We met with Guy again at Portland Castle, by this time a strong, cold breeze had built up, Dawn stayed in the car. From the shelter of the castle walls we found both Great Northern and Black-throated Divers, they were swimming together, but quite far off. I also noted Cormorant, Shag and more Mergansers. We got a message that a Red-throated Diver was present in the harbour and was showing well not far away, so we drove back to a small car park near 'Lidl' supermarket.
Great Northern and Balck-throated Divers, record shot as they were quite far out in the harbour
We spotted the RT Diver, it was quite near the shore but ½ mile away, so off we went, Dawn stayed in the car again. Finally, we got very close to the bird, what a stunner and what an achievement, we had seen all three Diver species in 30 minutes!!
now, that's how I like to see a diver, this Red-throated was very obliging
We left for home after that, adding Kestrel to the list along the causeway back to Weymouth. The cloud never shifted from above Weymouth all day, but as drove home we broke into lovely sunshine and a clear sky reminded until just before dark.
another picture from Lodmoor taken by Dawn
I knew there would be a lovely sunset, so I walked round to Yeo Valley and climbed up to the top of Rook's Hill just before 4pm to look at it. There was a glorious sunset, a beautiful red sky which cannot be captured very well using a smart phone!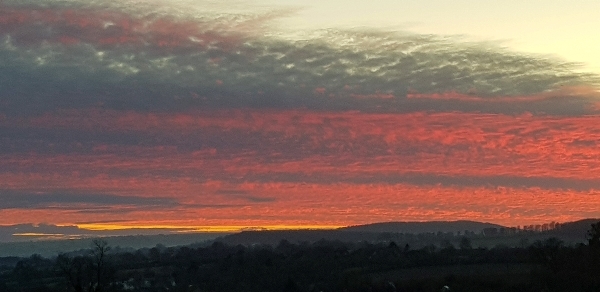 I watched the sunset them I walked over Rook's Hill to view the valley beyond in the hope of seeing a Woodcock or an owl. I did see many corvids and over 300 Herring Gulls all going to their roosts. A few small flocks of Redwings also flew over me and a Grey Heron landed in one of large ash trees along the stream below me, but I never saw a Woodcock.