POOLE HARBOUR - ARNE PENINSULAR AT MIDLEBEARE AND BRAND'S BAY FROM STUDLAND
WEATHER: a lovely clear but cold day, sunshine throughout some hazy cloud, light breeze. Temp 6C
A new month and a new list begins, I always like to start the month on a high by visiting the coast and today was no exception. Dawn joined me as we set off just after 9am and headed to Poole Harbour, we intended to visit the lovely hide at Middlebeare before driving round to Studland to view the harbour from around the chain-linked Car-Ferry.
by popular request - Redwings!! Photo taken from my garden this morning
From our bedroom window I watched a Great Spotted Woodpecker attacking the peanut feeder and I saw a bunch of feathers on the lawn, oops! I think a Pheasant met its end earlier this morning, we never heard a thing. Whilst watching the garden feeders I saw Redwing, Wood Pigeon, Crow, Raven, Jackdaw, Blue, Great and Coal Tits, Robin, Goldfinch, House Sparrow (its nice to see a flock of them back in our garden after a long absence).
We drove to the Arne Peninsular via Dorchester and Wareham and arrived at the small car park next to the track to Middlebeare. We stopped for coffee before we made the walk to the hide. Our timing was perfect because as we reached the hide we could see that the tide was turning and the water level was dropping. Along the way we had seen very few species, the best of which was a Bullfinch which only called and did not show.
a view of Hartland Moor or Heath from where we parked the car
From the hide we were greeted by a fantastic array of waders, especially Avocets, several hundred of them were out there waiting for the mud to be exposed as the tide went out. Amongst the Avocets we saw sleeping Black-tailed Godwits, Common Redshanks and at least three Spotted Redshanks. Curlews, Lapwings, Shelducks, Wigeon, Teal, a single Shoveler, Mallards and a few Little Egrets were also out there. As more of the mud became exposed so more and more waders arrived, flocks of Dunlin joined the Redshanks which were now very actively feeding.
the view from the hide at Middlebeare. All of the birds were in the far stretch of water
Spotted Redshank with Avocets
record shot of two Spotted Redshanks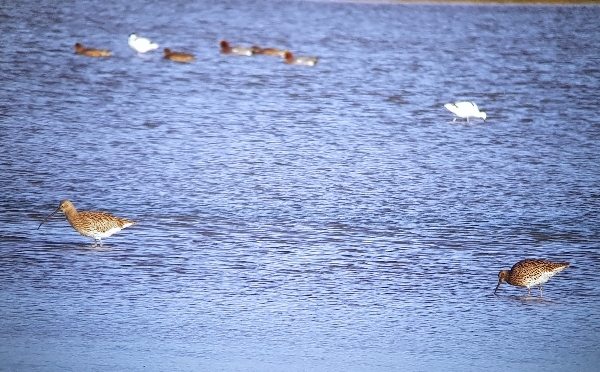 Curlews with Avocets and Wigeon
One or two other guys were in the hide, one of them was looking for raptors in particularly, a Buzzard came over and put up most of the waders but not the Avocets. Then they all went up a second time, the raptor guy called Ken spotted the reason why. A GLOSSY IBIS flew right over the marsh, it didn't land but went straight through. Ken let me take a photo of the back of his camera, a good record shot of the Ibis. Before we left, we saw Reed Buntings, Goldfinches and Meadow Pipits and Ken called a Kingfisher but it eluded us and a herd of Sika Deer came into view on the far side of the marsh.
a phot of the back of Ken's Camera of the Ibis
Curlew in flight
Dawn and I left the hide around 12 noon, we had some good sightings on the way back to the car, which included Mistle Thrush and a smashing pair of DARTFORD WARBLERS, they showed really well for a short period of time.
Dartford Warbler
Back at the car we stood and ate our picnic lunch, I scanned the vast area of heathland that was in view and I picked out a MERLIN sitting on a small concrete post, it was about ½ a mile away but I phone-scoped all the same.
you will have to take my word for it - a Merlin
Driving round to Studland we added Green Woodpecker, Kestrel, Stock Dove and another Buzzard to our sightings but once we got round to Studland, Dawn only joined me for one short walk, she sat in the car for most of the visit, it was getting quite cold.
you can see the Isle of Wight from Sandbanks, Studland
Oystercatchers
We walked rom the road to a view point near Brand's Bay where we had a great view of Brownseas Island and the Mouth of the Harbour at Sandbanks. We found a nice flock of Turnstones with some Oystercatchers and a couple of Great Crested Grebes in the harbour, the water level was still quite high in this area but it was receding.
Turnstones getting wet
We drove nearer to Sandbanks and parked up, Dawn stayed in the car whilst I walked to a place near to the Harbour Mouth and the Ferry. I scanned the water and found Red-Breasted Mergansers, 3 Great Northern Divers and four Great Crested Grebes. On the shore I saw more Turnstones and Oystercatchers and then a flock of fifteen Sanderling dropped in, a Dunlin was feeding with them. Other birds seen from there were: Lesser Black-backed Gulls and a Sparrowhawk flew over being mobbed by Crows.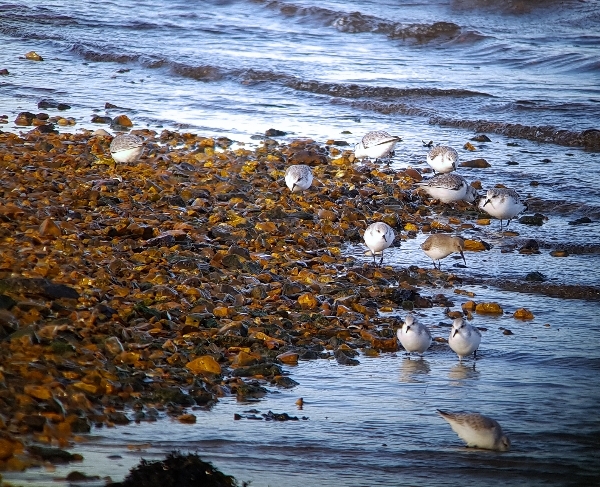 Sanderlings with one Dunlin, can you pick it out?
I also got cold so I returned to the car and we drove home arriving around 4pm. It had been a lovely day, we saw 58 species and had lots of fresh air and a little bit of vitamin D.