ALL DAY VISIT TO PORTLAND HARBOUR AND WEYMOUTH
WEATHER; cloudy with sunny spells, quite cold but much warmer than of late, light breeze. Temp 8-10C
Nigel Bleaken came down from Chepstow to collect me and we drove down to Dorchester for the start of our epic day out. We aimed to see all 5 Species of grebes and all three divers, all of which had been recent sightings in Portland and Weymouth.
We had not been birding together since late September!! It was dull to start with and some drizzling rain hit the windscreen as we made our way south. At Dorchester we made our way to Maiden Castle, we hoped to find the huge flock of Golden Plover which spends the winter in the fields around the huge Hill Fort. We found Common Stonechat, Linnets, Pied Wagtail, Starling, Meadow Pipit, Common Buzzard, Rook, Jackdaws and Crows. We also saw a huge mixed flock of Gulls, mainly Black-headed with some Herring Gulls and plenty of Mediterranean Gulls mixed in. But the flock of over 700 Golden Plover were nowhere to be seen, we chatted with a local and very 'green' minded farmer who was inspirational and very bird friendly, we were both impressed with the guy and it brightened up our day too!
View of the Fleet and Tidmoor Point
Our first stop in Weymouth was near Chickerall, we walked down to the shore of the fleet to scan for grebes, the path to Tidmoor Point was a non-go area so we scanned from the next headland along. Along the way we heard Cetti's Warbler, we saw Bullfinch, Redwing, Linnets, Goldfinches and a few common garden species. We spent an hour at the Fleet where we found our target Grebe, SLAVONIAN GREBE (3) and we also saw Great Crested and Little Grebes, all were too far away and impossible to photograph.
Redshank taken in Tidmoor Cove
Other species seen were: Common Scoter (there was no sign of Velvet Scoter which had been seen recently), Great Northern Diver, Red-breasted Merganser, Cormorant, Shag, Great Black-backed Gull, Oystercatcher, Redshank, Common Shelduck and Nigel found a Pintail but failed to tell me until after it had gone!! As we made our way back a large flock of Eurasian Curlews flew over us (25+).
Portland - viewed from Sandsfoot Castle
Next we visited our first viewing point of the Harbour at Sandsfoot Castle, our target Grebe was the Red-necked, we saw a swarm of fifteen Great-crested Grebes but not the RN. So we tried looking from Weymouth Sailing Club, again we dipped on the RN Grebe, but we did find our fourth Grebe, the Black-necked Grebe (2). Nigel also picked out a Black-throated Diver and there was a large number of Red-breasted Mergansers.
Black-necked Grebes - we counted 8 all together
From the sailing club we drove round to the Ferrybridge Causeway where we scanned the harbour from a café car park called Billy Winters, we saw a pair of Black-throated Divers much closer and we count up to 8 Black-necked Grebes from there.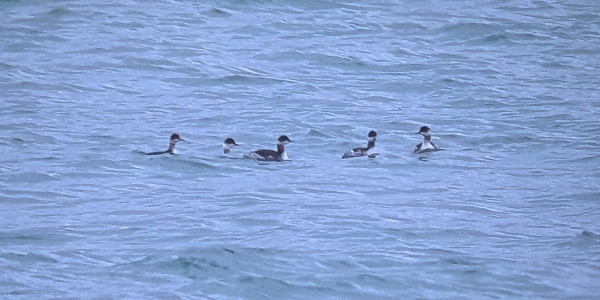 At Portland Castle we sat on a bench to eat our lunch and drink some coffee. We scanned the harbour again from this new view point, it was very quiet out there. We did see Rock Pipit and Pied Wagtail on the beach and lots of Cormorants and Shags but not much else.
Rock Pipit
Cormorants with Shags on the breakwater seen from Portland Castle
On the way back into Weymouth we stopped at the Ferrybridge Visitor's Centre and scanned the mudflats from there, we had a very enjoyable hour, with great light. Many Brent Geese fed on the shore with Dunlin (27), Bar-tailed Godwits (3) and dozens of both Mediterranean and Black-headed Gulls. A few Oystercatchers could be seen in the distance and more Mergansers.
Bar-tailed Godwits with Dunlin
Bar-tailed Godwits
Dunlin
Med Gulls
We made one last attempt at finding our final Grebe, this time we scanned from the elevated parkland overlooking Bincleaves Groyne and Cove, again we struck out. Before we went home, we made quick visits to both Radipole Lake and Lodmoor RSPB Reserves.
Goldeneye at Radipole Lake
At Radipole we added a few species to the day list which included, a very nice and obliging female Goldeneye, also seen were Tufted Ducks, Common Gulls, Moorhen, Coot, LBB Gull and Little Egret.
A pair of Gadwall
Lodmoor was our last port of call, it was getting dark and very light rain began to appear in the air. We added Grey Heron, Gadwall, Wigeon, Teal, Shoveler, Lapwing, Common Snipe and we had much closer views of Little Grebe.
Med Gull with Black-headed Gull for a comparison
It had been a great day's birding, we saw 4 of the 5 species of Grebe and two of the three divers, not too bad!! I was home by 4:45 and Nigel got back about 90 minutes later.