SOMERSET LEVELS – HAM WALL & SHAPWICK HEATH
WEATHER: a glorious morning, plenty of sunshine light wind. Cloudy later with light showers. Cold all day 8-10C
It wasn't a proper birding day as such, but a visit to the levels usually means the bins and scope goes with us, which they did. We planned to make a short visit to Ham Wall before driving into Wedmore for a Christmas Roast dinner and then return to Ham Wall to see the 'Starling Murmuration'.
All went to plan perfectly and despite the cold there wasn't a 'murmur' from Dawn whilst standing around waiting for the Starlings to arrive. We set off just before 10am (I told you it wasn't a proper birding day!) and we arrived at Ham Wall car park some 40 minutes later.
the reeds have been cut back so there was much more to see
We only had a couple of hours because lunch was booked at 1pm at one of our favourites pubs, the Swan in Wedmore, where they serve delicious food, pricey but "she's worth it".
Great Egret
Our walk took us along the main track to both viewing platforms, from the track we saw Little Egret, Grey Heron, Coot, Moorhen, Teal, Shoveler and Cormorant. We heard Water Rail and Cetti's Warbler and we saw Blue Tit, Great Tit, Robin, Dunnock and Chaffinch in the hedges.
Little Egret
it was good to see that the reeds had been cut back so that large areas of open water were visible along with 'islands' of stubble. From the first viewing area we could see large numbers of Lapwings, Common Snipe, Wigeon, Mallard, Gadwall, Teal, Shoveler and a few Tufties. One Great Egret was visible and a distance Marsh Harrier flew over the reedbed.
The walk up to the second viewing area didn't produce many more sightings, in fact, it was quite 'dead' up there. We did see two more Marsh Harriers, a flock of Long-tailed Tits, two Common Chiffchaffs and more Lapwings.
Grey Heron looking splendid with his crest lifted by the breeze
On the way back we were treated to a Lapwing Spectacle, several hundred of them took to the air and flew around in disarray, I think a Grey Heron was the cause of it as I didn't see a raptor in the sky. It was nice to see a flock of 30+ Common Snipe too.
record shot of a Marsh harrier
At 12:30 we drove to Wedmore, noting 11 Cattle Egrets in a field with some cows and another field with a dozen or so Mute Swans feeding on the grass. Our Turkey Christmas Roast was delicious, the bill brought tears to my eyes, but hey, its Christmas.
Great Egret - coming into breeding plumage - note the green lores - the area between the eyes and the bill
We were back at Ham Wall just before 3pm and before we set off to the Starling look-out point we walked across the road towards Shapwick. On the large lake at Meare Heath we looked for Common Pochards without luck and we searched the track side scrub for 'Crests' also without luck. We did see another 3 Marsh Harriers, a Buzzard and a Sparrowhawk as well as Bullfinch, Common Stonechat, Goldfinches and a Coal Tit.
a lone Greylag Goose
Back over at Ham Wall we walked to the viewing platform, along the way we stopped at the small hump-backed bridge and picked out a Greylag Goose (I don't think I had seen one at Ham Wall this year!) we also scoped the Cattle Egret roost in the distance. I counted 62 in the trees with a dozen or so of Cormorants. Further along the track we saw a few Siskins but our search for Redpolls went unrewarded.
Cattle Egret roost with Cormorants
There was a few more Egrets in the reeds too, we counted 6 Great Whites and three Little Egrets and I saw a flock of 20+ Cattle Egrets fly in to join the roost of 62!!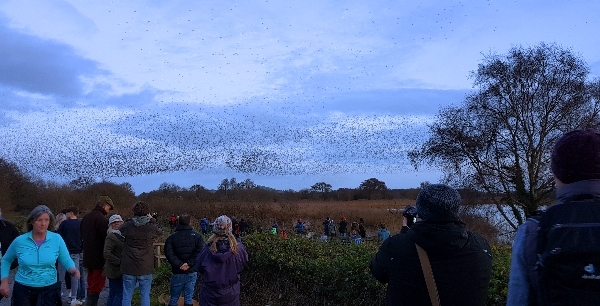 people and starlings gathering - murmurations coming from both groups
The weather was just perfect for the Starling roost a bright sky, some cloud and a nice sunset. The Starlings arrived in the their thousands as usual and although there wasn't much swirling and sky-dancing as I have seen in the past, it was still spectacular and the crowd enjoyed it. We talked to several young people who were there for their first visit, I do hope that they were inspired to become nature lovers and future conservationists.
crowds had gathered around Glastonbury Tor to see the planets Jupiter and Saturn at dusk - more will be there tomorrow for the Winter Solstice December 21st.
you can se the Tor in this picture which just shows how the picture above is magnified using the scope and my phone
We were home in time to watch the Villa thrash West Brom which made it a perfect day.