A MORNING WALK TO SHERBORNE VIA BRADFORD ABBAS – AFTERNOON VISIT TO SUTTON BINGHAM RESERVOIR
WEATHER: a beautiful sunny start, high cloud but misty in places. Dull and cloudy from lunchtime. Temp 1 to 3C
I had an amazing day today, collecting four more ticks for my 2021 list which takes my tally to 78, all seen within 3 miles of my home.
We set off at 9am for Bradford Abbas which is 2 miles from our flat, we then walked a further 2 ½ miles to the edge of Sherborne on a, more or less, straight track. We checked the fields around Clifton Maybank for egrets, but our viewing range was limited by the misty conditions we were also looking into the sun, we saw none. Once through Bradford Abbas we set off towards Sherborne along a wide track, I checked the pylons for Peregrines without seeing one and we both kept our eyes on the skies looking for Red Kites.
the beginning of the wide track to Sherborne - Dawn's picture No.1
The walk takes you through a lot of arable fields, most of them had maize stubble but one or two were pastures with a few cows grazing in them. We saw many common species during the first mile of the walk, lots of Rooks, Jackdaws, Common Buzzards, Meadow Pipits, Redwings, Starlings and the hedges held many Blue, Great & Long-tailed Tits.
along the way - Dawn 2 and my favourite of the day
In one hedgerow we saw a single female YELLOWHAMMER, wow!! One of my target species in the bag, as I didn't have my scope with me, I tried to digi-bin the bird but it flew off before I could get it into the phone camera through the bins, doh!! We continued to Sherborne not seeing many more species, one distant field was being ploughed, it was covered in corvids and gulls. We saw Black-headed, Herring and Lesser BB Gulls, but I guessed because of the large number of Black-headed Gulls present that a few Meds would have been in with them.
the miaze stubble - Dawn 3
On the return journey we saw quite a few more birds, in one field we saw over 20 Yellowhammers mixed with a flock of Chaffinches, there was probably more than 50 birds in the flock. Again I had to try and take some pictures through the binoculars.
look carefully and you will see Yellwohammers and Chaffinches in this tree
more stubble near Sherborne - Dawn 4
Sherborne track - Dawn 5
We got back home around 1pm, it had been a long but a very pleasant and enjoyable walk, during the latter part, it clouded over and the light reduced significantly. Our boots were caked with mud because on the way back it was much softer underfoot as the frozen ground thawed out.
here are: 1 herring Gull, 5 Med Gulls and 1 Black-headed Gull
After lunch I was on my own for the trip to Sutton Bingham, I drove over there just before 3pm. I stopped on the main causeway to scope the area of water around the dam where earlier today Tim Farr, a Sutton Bingham birder, had seen two Shovelers there. Luckily for me they were still present so that was another new species for the year list, NORTHERN SHOVELER on the list!!
the two birds in the water at the centre of this picture are Shovelers - trust me!
As I scanned the water a Wagtail landed on the road just a few feet from me, it was a GREY WAGTAIL, a bird that had eluded me for 10 days, it was my third new bird for 2021, fantastic. A car flushed the wagtail before I could get my phone ready to take a picture. Other species seen from the causeway included: Cormorant, Common, Herring, Black-headed, L BB and Mediterranean Gulls, Moorhen, Great Crested Grebe, Canada Geese and lots of Mallards.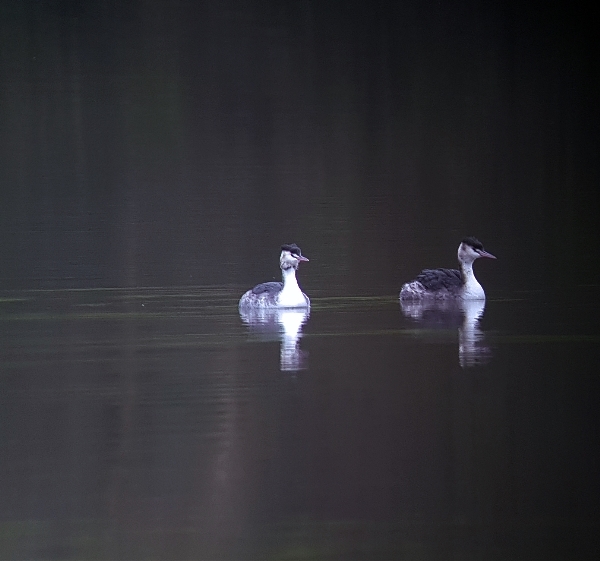 Great Crested Grebes - this pair had started to perform their mating display
From the observation point at the southern arm of the reservoir I picked out 3 Tufted Ducks, several Teal and a lot more Great Crested Grebes. The water was flat calm, the air as still as death, if the only the light had been a little better, I could have taken some wonderful pictures. Some of the grebes are starting to pair off and one couple was positioning in the face-off courtship pose.
Before I left I scanned the shoreline for more species and came across yet another of my target species, COMMON SNIPE, that was my fourth addition to the list today!! Marvellous. Once I had found one, which incidentally was very far away, I searched for more and soon I had one much closer but it was still on the other side of the water
can you see a Snipe in this picture?
the middle bird is a Herring Gull in summer plumage - bring on the summer!
Other species seen during this time were: Fieldfare, Stonechat and Mandarin Duck (1 female). I did stop once again on the main causeway to look at the gull roost, there was probably over a thousand gulls present, unfortunately the main body of gulls were way over by the dam and I couldn't be bothered to sift through them at that distance. A quick scan did not reveal anything that resembled an Iceland or a Glaucous Gull.