MORNING WALK THROUGH BARWICK AND ONTO PAVYOTT'S MILL
WEATHER: high cloud, hazy sunshine, no wind. Temp 4 – 6C
It was a lovely morning, so much brighter than of late and a little warmer too, the best thing was that we had no wind and it stayed dry. Dawn and I had a wonderful walk through the pretty village of Barwick before cutting across the fields to Pavyott's Mill and then along Pavyott's Lane to Barwick before heading for home. We saw some great birds, lots of individual flocks and we clocked up nearly 40 different species.
Lapwings seen from Pavyott's Lane
To be honest it wasn't great birding for the first mile through Barwick, we saw quite a few common species including; Redwings, Starlings, House Sparrows, Blue and Great Tits, Long-tailed Tits, Dunnock, Robin, Wren and Collared Doves, but it wasn't until we through the village that it started to get interesting. Once we had climbed the slope past the church in Barwick we had quite a good view of the surrounding countryside. High above a row of trees we saw a flock of about 200 Lapwings and a much smaller flock of Golden Plover, I guestimated there were around 50 birds in the Golden Plover flock.
We crossed the main A37 road and walked into some open pasture with grazing cows and also a field of beet, down to our left we could see a lot birds flitting around a small pond so we crept up to get a closer look. It was very interesting at the pond because we saw both Redwing and Fieldfare very close together, a missed photographic opportunity, and then a male Reed Bunting appeared just before we found a Kingfisher.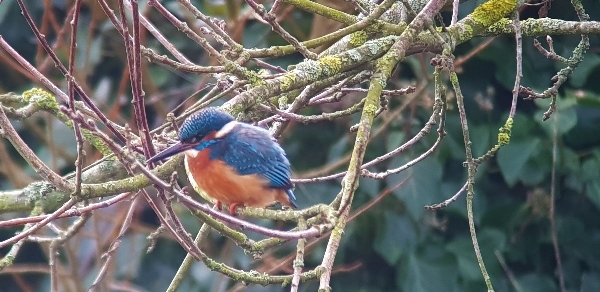 a bird to brighten up anyone's day
The Kingfisher allowed quite a close approach, we enjoyed great views of it before it flew to the far end of the pool, a group of three Mallards also flew off. The thrushes also shot off because a Sparrowhawk flew across the pond and along the hedge, this in turn put up a dozen or so Meadow Pipits. As we walked through the beet field we scanned the fence line and saw three Stonechats, more Meadow Pipits and a few Pied Wagtails.
The walk along Pavyott's Lane from the Mill produced Chaffinch, Goldfinch and a beautiful male Bullfinch, but he wouldn't sit around for a photo session.
Dawn and the dung heap!
At the top of the lane we walked into a stubble field where huge mounds of manure were dumped in readiness for dispersal in the field, around this dump we saw Wren, Dunnock, another Bullfinch and a couple of Meadow Pipits. In the stubble field there were large numbers of Starlings, Redwings, Fieldfares, Crows, Jackdaws, Rooks, Magpies and a pair of Ravens flew right over the top of us.
a few of the Golden Plovers in the cow field in Pavyott's Lane
From a gateway were able to see the lapwings and the Golden Plovers on the ground, I counted the Golden Plover, there was 69 of them, the Lapwings remain uncounted but there must have close on 200.
Lapwings and Golden Plovers
We were much quicker walking back as it was approaching lunchtime, we had walked 3 miles between 9am and 12 noon, it was a glorious and uplifting morning. The garden feeders added Coal Tit and Nuthatch to the day list, but we did not see a Woodpecker of any description all day.