MORNING WALK INTO YEO VALLEY & AFTERNOON WALK TO YEOVIL NINESPRINGS
WEATHER: a cloudy start, much brighter later, long sunny spells late afternoon. No wind. Temp 10-14C
I spent over two hours in the Yeo Valley this morning from 10am, I walked the entire route all the way down to the River Yeo and then I walked back over Rook's Hill. The longer I stayed out the better the weather got and so did the birding.
you know I have been in the Yeo Valley when I post a Siskin picture
At the beginning of the walk I saw a Jay fly up from the track, it disappeared into a row of alders. My next encounter was with a small group of Long-tailed Tits, a few Blue & Great Tits and a small number of Redwings. The level of the water in the stream was well above normal, I saw a Wren hop down onto a flotilla of debris, I decided to try to take its picture but it did not stay. Whilst I was there I noticed four Siskins, they came down to drink, I also saw a Robin and a Blue Tit in and around the same place.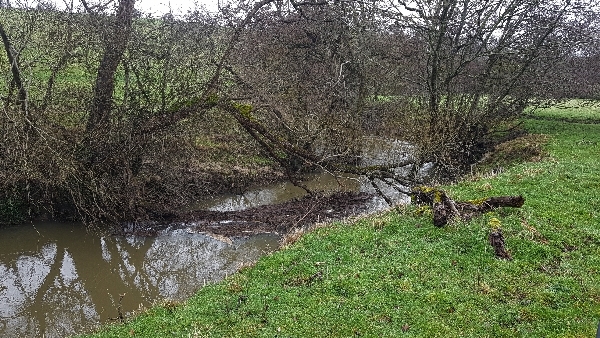 the stream where I watched the Wren and the Siskins
Other sightings along the walk included a huge flock of jackdaws and Rooks, a couple of Common Buzzards, a few herring Gulls and a covy of Red-legged Partridges flew up from near the slope up to Rook's Hill. I heard a Great Spotted Woodpecker drumming, Chaffinch & Song Thrush singing and a distant Green Woodpecker calling.
Rooks and Jackdaws, these were a long way off
From the top of Rook's Hill I got into a position where I could scope across to Clifton Maybank and the fields beyond, I was amazed to be able see a few Little Egrets in the cow fields with a few Herring Gulls and a single Lesser Black-backed Gull. I then decided to scan a 360 degree panorama, the slopes behind me to the west held quite a few birds. I saw a large flock of Rooks, a few Jackdaws, lots of Wood Pigeons, a few Stock Doves, Crows and Magpies.
I could see a band of blue sky in the west and it was expanding, whoopee!!
looking south-eastward across the main London to Exeter railway line to Clifton Maybank House
very distant Little Egrets and a Herring Gull 'scoped in the field behind Clifton Maybank House
Back at the garden my regular visitor, a common Pheasant was on my fence waiting for me, I coxed him down by scattering some sunflower hearts, I then sat down on my bench and threw more seeds down. The Pheasant came very close, to within 1 meter of me but he would not take food from my hand, maybe sometime soon.
The Common Pheasant on my fence, you can see that we now have sheep in the meadow behind
the Pheasant came very close to me as I sat on the bench in my garden
Our afternoon walk began at 2pm, we walked to Nine Springs Country Park via Barwick House, I took my scope but it wasn't really a birding walk. We saw all the usual species in the lake at Barwick and at Nine Springs we had good views of a Kingfisher and we saw my 70th species of the month when we found a EURASIAN COOT on the main lake.
my 70th species for February - Common or Eurasan Coot
another distant bird, a Common Kestrel, seen at Barwick House (I forgot to mention it in the text)
On the way back home all the clouds cleared and we had a wonderful blue sky and it got quite warm too. Dawn found some Common Violets also called Wood Violets or English Violet. In the same vicinity there was also Lesser Celandine and Snowdrops in flower, spring really has arrived.
a single Voilet at the bottom, with a single Lesser Celandine and a flock of Snow drops