MORNING WALK ALONG THE BRADFORD ABBAS TO SHERBORNE TRACK
WEATHER: misty to start with, brighter later with nice sunshine, cold breeze. Temp 1-7C
An overnight clear sky meant more fog and low temperatures for this morning, because of the fog we never left the flat until 10am when it started to clear. Our walk today was to look for YELLOWHAMMERS and I knew exactly the place to go. We drove to Bradford Abbas and along the way we stopped to look at the cattle fields near Broadclose Farm, we could see some Little Egrets in there but we hoped for a couple of Cattle Egrets. The Egrets were very wary and flew off before we got anywhere near a gap in the hedge, so no photographs. We drove on and parked near the railway line on the eastern side of the village where a wide track runs parallel to the rail line towards Sherborne.
a misty morning with steam rising from the earth
The first field to our right (south) was freshly ploughed and harrowed, we heard a couple of Skylarks singing up in the misty sky but had no chance of seeing them. Several very obliging Dunnocks adorned the hedgerow next to the trainline, some of them were singing along with Robins and Chaffinches.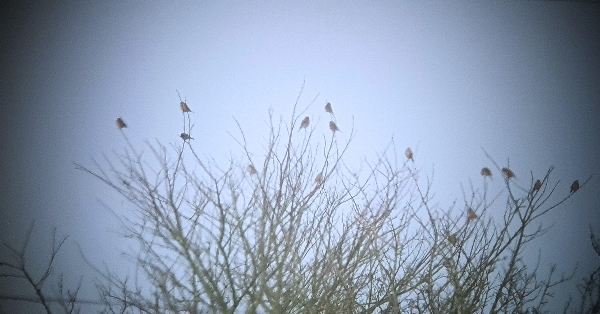 a very distant flock of Linnets
Were searched the pylons for Peregrines and saw zero, a couple of noisy Ravens flew over and we saw many Jackdaws, Rooks and Crows. Two Mistle Thrushes hopped about in a grass meadow and a flock of about 50 Linnets landed far off in a stubble field.
Mistle Thrush
We were about 1 ½ miles into the walk when we finally bumped into a flock of feeding birds, it was another stubble field that had had a crop of wheat last year. Chaffinches, Meadow Pipits, a few Dunnocks and finally our target bird, the YELLOWHAMMER appeared. It took me quite a while to photograph one as they would not allow a close approach, they were very flighty and would fly up into the hedge if I got within 50 meters of them.
my first attempt of a Yellowhammer photo!
The field was alive with birds, about 50 Yellowhammers, 20 Chaffinches, a dozen Meadow Pipits and many Skylarks were in the wheat stubble, the Skylarks were chasing one another around probably pairing off and making short calls.
slightly out of focus, a distant Yellowhammer
The journey back was much warmer, the sun came out in full brilliance and we were now overdressed and became quite hot! We saw a Buzzard on the way back and heard a Green Woodpecker, but our best find was that of a butterfly. A Small Tortoiseshell flew up in front of us and landed on the track ahead, we crept up and got good views, we could see that it was a little worn and obviously a specimen that had slept over through the winter.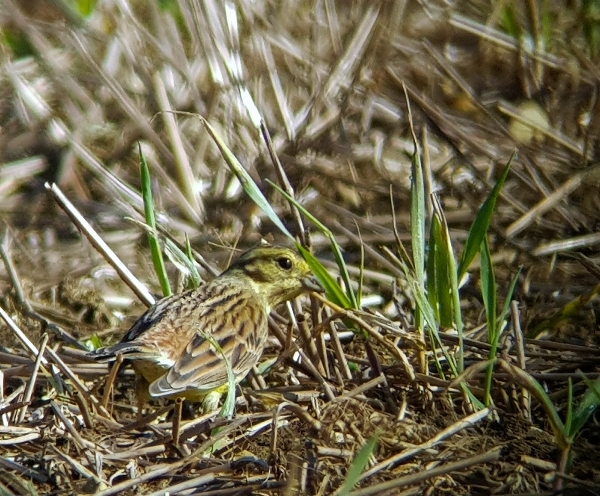 female Yellowhammer
Small Tortoiseshell
Back at home Fez, our garden Pheasant, was waiting for his feed which I duly provided. I also noted Long-tailed Tits, Chaffinch, Goldfinch and the usual Robin, Blue and Great Tits.
four pictures from Dawns phone-camera of today's walk
Maize Stubble