MORNING VISIT TO SUTTON BINGHAM RESERVOIR
WEATHER: A lovely calm morning with high cloud, developed into a miserable day with lots of rain. Temp 6-10C
First a brief note for last night's observation, a Tawny Owl called loudly from the trees just across the road from our garden, I went out but couldn't see it, I am counting that bird on my list because it couldn't possibly be anything else? Like I would tick the call of the Cuckoo.
After yesterday's 8 mile walk I probably walked less than a mile today, it was a beautiful morning, I actually got up at 7am, which is the first time this year. I drove to my local Reservoir and spent a couple hours looking over the water which was flat calm, the air was absolutely still. My aim was to add several species to the monthly list and I hoped for a sighting of a summer migrant such as a Sand Martin or a Wheatear.
flat, calm - just like the proverbial mill-pond
I parked at the northern end on the causeway, quite a few birds were in view, most of which were quite far away. Many pairs of Great Crested Grebes were displaying to one another but I never saw them perform their 'weed offering' and running on water routine. Also on show was a large flock of Wigeon, a couple of Canada Geese, a few Moorhens, lots of Mallards, a few Cormorants and a nice selection of gulls.
atmospheric - Great Crested Grebe
The most important gull was the Great Black-backed Gull because it was new for the March list but I also saw L BB Gull, Herring Gull and Black-headed Gull.
The second part of my visit was to the far south of the reservoir, I took a footpath down to a stream which feeds the reservoir, it meanders through a meadow then through a wood before entering the main body of the reservoir. I walked down a slope to the wood where I hoped to find a Marsh Tit, but that wasn't to be. I did find a Bullfinch, Great Tits and Blue Tits, a Great Spotted Woodpecker that was drumming and a Mistle Thrush that was building a nest.
this Mistle Thrush was collecting clumps of nesting material and just dumping at the nest site - it must be the male as no effort was made to 'build' the nest or tidy it up
A few Redwings sat high in the trees, a Cormorant flew over and a noisy pair of Mallards flew around the wood. I searched a flood meadow for Snipe without any sightings. The nice weather quickly changed, it grew dull and I could see dark clouds approaching from the south, so I left.
here he comes again
I made a second stop at the causeway but could find anything to add to my morning's list, a few new species had brought my March list to 57.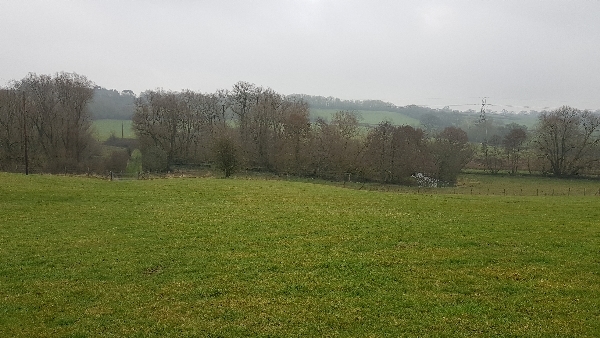 the stream comes in from the right and flows through this wooded area
It rained for most of the rest of the day, I saw the usual birds in the garden with one new addition. On the west side of our garden runs the main road into Yeovil and on the far side of it there are two enormous Spruce trees, a Goldcrest was singing from these trees. Last year I often heard the little blighter but never got sight of it, but today he was in full view hopping around on my side of the trees, I shall count that as a garden tick.