VISIT TO MAIDEN CASTLE AND SILVERLAKE , DORCHESTER – FERRY BRDIGE & PORTLAND
WEATHER: grey and cloudy to start, brighter later, a cold easterly breeze. Max temp 17C
I had a fabulous start to the month it is really great now the shackles are off and we can travel beyond our local patch. I was determined to see Portland today and watch some sea-birds for a nice change.
The area around the hillfort at Maiden Castle is one of the last places in Dorset to look for Corn Buntings and as it was en-route to Portland I stopped off there. I set off at 7am and arrived some 20 minutes and I couldn't believe my eyes as I pulled up at the side of track near the main car park. My target bird, the Corn Bunting, was sitting on top of a sign post waiting for me, not even 3 meters from the car!! Click, click, job done.
Corn Bunting on a pole, this bird appeared before I got out of the car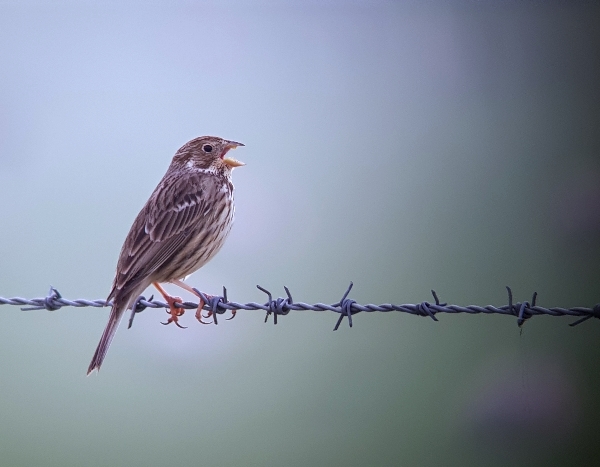 a better view of my 'favourite' bird
A couple of Skylarks were singing above me and so they went on the list too. I was there for all of ten minutes and not long afterwards I was entering Weymouth. The traffic was quite heavy because of the time of day, many people we off to work, although I think the schools were all closed for Easter Holidays.
I drove through Weymouth and onto the causeway to Portland where the mudflats at Ferrybridge can be found, I stopped there but not for long. The tide was just starting to turn and on the little mud that was exposed I saw a single Dunlin and two Herring Gulls and that was it! In the distance I saw a pair of Red-breasted Mergansers floating around on the 'Fleet'.
a single Dunlin on the mudflats at Ferry Bridge
My first destination on Portland was Verne Common and then Verne Prison! On the common I saw lots of dog walkers and my first Wheatear of the year, a nice male Northern Wheatear. I then walked across to view the dry moat that surrounds the prison, which is in fact, still in full use. The walls of the main wall around the prison have many nooks and crannies and I know it is a good place to look for a Little Owl.
Northern Wheatear
It took quite a while for the Owl to show but when it did I had excellent views of it. I couldn't help but notice some movement down by feet whilst I watched the owl, I looked down and there was a Pheasant!! My god, are they following all over the place now, has word got around that I have been feeding one of their brethren? I stepped off the path and the Pheasant walked quickly by, it wasn't Fez of course but maybe a distant cousin?
The Little Owl on the prison wall
Other birds in the area were: Jackdaws, Carrion Crows, Stock Doves, Feral Pigeons, Wood Pigeons, Collared Doves, Linnets, Golfinches and a Common Kestrel.
Stock Dove
The next stop was Church Ope Cove where a steep path leads you down to the only natural landing place on Portland, a stony beach some 200 meters in length. It was now 10am. and the sun began to break through the misty sky, it was also quite sheltered and the air was warming up. My main target species in the cove was a Large Tortoiseshell Butterfly, a rare beast indeed, for the last few years this once extinct butterfly has re-established a colony on Portland.
Church Ope Cove with its stony beach
I spent an hour and a half waiting around the usual spot for the Tortoiseshell;, I saw Peacock, Comma, Red Admiral and a couple of Small White Butterfies but not the target species. Other people were looking too, I bumped into a friend from Yeovil, Peter Ackers, and Dave Chown (the guy who found the Desert Wheatear last Monday) and two other guys who were determined to see the elusive butterfly were there.
I nearly trod on this Pheasant up at the Verne Prison
Whilst I was there, I logged the following species of birds: Blue and Great Tit, Goldcrest, Eurasian Sparrowhawk, Raven, Willow Warbler, Blackcap in song and Chiffchaff. (the other two guys had seen a Common Redstart and they told me that a Pied Flycatcher had been 'ringed' (banded) at the Bird Observatory. I also saw a Wall Lizard and lots of species of bees, I gave up at 11:30am.
A Shag in the middle of two Cormorants on the west cliffs
After popping into a local grocery shop, where I bought my lunch, I drove down to the 'Bill', the most southerly point of Portland which is actually 6 miles from the nearest mainland and an excellent place to look for migrating species. After parking the car I walked to west cliffs where I expected to add a few sea birds to my year list. I quickly found Razorbill, Guillemot, Fulmar, Northern Gannet, Great Cormorant and Shag. A few Rock Pipits flitted about along the cliff edge and a steady stream of migrating Meadow Pipits were flying northward coming in off the sea at the 'Bill'.
Rock Pipit
Also from the west cliff I could see many Sand Martins with a few Barn Swallows also heading north following the coastal cliffs and keeping below the ridge to avoid the strong easterly wind. I walked down to southern tip and scoped the sea from there, I saw many auks dashing about and a great deal more Northern Gannets, but nothing new for the day list appeared. During my walk back to the car I never saw anything new, but lots of Meadows Pipits and a few Barn Swallows we present.
I returned to Church Ope Cove in the hope of seeing the Large Tortoiseshell again but it never appeared, I did see Willow Warbler and Chiffchaff again as well as more of the butterfly species I had mentioned earlier.
I drove back to Dorchester at 2pm but before I headed for home I made a diversion to east side of the town to visit a new parkland development called Silverlake. A Long-tailed Duck had over-wintered there, but I couldn't find it today. What I did see was Canada and Egyptian Geese, Tufted Duck, Common Coot, Mallard, Eurasian Wigeon and lots of immature gulls.
the pathway through the parkland of Silverlake
My last sighting of the day was of a pair of WOODLARKS, these flew over me twice but I couldn't locate them on the ground, however they were a year tick along with the Egyptian Geese.
In the trees behind the pools I saw Great Spotted Woodpecker, Willow Warbler, Goldfinch and a Blackcap was singing. From Silverlake I drove home arriving at 3:30pm. Guess who was waiting for me in the garden, yes correct, it was Fez.