MORNING VISIT TO WAREHAM FOREST AND RSPB LYTCHETT FIELDS
WEATHER: another glorious, sunny and frosty morning, very light winds. Temp 2-7C
After an apathetic day yesterday, when I didn't even leave the flat, I was spurred on today by a bright blue sky and a mild frost in the meadow, it looked wonderful out there. Dawn checked the forecast and saw that the clear sky would only last until midday, so we set off as early as possible to make the most of it.
As I was up first I went for a short walk round to Yeo Valley whilst Dawn was getting ready and taking her breakfast. It was lovely in the valley except for the cold. I only walked as far as the little footbridge and saw very little. A Grey Wagtail sat on the roof of the disused barns, a Carrion Crow sat on her nest using the same one as last year and the usual common species called, sang and dashed about in the alder trees.
Our view from the car park at Sherford Brdige
It was just after 9am when we arrived at Sherford Bridge on the edge of Wareham Forest, a few dog walkers were going about their daily routine of collecting dog poo, such fun!! As we stepped from the car a Nuthatch called above us then it flew down and landed on the gravel car park just a couple of meters, perhaps someone has been feeding it there? A second bird called from above and both played around above us for a while, the Nuthatch was one of ten species on my target list for today.
the track through the pines
As we crossed the road and went through a gate we saw a Mistle Thrush fly up from the grass and disappear into a wooded area, another target bird for the April list. The track led us across an open meadow and into an area populated with pines, oak, ask, holly and hazel. We watched a pair of Coal Tits taking nesting material into a hole at the base of an oak tree, yet another bird for my wanted list.
As we emerged from the pine wood we could see a large heath to our left, Dawn picked up some movement and we both then got onto our first Dartford Warbler, well that didn't take long for Dawn to find bird of the day. We quickly lost the bird, but I saw another species fly up from the track into a scot's pine, I saw that it a Yellowhammer but Dawn was watching a completely different bird and that turned out to be a male Common Crossbill!!
above - a record shot of the male 'Red' Crossbill and below the female eating pine seeds from a cone
Well, I was starting to get fed of Dawn finding this and Dawn finding that, so I strolled ahead and found a female Crossbill eating seeds from a pine-cone, ha!!
We then walked onto the heathland after just 50 meters or so a beautiful male Dartford Warbler sat on the top of some gorse and sang to us, how amazing was that? I quickly got the scope onto him and fired off a few pictures. That was marvellous, our main target in the can within an hour of being out of the car. We then watched Linnet, Goldfinch and a Raven landed on the nearest pylon to devour some poor, already-dead animal.
a male Dartford Warbler
We made a semi-circular walk across the heath down near the large lake on Morden Bog, along the way we saw Common Stonechat, two other Dartford Warblers, two Blackcaps and a few Chaffinches. On the brow of a hill we flushed a couple of Meadow Pipits and we stopped to scan the heath for maybe a Common Cuckoo, a Tree Pipit or a passing Osprey. None of them appeared.
We had a nice encounter with a singing Treecreeper in a clump of oaks before we returned to the car where a Song Thrush went on the list.
Eurasian Treecreeper
A pair of Yellowhammers were seen feeding in the grass next to the track
It was now 11am and it hadn't clouded over yet although the wind had picked up a little, so we decided to visit Lytchett Fields RSPB reserve, it took 10 minutes to get there from Sherford Bridge.
Lytchett Fields RSPB Reserve
We found shelter from the wind as we walked along the path on the reserve, the sun warmed us up and the pleasant coconut smell emanated from the flowering gorse. We met a Guy with a camera, he was looking for Adders!! He found two whilst we were there1 These amazingly colourful little snakes were coiled up absorbing the warmth from the sun.
AN Adder coiled up in the sunshine, you can make out its red eye in the top left of the coil
At the lookout points in the middle of the reserve we saw our target species, LITTLE RINGED PLOVER, two of these migrant waders were quite far off and half hidden by the grass. The tide was at it lowest and so the marsh was drained of water with very few birds feeding on the exposed mud. We did see a few Black-headed Gulls, Common Shelducks and a single Greylag Goose.
Greylag Goose and Common Shelduck on Lytchett Fields
On the second marsh area we picked out a small group of Black-tailed Godwits, half a dozen Eurasian Teal and nothing else, we had hoped for an Osprey sighting, but that never happened. On the way back off the reserve we found our own Adder, I nearly trod on it, I wasn't expecting one so close to the path.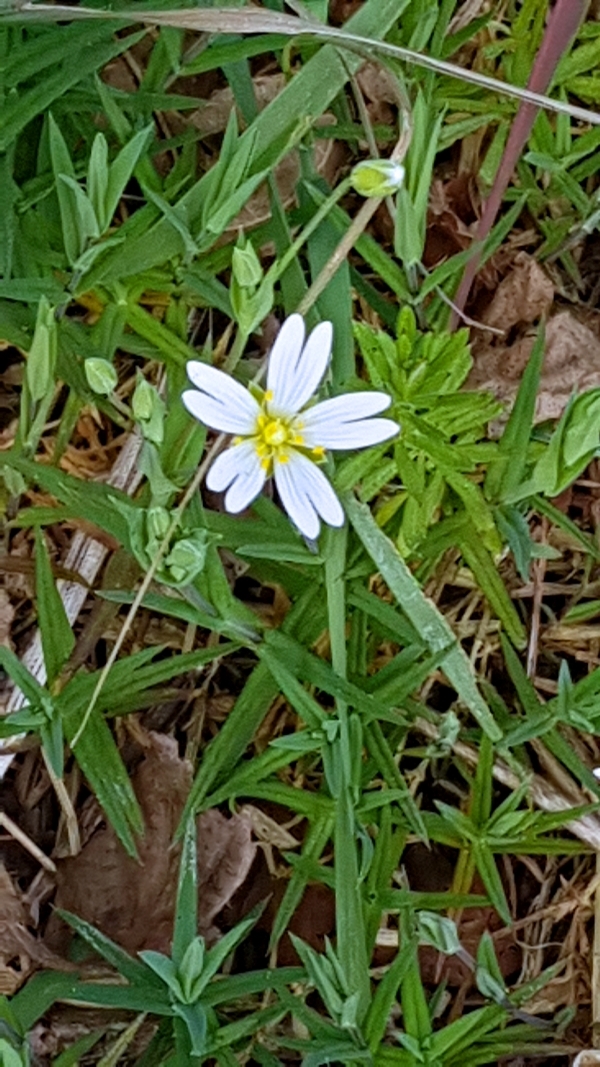 Greater Stitchwort
It started to cloud over and the wind picked up, we drove through sleet, hail and rain showers on the way back home, along the way we saw a group of young stag Sika Deer, they were feeding on the grass verge of a very fast section of a dual carriageway. We arrived home at 1:30pm and guess who was waiting by our front door to be fed?