MORNING VISIT TO PORTLAND AND LODMOOR IN WEYMOUTH
WEATHER: need I say it!! Another very cold day, sunshine to start but rain later. Temp 2 - 4C
I think this was my first early start of the year, I was up before 6am and in the car and out just after 6. I drove directly to Portland, I headed to a site where at least three Ring Ouzels have been seen for the last six days. It was bitter cold when I got out of the car just after 7am, a strong northly wind barley lifted the temperature above freezing.
I scanned a couple of horse paddocks that were bordered by dry stone walls and ivy-clad hedges, it was the berries on the ivy that was keeping the Ouzels in place and I hoped that they had stayed just one more day.
I saw several false alarms, i.e. Blackbirds dashing about and after about 30 minutes I got onto a beautiful male RING OUZEL, it was on the ground with two Blackbirds but failed to keep still in one place for me to get ready to photograph it. The bird got flushed by a dog walker and never appeared again during that first visit.
A Peregrine Falcon dashed across the fields and then rose to a great height in seconds as it reached the west cliffs, majestic, powerful and deadly. Other species seen was Stock Dove, Linnet, Goldfinch, Starlings and House Sparrows. I decided to take a break and get out of the wind so I drove to the east side of Portland and walked down to Church Ope Cove.
Church Ope Cove
It was more sheltered on the east side, I hoped to find a few migrant warblers, a flycatcher or a Redstart. I walked all the way down to the beach and as far as migrants were concerned, I never saw a sausage . After a short while of seeing nothing but common resident species and a Sparrowhawk carrying a small bird, I walked back up to the road and jumped back into the car.
the main lagoon at Lodmoor
The temperature had picked up a little and the wind seemed to have lessened as I walked back around the horse paddocks. I saw another Ring Ouzel flash across the field and disappear into a hedge. I spent another 30 minutes getting cold and as I walked around the edge of the paddocks I flushed another Ring Ouzel from a clump of Ivy. About 50 meters on the other side of the ivy two other birders were waiting with their cameras at the ready, oops! I had flushed a bird that they were waiting to photograph, luckily, they said, it wasn't showing at the time I flushed it. At that point it started to rain, I found a little shelter behind a wall but I soon gave up the quest, I knew I wasn't going to get a picture of a Ring Ouzel today.
I decided to head back into Weymouth, but first I wanted a quick look for waders at Ferrybridge, a Common Kestrel hovered over the grass verge along the causeway to Ferrybridge. Unfortunately, the tide was still quite high and very few birds were out on the shore. Just two Oystercatchers and a few gulls. Two of the gulls were in fact, Mediterranean Gulls, a tick for the April list.
Dunlin at Lodmmor
Next I drove to the north side of Lodmoor Reserve where I parked the car and walked along the west side of the marshes. The sun came out, the wind had dropped and it was really quite pleasant, I had a great time for the next hour or so. It was waders what I looked for and it waders that I got.
stunning Black-tailed Godwits
I saw another two Oystercatchers and the large wintering flock of Black-tailed Godwits was still present, some of the Godwits have turned a deep brick-red colour from a dull grey, a beautiful transformation from winter to summer plumage. To my great delight I spotted a Eurasian Curlew and then just to the left of this bird I found six Whimbrels, now I didn't expect those, such luck!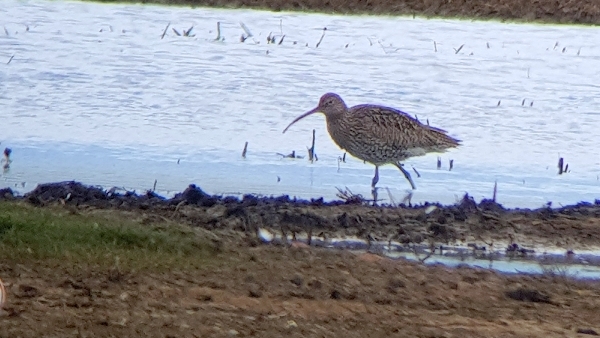 Eurasian Curlew
four Whimbrels
Whimbrel and a Godwit
I walked further along the west track heading towards to the main lagoon, along the way I noted; Teal, Shoveler, Grey Heron, Little Egret, Common Shelduck, a couple Dunlin and my fifth raptor of the day, a Marsh Harrier.
Sandwich Tern
On the main lagoon I had great views of some fabulous Mediterranean Gulls, they really are stunning birds in their summer plumage. With the Med Gulls I saw a single Sandwich Tern, dozens of Black-headed Gulls and the usual entourage of Herring Gulls. I then walked back along the track and scanned the gulls that had newl;y arrived on a mud bank, in with the gulls I found two Kittiwakes, these are unusual species for Lodmoor and therefore a good find.
Kittiwake with Black-headed Gulls
Other species seen at Lodmoor were: Greenfinch, Chiffchaff, Canada Goose, Moorhen and several Robins, I heard quite a few Cetti's Warblers, a single Willow Warbler and a couple of Blackcaps. Many Barn Swallows and Sand Martins were flying high over the reserve as was a couple of Common Buzzards.
a Whimbrel and a Curlew
I left for home around 1pm and arrived around 1:45pm. My usual meeting with Fez was around 2pm just after he had stood by the front door and called to me for his lunch. In the garden I could hear a Goldcrest singing from the nearby fir trees.
three Whimbrels
It had been a good birding day despite the very cold start, the weather looks to be improving over the next few days, let's hope so.