WEYMOUTH TO FERRYBRIDGE WALK – RSPB LODMOOR
WEATHER: yet another bright sunny day, however, it was very windy and it felt cold in the wind. Temp 5 – 18C
Despite the weather forecast of a strong easterly wind we decided to visit the coast at Weymouth and take one of our favourite walks down there. We arrived in central Weymouth at 9am and after parking the car we set off on the Rodwell Trail which takes you to Ferrybridge along tHe route of a disused railway line.
a view of the Fleet during low tide with the Chesil Bank in the distance
It was very busy along the popular Rodwell Trail, dog-walkers, joggers, hikers and cyclists all shared the narrow tarmac track with us. Is was quite blustery in places but generally we were quite sheltered from the wind, we saw a few Willow Warblers, Chiffchaffs and many common resident species and it wasn't until we reached Ferrybridge that we started seeing a few species along the shore and on sandbanks.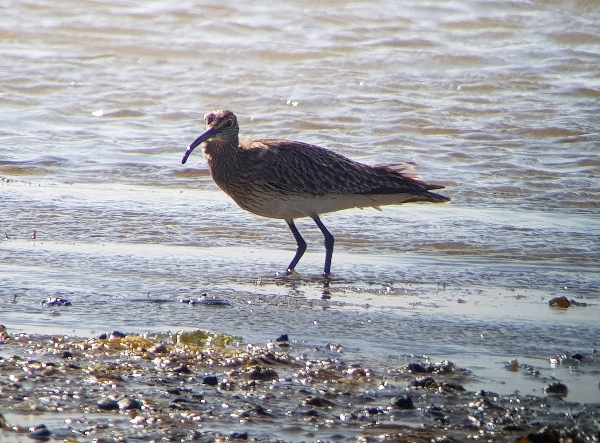 a Whimbrel on the shoreline of the Fleet
Low tide was due at 11am, we arrived at the shoreline of the Fleet around 10:30am just perfect timing to look for waders on the exposed mud. The wind was too strong for us to stand out in the open so we walked westward along the shore with a low bank giving us some respite from the cold wind.
some distant Bar-tailed Godwits
On the first sandbank we saw a lot of birds, a large flock of Bar-tailed Godwits were joined by Ringed Plovers, Oystercatchers, Dunlin and a few Sanderling, we also foud a single Whimbrel on the near shoreline and a bunch of terns further away.
a Bar-tailed Godwit with Sandwich and Little Terns behind
I scoped the terns and found both Sandwich and Little Terns, both in good numbers, the Little Terns were new for the year list as was the Godwits and Sanderlings.
Sandwhich Terns a little closer
We walked further along the shore hoping for more waders and terns, we saw more of both but no new species, the gulls present were G BB, L BB and Herring Gulls, also a couple of Little Egrets, a Grey Heron and a few Cormorants. The cold wind eventually drove us away, Dawn was feeling quite cold by then.
Little Egret
Our walk back was broken by a stop at Sandsfoot Castle on the northern shore of Portland Harbour, where we sat in lovely sunshine and had a hot drink and a nice snack. We joined the busy trail once more and continued our walk back to the car.
closer views of Bar-tailed Godwits one in summer plumage and one in winter plumage
A short drive was taken to the Radipole Lane Park alongside the RSPB Reserve, Radipole Lake, where we sat on a park bench and ate our picnic lunch. We saw Blackcap in the trees nearby where we sat.
To finish off our visit we drove around to RSPB Lodmoor Reserve where circumnavigated the reserve on foot, we found shelter in places but generally it was quite blustery there, We hoped to see a few Little Gulls or Arctic Terns which may have been blown in off the sea, but n one were present.
more Terns at Lodmoor - there is Common, Little and Sandwich shown here with a Black-headed Gull
A good show of other terns was nice to see, Sandwich, Little and Common Terns we all present in good numbers, I also saw my first Grey Plover of the year along with dozens of Black-tailed Godwits, Shelducks, Teal, Shoveler, Tufted Ducks, Mallards, Mute Swans and Grey Herons. The breeding colony of Black-headed Gulls was very noisy, we never saw a single Mediterranean Gull but we found a single Common Gull.
record shot of the Grey Plover whoich is changing into summer plumage, an Oystercatcher is in the foreground
During our walk around the reserve we heard many Reed Warblers, Chiffchaffs, Blackcaps and Cetti's Warblers, most of them stayed hidden out of the wind but we did see one Cetti's. A few Swallows and Sand Martins fed over the sheltered pools but we never saw a Marsh Harrier at all.
Black-tailed Godwits, again, one of them is in summer plumage and the other still in winter dress
We left the reserve around 3pm and arrived home an hour later, it had been a great day out in the sunshine, we saw 8 species of waders, 3 species of Terns and I added a few species to my April count which now stands at 141 species.