ALL DAY VISIT TO THE DORSET HEATH AT WAREHAM FOREST, MIDDLEBERE, ARNE & HARTLAND MOOR
WEATHER: a super sunny day, but…. A very cold wind persisted making it feel like 5C instead of 18C
Today I teamed up with my good birding pal from Chepstow in Wales, Nigel Bleaken. He arrived at my house at 6:30am having set off from Chepstow at 4:45am!! OMG!!!
We drove directly to Sherford Bridge on the northern edge of Wareham Forest, we parked up and set off towards the heath. Our first sightings were of a pair of male Yellowhammers, a beautiful, bird to start off our day. Nigel then spotted a Jay flying across a meadow and we scoped a pair of Mistle Thrushes on the grass with Magpie, Crow and some Linnets.
a male Yellowhammer
Boy was it cold out on the heath I must admit I was under dressed and really felt the cold, biting wind. Nigel was fine!! We found a couple of Meadow Pipits, a pair of Stonechats and more Linnets. After walking for about ½ hour we came across a sheltered area of gorse and heather, there we found a pair of Dartford Warblers, the male showed extremely well. That was one of our target birds in the can!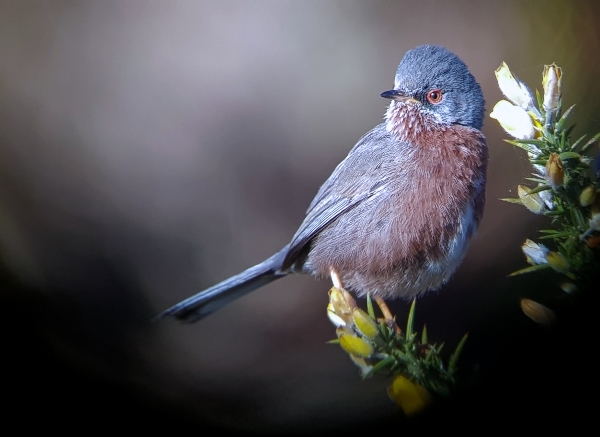 a Dartford Warbler
It was a while before we made another sighting having remained in a sheltered area of pines and deciduous trees, a Raven flew over calling and Nigel heard a distant Cuckoo. We then bumped into a flock of some 20-30 Common Crossbills, they landed in the tops of the nearest pines and we had good opportunities to take pictures of them.
female or Ist year Common Crossbills
We continued our walk as we circumnavigated a clump of pines, we searched for Hobby, Tree Pipit and Woodlark without success. Then we found even more Crossbills, we tracked them to a boggy area where they were dropping to the ground to drink ground water. Unfortunately, we could not get anywhere near them to take more pictures.
a young male Common Crossbill
Another pair of Yellowhammers graced our eyes and our cameras as we returned along the same track as we used on the way out. We saw more Stonechats, Meadow Pipits, Linnets and a few Mallards and Tufted Ducks that were feeding in the large decoy pond in Morden Bog. As we climbed to the top of a small hill we had great views of the surrounding heath and down to the decoy pond, it was a great vantage point where we could scan the whole area, however it was so cold that we didn't stay up there for long.
Common Stonechat with a mouthful of spiders - how nice!
A few more species were seen as walked back to the car, a Peregrine Falcon flew over, we then saw a Coal Tit and heard a Goldcrest singing. More Yellowhammers appeared and we saw another Mistle Thrush. We sat and enjoyed a warm cup of coffee before driving to our next destination, Middlebere Heath on the Arne peninsula.
the decoy pond at Morden Bog, Wareham Forest
It was still windy but not so cold as we walked from the car park to the hide at Middlebere. The first bird we saw was a Common Swft, it was Nigel's first one of the year. and only my scond. We saw plenty of birds along the track which was sheltered by a mature hedge on one side and we had a view over reed beds and some heathland on the other side. Blackcaps, Common Whitethroats, Chiffchaffs, Blue Tits and several more Linnets.
more Yellowhammers
We heard Reed Warbler singing from the reeds and saw a few Little Egrets and Common Shelducks with Black-headed Gulls in the watery channels that crisscrossed the reedbeds. From the Middlebere Farm hide we had good open views of the tidal 'Lake' at Middlebere, the tide was coming in so there was not much exposed mud to scan for waders.
the view from Middlebere Farm Hide of Middlebere 'Lake'
A few Oystercatchers were dotted about over the muddy banks and seven Curlews were sitting up on the banks, most of which were fast asleep. Three Dunlin flew in as we watched and a single Little Egret stood in a small pool not too far out. We picked out a Redshank which was resting in the marsh, a Common Buzzard circled high over the distant woods and just as we were leaving a group of six Greenshanks dropped into a muddy channel.
a Redshank in summer plumage
Our walk back produced many of the same species, Nigel found a Whinchat but it flew off before I caught up with him. Once back at the car we ate our picnic lunch and drank another hot drink. From the car park we had another wonderful encounter with a Dartford Warbler, it flitted from gorse to gorse very close to the car, it was a male and it posed well. A Chiffchaff was using a small tree next to the car as one of its song posts and we also saw a Curlew out on the heath.
the iconic species of the Dorset Heathland - Dartford Warbler
The car park at the RSPB car park at Arne is a well known place to see Firecrests, Nigel wanted to see one so that was our next port of call. After spending a short while looking around the bushes in the car park at Arne we heard from the RSPB staff that a Fircrest had been seen today just up the lane. Off we went and spent another 30 minutes looking for the bird without luck. We did find Nuthatch, Siskin, Chaffinch, Goldfinch and many common species.
a Chiffchaff in song at Middlebere
Back in the car park we had great views of more Siskins as they came to a feeder, we also saw Greenfinches and Goldfinches feeding there. We left Arne around 2;30pm. We took a route back via Hartland Moor where we parked for our last birding spell. The moor stretched out in front of us, we had a panoramic view of a large area and we hoped that maybe a Hobby might be flying about. We found a couple of Northern Wheatears near the track and we scanned some large horse paddocks for Wagtails which we did not find.
a male Siskin at the feeder in the car park at Arne
Northern Wheatear seen at Hartland Moor
We left the area around 4pm, arriving in Stoford some 45 mnutes later. Nigel left our flat in Stoford after a quick cuppa, he would be getting home around 6:30pm, a very long day for him, but an enjoyable one.