ALL DAY VISIT TO WEYMOUTH WITH VISITS TO LODMOOR, RADIPOLE LAKE & FERRYBRIDGE
WEATHER; it was almost exactly the same as yesterday, a bright, clear start with cloud from lunchtime and rain later. Still chilly top temp 12C
I went out for an early morning walk heading for Yeo Valley, but I heard a lot of bird song coming from the across the railway line in the woodland alongside the stream, so I went south instead of north. I saw Chiffchaff and Blackcap and all the common woodland species you would expect to find.
Last year, two pairs of Common Whitethroats bred just above the woods in the bramble hedges, so I walked that way to see if any had turned up this year. Just then my phone pinged with a message, it was from Weymouth, a pair of BLACK-WINGED STILTS had been found at Lodmoor, I thought what a great bird that was to finish off my April list with. I called Dawn and asked her to get ready to rumble down to Weymouth. We were on our way just before 9am and arrived at 9:30pm.
Lodmoor from the west track
We parked at the 'back door' on the north side of the reserve and walked past the reed beds to the west track where the Stilts had been seen a hour or so ago. A Brent Goose flew over us, it was quite high up and obviously came from the sea and not the reserve, this was the first Brent I had seen in April! Several birders were perched along the west track at various lookout points, they were all looking for the Stilts which had disappeared, just my luck, I always say you shouldn't chase birds but I often go ahead and do it!!
can you see some Dunlin in this shot?
Black-tailed Godwits
For the next hour we walked up and down the western track and along the south side of the reserve without a sighting. Many other species were on the reserve we enjoyed views of Common and Little Terns, Black-tailed Godwits, Oystercatchers, Dunlin, Little Egrets, Grey Herons, Cormorants and a nice selection of ducks. Mallards, Teal, Shoveler, Tufted Duck, Common Pochard, Common Shelduck as well as Moorhens and Coots.
Little Terns
Black-headed Gulls with a few Mediterranean Gulls (two in the forefront)
Barn Swallows and Sand Martins swarmed over the open pools and higher up we saw a dozen or so of Common Swifts, at least two Marsh Harriers were flying around over the reedbeds and often they would drop down out of sight. Many Black-headed Gulls were strewn over the islands like tourist's litter on a beach, a late winter visitor, a single Common Gull, remained and half a dozen Mediterranean Gulls mixed in with the BH Gulls.
Oystercatcher
The bushes and reedbeds were alive with bird sounds, we heard Sedge Warblers, Reed Warblers, Cetti's Warblers, Chiffchaffs, Blackcaps, Common Whitethroat and a Water Rail and saw most of them as we walked the along the tracks.
We decided to leave the reserve and as we walked along the western track back towards the car we were informed by other birders that the Stilts were showing from the raised road along the north-eastern side of the reserve, so off we went. Sure enough, there they were, two Black-winged Stilts, they were quite distant for a photograph, but I took some record shots anyway. After a while a Crow scared them off and they flew even further away, it was time for us to move on.
one of the two Black-winged Stilts at Lodmoor today
We decided to visit Ferrybridge, but first we had a quick look at Radipole Lake for a Garganey and a Ruddy Shelduck, both had been seen yesterday and both had gone today! We did add Great Crested Grebe to the list. Dozens of Swallows were skimming over the water but I still have not seen a House Martin this year!
We stop at the quay in the centre of Weymouth to buy fish n chips and then we drove to Weymouth Sailing Club on the northern shore of Portland Harbour to eat them. It had clouded over in Weymouth but the further west you went the more sun you got, we were sitting on rocks on the beach in semi-sunshine, it was lovely and calm over the harbour. We added Sandwich Tern to our day list.
At Ferrybridge we sat and enjoyed a lovely cup of Coffee at the visitor's centre and I scoped the mudflats looking for waders just after. I saw a very obliging Whimbrel which had little fear of humans, In the distance on the shoreline a pair of Bar-tailed Godwits were feeding and I saw about 40 Dunlin and not a lot else. A few Little Terns were sitting on buoys (apparently a recent count of 80 Little Terns has been made at Ferrybridge),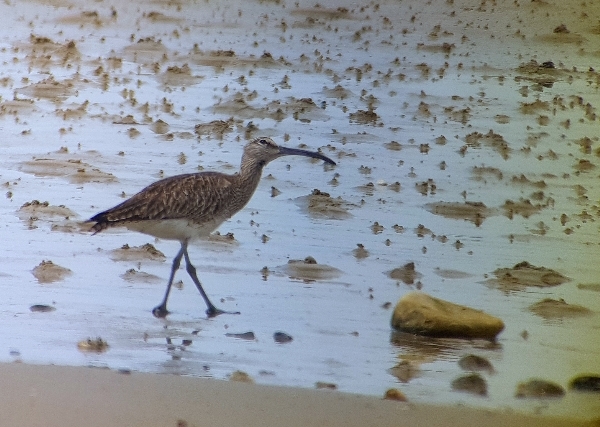 Whimbrel looking up at a huge helicopter
Skylarks were singing above us and a Sparrowhawk circle over Portland Harbour, two large twin-rotor helicopters (Chinooks) flew over as I walked out to Chesil Bank. I had scoped about four Northern Wheatears flitting about on the grassy bank which also covered in the beauty Sea Pink Flower.
Wheatears in the pink
I managed a couple of shots of the Wheatears before we finally left for home.
So the end of another month had arrived, April delivered quite a few species, more than any other month so far this year (mainly because I can now travel around). My April list ended with a count of 148 species, two of which (Tawny Owl and Water Rail were only heard). I wonder what May will bring?