ALL DAY VISIT TO PORTLAND AND WEYMOUTH WITH A LATE AFTERNOON VISIT TO SUTTON BINGHAM
WEATHER: glorious sunshine, no wind for most of the day. Cloudy later with heavy rain at times. Top temp 12C
It was a glorious day to start the month of May, we had a great day out and saw over 60 species of birds with visits to Portland, Ferrybridge, Radipole Lake and Sutton Bingham.
Although we planned an early start it never happened, Dawn and I left home at 9:20am and arrived in Weston, Portland about 50 minutes later, not a good time to start birding but hey ho we done OK! Before we left I saw Greenfinch in the sycamore trees in the garden, a nice surprise as this bird is not common around the village.
We parked in Reap Lane on the west side of Portland and walked toward Portland Bill on the coast path above the magnificent west cliffs. Around an old barn in a paddock at Reap lane we looked for a Whinchat and a Black Redstart, both of which had been seen earlier. We found the former but missed out on the Redstart.
record shot of the male Whinchat
Once we got onto the cliff path the views were stunning, the light was exquisite and temperature just right. We saw Stonechats, Linnets, Skylarks and both Meadow and Rock Pipits were performing their parachuting display flights. A report of a Short-eared Owl delayed us a little as we stopped to search the steep grassy slopes of the west cliffs, without a sighting.
the west cliffs of Portland looking back toward Chesil Bank and Weymouth
Once we got past the Coastguard station we began the descent to Portland Bill, the famous lighthouse. Below the cliffs we saw many auks, they were a mixture of Razorbills and Guillemots we also saw European Shag, Great Cormorant, Fulmar, Northern Gannets and plenty of Herring Gulls.
Fulmar
the head of a Guillemot
a Razorbill
Around the lighthouse we saw dozens of tourists and day trippers we as a couple of Northern Wheatears, we also found a coffee shop and sat in the warm sunshine to eat our lunch and drink our hot beverages. A Whimbrel flew past the 'Bill' and a Hobby flew in off the sea, it was quite high up and circled a couple of times before flying off northwards.
Rock Pipit
As we started our walk along the eastern side of Portland we saw a Peregrine circling ahead of us, we also saw more Rock Pipits, Wheatears and a few Ravens. We could see a mass of cloud gathering inland but the southern tip of Portland remained in beautiful sunshine. We only walked about a mile before we decided to cut across the island back to the car.
my first Small Copper Butterfly of the year
a Raven with someone's lunch?
Before we left we decided to take another look for the Black Redstart and this time we found it, marvellous, it was a stunning looking maale in full breeding plumage, however it would not come anywhere near us and so my photos are just record shots.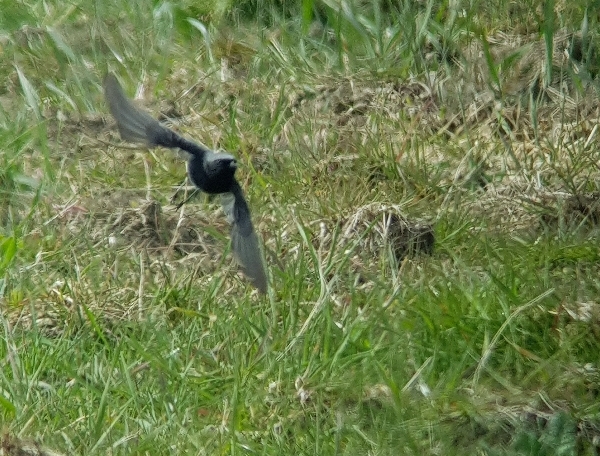 record shots of the Black Redstart
We drove off Portland and stopped on the causeway to Weymouth at Ferrybridge. It was raining when we arrived, so it was me that left the car alone. I sheltered as best I could beneath the eaves of the visitor's centre and set up the scope on the mud flats. The tide was out and consequently all the waders were very far out. I picked out a nice flock of Dunlin (70+), a single Whimbrel, two Grey Plover, two Bar-tailed Godwits, two Ringed Plovers and an Oystercatcher. Many Little Terns were fishing in the shallow water but most of them were loafing on the shoreline or sitting on buoys. A quick glance over to Portland Harbour on the other side of the causeway produced Common Kestrel and Sandwich Tern.
the mudflats at Ferrybridge
Having missed the Ruddy Shelduck yesterday at Radipole Lake I was determined to take another shot at finding it today. We pulled on the main car park next to the closed visitor's centre. I stood a small, raised bridge and scanned the main lagoon and much to my great delight the Ruddy Shelduck was still present.
Ruddy Shelduck at Radipole Lake
I also listed Common Shelduck, Teal, Tufted Duck, Mallard, Moorhen, Coot, Mute Swan, Mediterranean Gull, Great BB Gull and a Cetti's Warbler sang out loudly a couple of times. A nice find was a pair of Bearded Tits, they were feeding on the far side of the lagoon at the base of the reeds. Again these birds were far away and my pictures are just record shots.
Bearded Tits at Radipole
the main lagoon at Radipole - ther Bearded Tits were at the base of those far reeds!
It was now getting on so we decided to head for home, we arrived around 4:30pm and just as we were getting out of the car I received a message about an Osprey at Sutton Bingham! Well, I dropped dawn off at home and headed out to the Reservoir which is no more than a five minute drive.
I haven't seen an Osprey at all this year so when l located the bird, eating a fish in a dead tree, I was delighted. At last, an Osprey went on my year list and with Great Crested Grebe (there was 46 of them along the southern arm of the reservoir, an amazing count) my day total was 62 species. It was an excellent start to the month of May.
Osprey at Sutton Bingham