AFTERNOON WALK ON LYDLINCH COMMON
WEATHER; Cloudy with sunny spells, very windy, quite chilly. Temp 11C
I was in no rush to get up and go out today, it was still very windy and dark clouds loomed over the village, so I stayed home until after lunch when Dawn and I drove to Lydlinch Common.
It was windy out there but as soon as we stepped from the car we could hear a Nightingale singing. After 10 minutes of searching there was no way that we were going to see that bird, it was singing from deep inside some dense scrub.
Once we got away from the noisy road and found a little shelter from the wind we heard a few more species singing. A Garden Warbler was quite close to us so we stood under the overhang of a bush and waited. The bird moved from one song post to another and eventually showed very well.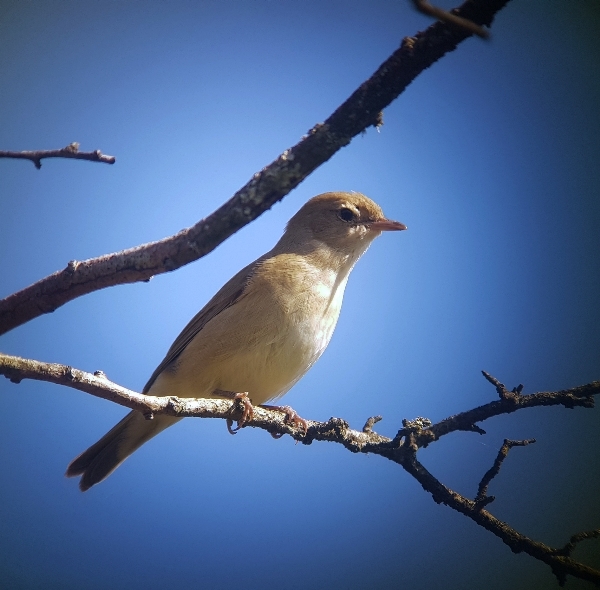 Garden Warbler
A second Nightingale was singing from a patch of dense blackthorn bushes but they did not have leaves just yet and it was possible to see the bird. At last, a view of a Nightingale, I tried to take some pictures but as you can see below they do not show much of the bird.
Common Nightingale
The Common extends across a main road and I could hear a third Nightingale singing from there so I wandered over there. I never saw the Nightingale but I did see a Lesser Whitethroat, a Chiffchaff and two Bullfinches flew over me.
Before we left, we walked into some mature woodland next to the common and although we saw very few birds we did se a lot of Early Purple Orchids. We also saw a Fox, a Squirrel and a couple of Rabbits, a Lizard scurried across the grass but I have no idea what species it was.
Early Purple Orchids
We returned home after a couple of hours and I watched garden birds and a few in the meadow. A nice sighting was a bunch of Swallows with a single Common Swift and my very first House Martin of the year.
Red-legged Partrdige in the meadow, viewed from our garden