MORNING VISIT TO ABBOTSBURY SWANNERY
WEATHER; sunny spells with a very cold wind. Heavy rain showers later. Top temp 9C
The news that a rare WHISKERED TERN was still present this morning at Abbotsbury Swannery was music to my ears. The Tern had been found 3 days ago and now it was time for me to go and see it.
I was joined by Dawn, we set off around 9am and drove straight down to the coast and parked in the beach car park, a fifteen minute walk along the pebble beach to the boundary of the Swannery was hard going in cold conditions. We found ourselves at the correct place, the 'Tank Teeth' , which are two rows of concrete blocks installed during WW2 to prevent tanks from advancing along Chesil Bank.
the 'Tank Teeth' that run up and over Chesil Bank were placed to prevent tanks from passing in WW2
By standing on the 'Teeth' you can view the large embayment of the Swannery, dozens of birds were out there, many of them were Terns and Gulls. A disadvantage was the fact that we were looking into the sunlight which silhouetted everything flying around.
some Dunlin in summer plumage
A few other birders were scoping the water, so I joined them and began my search. I picked out many Common Terns and a few Sandwich Terns, there was also a large flock of Dunlin, some Teal, Tufted Ducks, Mallards, Little Egret and Common Shelducks. After about 10 minutes I located the Whiskered Tern, it was quite distant, but it was feeding like a typical marsh tern by hovering over the water and dipping down to pick some insect of the surface of the water before moving on.
Whiskered Tern with a couple of Mute Swans
We all watched the bird for quite a while and it disappeared, after another 10 minute wait, I re-found it. This time the bird came a lot closer to us and we could see much more detail and colour. By this time Dawn was getting really cold and I had taken as many record shots of the Tern as I could, the bird went out of sight so we made our exit too.
sorry for the poor quality of the record shots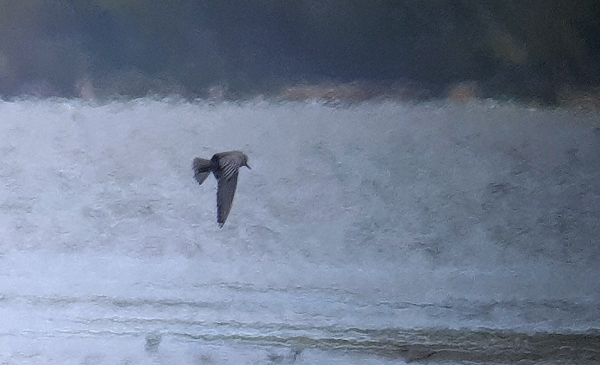 Birds seen or heard during the long walk from the car park and back included, Cetti's and Sedge Warbler, Pheasant, Common Buzzard, Cormorant, Rooks and Crows and a Chaffinch.
On the way home we stopped at Hardy's Monument which sits high up on a ridge there are stunning panoramic views in all directions. The habitat around the monument is excellent for finding Woodlark, Tree Pipit, European Nightjar, Yellowhammer, Stonechat. Linnet etc. I saw very few of those, a Mistle Trush flew over me as I got out of the car and my 20 minute walk around the area produced sightings of Barn Swallow, Stonechat, Common Whitethroat and Linnet. It was very windy and cold up there and I could hear nothing singing at all.
the views from Hardy's Monument
you can see Portland in the distance in this shot
We got home around 1pm and all I saw for the rest of the day was a few garden species, we drove through torrential rain showers on the way back and the garden plants were well watered when we got home.