ALL DAY VISIT TO SLIMBRIDGE WWT AND NEWPORT WETLANDS WITH STOPS AT FRAMPTON POOL AND SPLATT BRIDGE
WEATHER: a glorious sunny morning with a clear sky to start. Cloud later with some rain, a cold wind all day. Temp 11C
It was a long but enjoyable day, I drove up to Chepstow to meet Nigel Bleaken at his house before we drove up to Frampton, I left home at 5:45am and arrive at Chepstow at 7:15am. Nigel was ready and so off we went, some twenty minutes later we were in the car park at Frampton Pools. Over the last few months Frampton had produced some very good birds, it must be well watched, so I was keen to visit for the first time.
Common Tern dispalying to its mate at Frampton
It was very disappointing, very poor access is allowed on this private pool, we didn't stay long and all we saw was two pairs of Common Terns, Mute Swans, Moorhen, Coot, Tufted Duck, Mallard and Great Crested Grebe. We did see a few Swifts overhead and we heard a few warblers in the hedges, namely: Chiffchaff, Common Whitethroat and Blackcap.
The Gloucester and Sharpness Canal at Splatt Bridge
Nigel suggested that we try a marshland area that lies between the Gloucester and Sharpness Canal and the River Severn Estuary, a place called Splatt Bridge. It was a short drive to the bridge which we crossed on foot and walked a short way to scan the marsh. I could see the area had great potential for birding, but a couple of local birders told us that very few birds were present right now as the tide was out.
the iconic Avocet and emblem of the RSPB, brought back from the brink as a breeding bird in the UK by the RSPB, it is now very common in many areas of the UK
We saw a few geese, both Canada and Greylag and we 'scoped a few Common Shelducks on the tidal mud in the estuary. We could hear Reed Warblers singing from a reedbed about 100 meters away, we did get a sighting of one of them as well as a Reed Bunting. A few Swallows and Sand Martins dashed above the marsh and a bit higher above us we saw a good number of Common Swifts. We left Splatt Bridge and drove down to Slimbridge WWT. We had to book our entrance time which was 9:30am, we arrived in the car park with enough time to spare to down a lovely cup of coffee and eat a naughty Danish pastry supplied by Nigel!!
the Avocet is now breeding all over Slimbridge
Slimbridge is under strict COVID restrictions, there is staggered entrance times, all the hides are closed (except the Tower Hide) and some areas are completely out of bounds. All in all it was quite a disappointing visit but we made the most of it. Our main target species was Grasshopper Warbler, two had been seen and photographed recently, so we set off to look for them.
Common Cranes have bred at Slimbridge for the last couple of years
From the Tower Hide we saw a few species including two pairs of Common Cranes, one individual was un-ringed and of unknown origin (all the ringed birds are part of the reintroduction programme). We also saw a Peregrine Falcon, Redshank, Black-tailed Godwit, Pied Avocets, Teal, Mallards, Tufted Ducks, Shoveler, Common Shelducks, Lapwings and many common species.
a Buck Roe Deer on the marsh at Slimbridge
We walked out along the 'Summer Walk' which took us to the reedbeds on the shore of the Severn Estuary, we saw Whinchat along the way and a few Skylarks above us and the reedbeds held several Reed Warblers and a few Reed Buntings. It was also the place where the Grasshopper Warblers had been seen.
Reed Warbler
The wind got up and the cloud cover increased whilst we were there, it became a bit uncomfortable so we made our way back to the Tower Hide where we learned that someone had just seen and heard one of the Grasshopper Warblers, doh!! So I walked all the way back to the reedbeds for a second look, the wind was quite bad and it was raining, so I gave up after a short while.
Sedge Warbler, this bird has a metal BTO ring on its leg
After our visit to the 'wild' part of Slimbridge we walked around the 'tourist section' where all manner of wildfowl could be seen, Nigel filled his camera with pictures of Eider Duck, Scaup, Goldeneye, Smew, Hooded Merganser, Redhead and Chiloe Wigeons, so if you see any of these on his blog, they are captive birds, not wild.
the Whinchat seen along the 'Summer Walk'
We sat outside the main building to eat our picnic lunch before driving away, Nigel brought some naughty cakes and chocolate bars as usual, but I refused them of course……Pinocchio comes mind!!!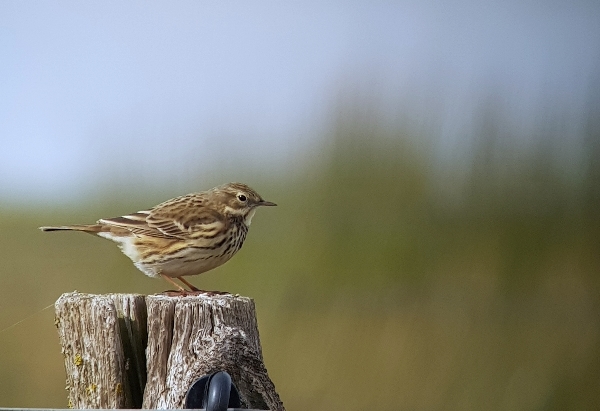 Meadow Pipit spotted by Nigel at Newport Wetlands AKA Goldciff
Our final birding session of the day was done at the Newport Wetlands, it took 30 minutes to get there from Slimbridge and turned it out to be our best birding session of the day. There are two parts to the wetlands, a large Reedbed and a large open lagoon which lies on the shore of the Bristol Channel, the tide was coming in so it boded well for some good wader watching. We visited the circular lagoon where hides and blinds are placed ¾ of the way around, they sit on a raised bank and give good views of the water and reeds.
Newport Wetalnds Bean Goose, considered a genuine bird by the locals
One disadvantage is that you start in a southwest facing position so you are looking directly into the sun for the most part, however this did not stop us from having a great birding session.
a Dunlin flock with a Little Tern
You may know by now that I love wader watching so I was in heaven at Newport, from the first hide we saw lots of Redshanks, some distant Black-tailed Godwits, some Avocets and Nigel picked out a Little Ringed Plover on the nearest island, we also spotted a single Ruff from the second hide. All over the lagoon there was pairs of Greylag and Canada Geese with goslings, also Avocets and Lapwings with chicks and Mute Swans, a few Great Black-backed Gulls were lurking in the area, they love to snatch the chicks and eat them whole!
Black-tailed Godwits with some males looking very red
We could see a huge flock of small waders in the distance, so we made our way to the far side of the lagoon to look at them. Along the way we saw a few Northern Wheatears and we picked out a Bean Goose, this goose had been there all winter and is presumed a genuine bird, a year tick for me!!
two Whimbrels with a Bar-tailed Godwit and a Black-tailed Godwit at the back
more Dunlin
From the final hide we had the sun behind us and we spent a fabulous time watching hundreds of waders, there must have been 500+ Dunlin to sifted through, also 50+ Ringed Plover, 40+ Redshanks, 20+ Black-tailed Godwits, and a few Avocets. Then a single Bar-tailed Godwit flew in with four Whimbrels.
one of the six Northern Wheatears seen at Newport Wetlands
Nigel picked out a single Little Tern in the middle of the Dunlin and we saw Meadow Pipit and more Wheatears. It was hard to drag ourselves away but it was now 5pm and I had a two hour drive home ahead of them. On the way back to the car we saw Pied Wagtail, Common Whitethroat and we stopped to watch more waders from the first hide. It was well worth stopping for a last look because we added Sanderling and Red Knot to the list, we also had much better views of the Ruff and three more Bar-tailed Godwits dropped in, phew! It was good out there and it made a great finale to a somewhat underwhelming day.
a record shot of the Ruff
I left Nigel at Chepstow at 6pm and got home in very good time arriving at 7:25pm, the roads were clear. I added 16 species to the May list which stands at 108 after 7 days.