ALL DAY VISIT TO WEYMOUTH AND PORTLAND
WEATHER: cloudy with long sunny spells, a little windy and it felt cold in the breeze. Temp 8 – 13C
At Last!!! I was back out birding again after nearly a week of awful weather. I hate the wind and I really don't like the rain and I refuse to go out in it unless it is necessary. For the last four days Dawn and I have visited relatives in Kent and and even though I went out for a couple of walks it was raining most of the time with some really heavy showers.
I was back out again today and enjoyed a wonderful day at the coast with my birding pal Guy, we also met up with Debbie and Brenda who were clients on last year's trip to the Isles of Scilly, they brought Sarah with them to make up our group of five. Guy collected me from home at 7:30am and we drove down to RSPB Lodmoor which took about 40 mins. We were to meet Deborah, Brenda and Sarah at 9:30am so we had time to search for the BONAPARTE'S GULL which had been seen at Lodmoor for the past 5 or 6 days.
a Greenfinch was one of the first birds we saw today
We walked onto the reserve from the north end and took the west path which led us through the reedbeds to the open marsh and lagoons where most of the birds on the reserve can be found. We heard Reed and Cetti's Warblers as we walked along and we saw a male Greenfinch on top of the hedgerow.
I can't believe that there are still Black-tailed Godwits around, they should be up on teir breeding grounds by now
On the marsh we could see a few Black-tailed Godwits, Shelducks, Tufted Ducks, Gadwall, Mute Swans and lots of Black-headed Gulls. We sifted through the gulls hoping for a sighting of the Bonaparte's Gull. Unfortunately, we did not see the American Gull so we walked to the band stand look-out point where we were to meet the girls, we saw a good many Common Terns on the islands in the main lagoon as well as a lot more gulls, both Black-headed and Mediterranean.
several Little Egrets were dotted over the reserve
In the reeds we saw a Sedge Warbler and the in the bushes a Lesser Whitethroat sang, it took a short while before we got relatively good views of it. As we walked to the band stand the Lesser Whitethroat seemed to follow us and sang from various bushes and often showed very well.
the Common Terns looked to be settled on their purpose-built breeding islands
Debbie, Brenda and Sarah turned up just after 9:30am and we all spent some time at the view-point watching the bird activity on the marsh and in the lagoons. We found Little Egret, Grey Heron, Lapwing, Sandwich Terns, Shoveler, Oystercatcher, Marsh Harrier and a large number of 2nd Year (immature) Mediterranean Gulls. Many Swifts, Swallows and House Martins filled the sky and the bushes held Cetti's Warbler, Goldfinches, Chaffinches, Robins, Wrens and Dunnocks.
the very showy Lesser Whitethroat
All of us got to see the Lesser Whitethroat very well and before we started a walk to circumnavigate the reserve, we finally saw the Bonaparte's Gull, hooray!! It was very distant but easily identified by its size and distinctive markings.
more of the Lesser Whitethroat
We then began our walk eastward to the central track where we turned north. For the next hour we saw many birds, not too many new species for the day-list but better views of many species. We watched Reed Buntings and Reed Warblers, we saw Chiffchaff and Blackcap, Guy picked out a Sand Martin and we all enjoyed the antics of the Marsh Harriers.
about fifty Mediterranean Gulls were on the marsh
At one point on the track through the reedbeds we stopped to watch a pair of Bearded Tits, they were flitting to and fro across the track, carrying food in one direction and faecal sacs in the other, obviously feeding young in a nest not too far into the reedbed. They were fascinating to watch and once or twice we had really good, but brief, views of them in the reeds.
Common Tern in flight with two Sandwich Terns
We made second walk along the western track in the hope of getting a closer view of Monsieur Bonaparte, but he would not show. At that point it began to rain a little and we decided to head off to Portland, Guy and I walked back to our car and girls did the same, we arrange to meet up at Ferrybridge where we would stop for coffee and eat lunch. Guy and myself ate most of our lunch as soon as we got back to the car, afterall it was 12 noon by then!!
Sedge Warbler in the reedbed
At Ferrybridge we enjoyed a coffee as we sat in lovely sunshine at the visitor's centre, we watched Skylarks ascending, a Pied wagtail foraged around the picnic tables and not much else appeared. The tide was very low, so the water was quite distant, a brief look through our scopes produced sightings of about 40 Little Terns, a few Oystercatchers and the odd Mediterranean Gull.
Reed Bunting at Lodmoor
For the rest of the afternoon we visited Portland, we stopped at three places, finishing with a walked around Portland Bill's rocky shoreline. Our first stop was near the walls of the Verne Prison, we had hoped for a Little Owl sighting, but none were present at the usual place, however we had terrific views of two Peregrine Falcons, they drifted over us on numerous occasions, somewhat oblivious of our presence, it was a wonderful experience.
Guy and the girls watching out for the Bearded Tits at Lodmoor
In a disused quarry near the commercial Fancy Farm we searched for Silver Studded Blue butterflies without success, so far today we had seen, Orange-tip, Dinghy Skipper, Small Heath and Small Copper, we also saw a Slow Worm (legless Lizard).
the view from the quarry at Fancy Farm looking into Weymouth Bay
For our final birding of the day we drove to Portland Bird Observatory and parked the cars before walking down to the bill. The clouds finally cleared, it felt warmer in the sunshine so we ventured out without coats, it was really quite pleasant if you could get out of the cold breeze. In the small quarry next to the Observatory we found a Little Owl, they are so lovely to see it was a delight for all of us.
Little Owl in the Ob's Quarry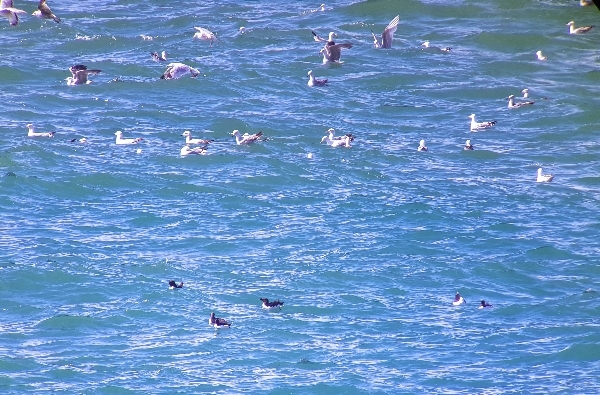 Razorbills, Guillemots and many Herring Gulls at the Bill
Around the 'Bill' area we watched many birds out on the sea, huge numbers of Herring Gulls were sitting out on the water and we also found Gannets, Cormorants, Shags, Guillemots, Razorbills and Fulmars. A few Rock Pipits flitted about on the rocks as we departed to walk back up to the cars. The Little Owl was still showing as we walked past the quarry.
My companions for the day, Guy, Debbie, Brenda and Sarah
It was now 5pm and it was time to leave for home, we said goodbye to our good friends Debbie, Brenda and Sarah, it was so nice to see them again. We all agreed it had been a lovely day out with plenty of good sightings.