AFFPUDDLE HEATH
WEATHER: dull and overcast, brisk cold breeze. Temp around 16C but if elft like 10C
After some glorious weather over the last few days it was dull with little sunshine and quite cold today. Dawn and I sought pastures new as we made our way to Affpuddle a few miles east of Dorchester. The whole area is a mosaic of heathland and pine forest, we chose the area around 'Culpepper's Dish' to explore today.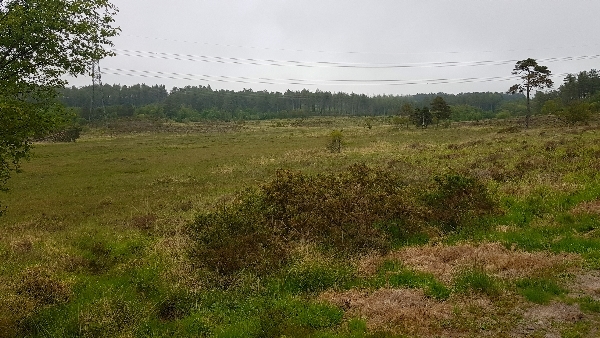 a typical view of the Affpuddle Heath with satnds of mature pines in the background
From the car park just outside of the village called Briantspuddle you can walk across a lane to view the 'dish' which is one of a number of natural swallow-holes found in the area. It is now overgrown and covered in many trees which make it difficult to view the full extent of the hole which is 290 yards wide and 47 yards deep, a massive sink-hole.
After a quick look at the Dish we walked from the car park down onto the Puddletown Heath, immortalised by the novelist Thomas Hardy as the famous 'Egdon Heath'.
Common Stonechat, a colourful gem to brighten up a dull day
It felt really quite cold in the breeze so we didn't linger too long in any one place. I had some information about the presence of pair of Honey Buzzards in this area so we scanned the sky as much as we could. Despite spending two hours walking across the open heath we only saw a single Common Buzzard. We also saw several passerines in the pines and on the gorse and heather.
this Tree Pipit refused to behave and face the camera
Common Stonechat, Linnets, Goldfinches and a Tree Pipit were seen on the heath with Siskins (a couple of males displaying) in the pines, we also saw Coal Tit, Great Spotted Woodpecker, Blue and Great Tits and several other common species. A few Willow Warblers and Chiffchaffs sang from the bushes and a single Blackcap was also heard.
Dawn heard a distant Cuckoo so we headed in that direction, we saw the bird fly across a section of heath calling as it flew, that was the highlight of our visit.
We did get good views of a singing Tree Pipit and we saw it perform its display flight as we walked back to the car. It started to drizzle with rain as we climbed back up the hill to the car park.