VISIT TO THE SOMERSET 'LEVELS' - HAM WALL, SHAPWICK HEATH AND TEALHAM MOOR
WEATHER; dull and overcast, with some bright spells and rain showers. Temp 16C
Today I met up with John Stacey, a good friend (even though he supports Leicester City FC) who was down on holiday with his wife Gill. Unfortunaelty Gill could not come with him as she has broken her ankle during a fall, get well soon Gill.
We met up at Ham Wall car park at 8am and set off for a walk along the main track to the various hides and view points. Due to the COVID situation many staff at the reserve have been unable to carry out the usual reed trimming and hedge cutting so the whole reserve looked very overgrown and many pools were not in view due to high swathes of reeds (probably a blessing for breeding birds).
a typical view from the Avalon Hide at Hall Wall
We saw nothing from View Point 1 except for a fly-over Great Egret, so we walked down to the Tor Hide and various blinds, where a lot more water could be seen. All the common duck species were on view, but they are all in 'eclipse' plumage, moulting from their beautiful breeding attire. In a few weeks they will look resplendent in their new winter garb but at the moment they all look a drab brown colour. It was hard to separate Gadwall from Mallard and from a distance they all looked the same. We did pick out Shoveler, Teal, Tufted Duck, Mallard and Gadwall, along with Moorhen, Coot and afew Great Crested Grebes with chicks.
Shoveler
Gadwall - a male in ecilpse plumage
On other pools around the reserve we added Little Egret, Marsh Harrier, Common Buzzard, Grey Heron, Cormorant, Herring Gull, Black-headed Gull and Lesser Black-backed Gull.
the iconic species of the Levels - Great Egret, many pairs now breed there
The weather remained dull with a few sunny spells, as a consequence we saw very few butterflies and dragonflies. Many Red Admiral butterflies were on the wing as well as Commas, Gatekeepers, Meadow Browns and a few Small Tortoiseshells. We saw dozens of Common Blue Damselflies and a few Small Red-eyed Damselflies, a few Black-tailed Skimmers and Emperor Dragonflies flew in front of us along the tracks.
Small Red-eyed Damselfly
After a quick cup of coffee back at the car park we set off to visit Shapwith Heath and specifically Noah's Lake. Along the way we heard Bullfinch and to our great delight a BITTERN flew up from a reedbed and flew right across the track in front of us giving excellent views, we even had time to get our bins onto it, smashing!!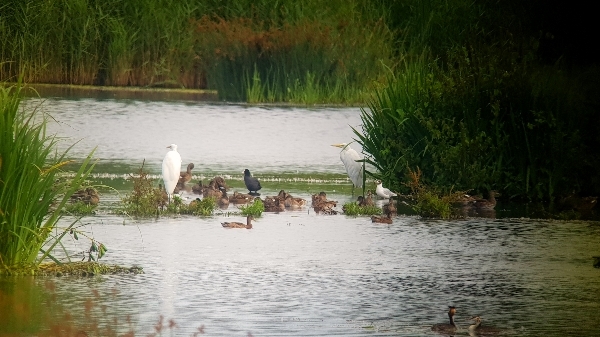 more brown ducks and Great Egrets - all of the pools had too much water for waders
By the time we got to Noah's Lake and the elevated hide it was raining, we sat in the hide as a quick down pour hit the surface of the lake, it didn't last long. We scoped the lake hoping for maybe a Black Tern or any kind of tern but none Terned up!! We saw many of the same ducks and grebes, with Canada Geese and Mute Swans a plenty.
Great Crested Grebe with stripe-headed juveniles
Back at the car once again we stopped for another coffee and I ate my lunch, John didn't bring any and would take any of mine, but then a miracle happened........... a Leicester City fan bought a Villa fan an ice-cream, wow!!! Sighting of the day and it was my favourite Magnum.
Grey Heron looking lost out in a meadow
Foillowing that we drove round to Tealham Moor to look for more species, maybe Yellow Wagtail, Hobby or Cattle Egret. We found a newly cropped field with 5 Common Buzzards in it, a Grey Heron in another, some Mute Swans and finally a single Cattle Egret with a herd of cows. After watching a Kestrel it started to rain again, we were quite a distance from the car and as we walked back we got a bit of a soaking.
the only Cattle Egret seen today was almost trampled on by a herd of cattle!
We called it a day at that point, it was 2pm, we had seen 3 species of Egret, a Bittern and quite a few dull brown ducks, but it was great to meet up with John again and to be out in the wide open spaces of the levels.