Lambert's Castle, Seaton Wetlands, Lodmoor and Ferrybridge
Weather: Overcast for most of the day, some hazy sunshine. Top temp 19C
Nigel picked me up at 7am for our day out looking for migrants. We decided to head to the coast at Seaton to visit the fabulous Seaton Marshes.
On the way down we stopped off at Lambert's Castle which can be good for migrants during passage times. We struck lucky with the weather today because we has low cloud and It was very misty, ideal for dropping in a few migrants.
We heard a Nuthatch as we left the car park and a flock of thrushes flew down into the first meadow. We located the birds and saw 15+ Mistle Thrushes, what a nice start.
One of the 15 or so Mistle Thrushes seen in the meadow and two more below
It took a while to find any migrants but soon we were watching a bunch of Spotted Flycatchers, a single Pied Flycatcher and several Chiffchaff/Willow Warblers. They were all feeding fairly low down because of the weather.
As the mist cleared so did the migrant birds, we did find another bunch of Spotted Flycatchers, it was family party with the parents feeding recently fledged young birds. A very large 'Tit Flock' then worked its way through the bushes, there must have been 40-50 birds in the flock, made up of Blue, Great, Coal and Long-tailed Tits as well as a Treecreeper, a couple of Nuthatches and two Chiffchaffs.
Juvenile Spotted Flyctahcer left with a parent on the right
Nigel found a Green Woodpecker on a dead tree, a Great Spotted Woodpecker called from the woods and we also saw a juvenile Bullfinch, a couple of Yellowhammers, some Linnets, Goldfinches, Chaffinches and lots of Robins.
We searched for grounded Wheatears on the east facing slopes without success and we noted a pair of Ravens flying over the car park as we returned to the car.
Next, we drove down to Seaton Marshes and headed straight to the hide on Black Hole Marsh. This hide is situated on the end of a boardwalk that stretches out over the wader pool and gives you great views of close-up waders, I love this place.
a view from the hide at Black Hole Marsh
We saw a good selection of birds in the scrapes: Black-tailed Godwits, Oystercatcher, Dunlin, Redshank and Greenshank, Curlew and a Wood Sandpiper which looked out of place on the muddy fringe. Also present was Little Egret, Shelduck, Grey Heron and lots of common gull species.
some of the Redshanks looked striking as they retained their summer plumage, just like this one
The entire ensemble of birds on the marsh took to the air at once in a swirl of feathers and panic! Not caused by a Peregrine because even the large birds went up!! It must be an Osprey I pondered, I dashed out of the hide to check the sky but saw nothing.
a collection of waders, mainly Dunlin but also Redshank and Black-tailed Godwit
If you do an internet search of the leg tags on this Black-tailed Godwit you will find out what survey it is from!
At the Tower Hide a little later we learned that an Osprey did fly along the river adjacent to the marsh, it circled, dropped down and caught a fish before flying upriver (inland) to find somewhere to eat its breakfast.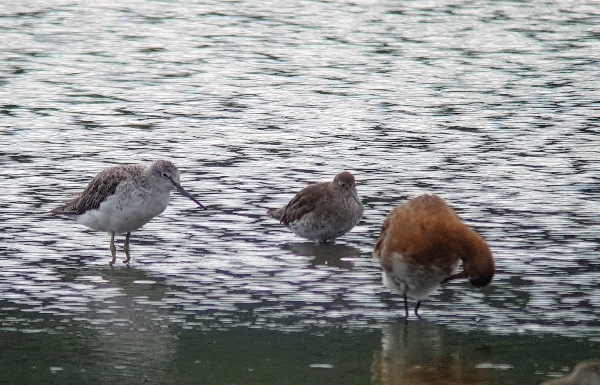 A Greenshank, Redshank and Blackwit
We added Common Sandpiper to the list from the tower hide and not much else. After a quick cup of 'flask-coffee' we drove down the road to visit the last hide from which we saw another two Common Sandpipers, a Kingfisher and the usual flock of roosting gulls. On the way back to the car a Northern Wheatear flew over us and landed on a distant fence post, we saw a family party of Stonechats whilst searching for the Wheatear.
Kingfisher
two Common Sandpipers
a distant Northern Wheatear
From Seaton we drove along the coast-road to Weymouth which took about an hour, the traffic was heavy with lots of tourists out and about. We visited Lodmoor first, parking on Beachdown Way to view the reserve from the raised road.
Great and Little Egrets on the 'Postbox Pool'
After eating our lunch we got down to a serious search of what is locally known as the 'Postbox Pool' where a SPOTTED CRAKE' had been spotted earlier. On the pool we saw Great Egret, Little Egret, Lapwing, Green Sandpiper (our third sandpiper of the day), Tufted Duck, Gadwall, Great Crested Grebe, Moorhen. Coot, Mallard, Mute Swan and a dozen or so of Mediterranean Gulls some them were colourful juveniles.
We never expected to see the Crake but we tried anyway. Nigel then drove the car to the southside (the beach side) of the reserve whilst I walked around the track. I noted Black-tailed Godwit, Common Sandpiper, lots of Gulls, a Marsh Harrier, some Swallows and Sand Martins as I walked around to the west track. I met up with Nigel along the west track as he sat watching two Common Terns on the edge of the main lagoon.
Our last stop was at Ferrybridge, we wanted to be there at high tide and that is exactly what we got. However, instead of lots of birds being close to the visitor's centre they were miles away! Too many tourists walked along the edge of the mudflats and had flushed the roosting waders.
We did see a few species of waders, Dunlin, Sanderling, Ringed Plover, Oystercatcher and Ruddy Turnstone as well as a few gulls including Great Black-backed, Mediterranean, Herring and Black-headed Gulls.
We left the area around 3:30pm and Nigel got me home within the hour, I can't remember much of the return journey I must have dozed off!!