A morning visit to LANKHAM BOTTOM
WEATHER: hazy sunshine, not breeze. Top temp 25C
Today I made a short trip southward towards Dorchester and at the top of Wagon Hill I turned off towards Maiden Newton. I parked shortly afterwards outside the Butterfly Reserve at Lankham Bottom. I love this place, the scenery is stunning and the habitat devine, it is perfect for many species of butterfly but it's just as good for birds.
A view from the east gate into Lankham Bottom, you can see the Water Company's buildings at the very bottom. It was a little misty out there to start with.
As I entered through the east gate I disturbed a small flock of birds, it was a family party of Bullfinches, very nice, but none of them stayed long enough for a photograph. The next bird I saw was a Yellowhammer, a lovely male but it too flew off before I digitised its image. Things were looking good, it was already warm and the sky was bright.
I was hoping for an array of migrant species, maybe a fall of warblers in the hawthorn scrub, but all I saw was resident birds such as Blackbird, Song Thrush, Robin, Dunnock, Magpie, Rook, Jackdaw, Crow and Wood Pigeon.
Meadow Brown on Hawksbit sp.
At the bottom of this huge natural 'bowl' there are a couple of buildings which house water pumps, the land is owned by the Water Company and let out to the Dorset Butterfly Conservation Group. Around these building there are large patches of Ragwort and closely cropped grass and that is where I headed for. Very soon I found my first Wheatear of the day, this was quickly followed by four more. A dog walker then put them all up, they flew onto a telephone wire, I counted six birds altogether on the wire. Where there are Wheatears there are usually Whinchats and that proved to be the case here.
looking back up to the east gate from the buildings
The Whinchats like to perch on plants about 1 meter or so above the ground where they dash after flying or ground based insects, I found two Whinchats and a male Stonechat doing exactly that. I searched for more migrants without success, but I did see Common Buzzard. Raven and Common Kestrel. A good number of Pheasants and Red-legged Partridges could be seen in the nearby fields, all released birds intime for the big shooting season.
there are three of the six Wheatears in this picture, look carefully!
As I began to climb the slope back to the level of the road the sun came out and I noticed quite a few butterflies on the wing. I was amazed to find a lot of ADONIS BLUE butterflies, some very fresh-looking individuals, the vibrant, metallic blue shone in the sunlight. This south-facing slope had very short grass, it was covered in Eyebright flowers with some Ragwort and lots of Dandelion type flowers, probably a species of Hawksbit.
Eyebright. Don't ask what microspecies it is, there are so many! The south facing slope was covered in these and the butterflies loved them.
Many Adonis Blues were on the wing, I needed my butterfly-whisperer mate Guy, because I couldn't get anywhere near them. I also saw many Common Blues, Meadow Browns, Small Heaths, a few Gatekeepers and the usual Small & Large Whites, Small Tortoiseshells and Painted Ladies.
Adonis Blue (nectaring on Eyebright below)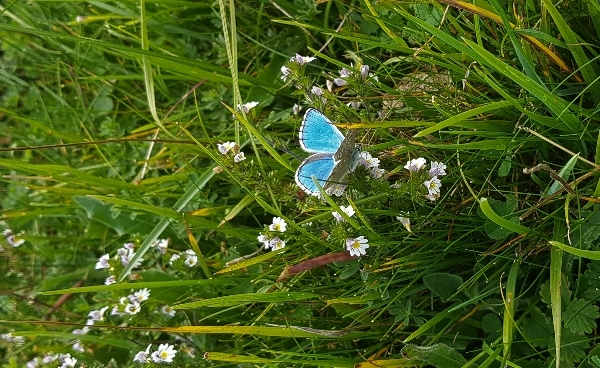 A Common Kestrel Landed not too far from me but as I was taking its picture my phone's battery died…..Doh! I walked back to the car and got very close to both Wheatear and Whinchat but I couldn't take a picture without my phone. The last bird sighting of my visit was that of a Green Woodpecker, it flew up from the grass as I approached the exit gate.
Common Blue
Back at home I had an interesting session watching my bird feeders, a large mixed flock arrived at one point. Blue, Great, Coal & Long-tailed Tits enjoyed the sunflower hearts and the hanging fat-balls. For the first time this year a Nuthatch arrived, I also saw Goldfinch and a Robin.