PORTLAND AND WEYMOUTH
WEATHER: A superb sunny day, clear blue sky, bright sunshine, light breeze. Top temp 23C
I had a fantastic day today!! I went birding with two clients from Cambridge, David and Sallie, who were great to be with for a superb day on Portland and Weymouth. I collected them from their holiday accommodation in Weymouth at 7:30am and we drove straight to Portland.
Our first stop was at Portland Castle where a WRYNECK had been seen yesterday! The gate to the garden area behind the Castle was locked so we had restricted views, however, after 15 minutes we located the bird on the ground. How fantastic was that? Our first bird of the day was a lifer for my guests, they got great views of it as the bird sat on a post and posed in the sunshine.
our first bird of the day was this WRYNECK
In the same garden we saw Spotted Flycatcher, Blue Tit, Great Tit, Robin, Blackbird, Dunnock and Wood Pigeon. Before we left the site we walked round to the back of the castle to view the harbour. From a little beach area we saw Little Egret, Grey Heron, Rock Pipit and a few Herring Gulls. In the hedges around the car park we added Chiffchaff, Pied Wagtail and Goldfinch.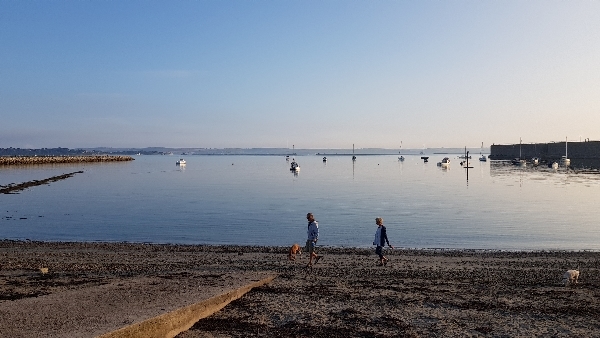 the view of Portland Harbour from Portland Castle
We then drove down to the Bird Observatory at the Old Lighthouse, the car park was full so we parked in the field nearby. We saw Linnets and Meadows Pipits flitting around in the fields but nothing more. A quick visit into the Observatory produced nothing new so we decided to have a quick cuppa back at the car before we walked to the Bill. As we walked from the Obs we saw a Sparrowhawk and a distant Kestrel.
Whilst drinking our morning coffee we looked up above the Obs Lighthouse and saw a buzzard sp. It was circling on the thermals, it was accompanied by two Sparrowhawks. After a short while we identified the Buzzard as a Honey Buzzard!!! Wow!! It was another year tick for my companions and another great bird for the day trip.
the HONEY BUZZARD over the Observatory being mobbed by two Sparrowhawks, photo taken by Ben Sheldon
Before we set off to the Bill we decided to have a quick look into the Obs' Quarry where we soon found our second WRYNECK of the day!!! This individual provided us with much better photographic opportunities, Sallie and David were in heaven, clickety click!! We also saw a couple of Common Whitethroats.
WRYNECK in the Obs' Quarry
Our walk down to the Bill produced very little else and our short sea-watch proved equally non-productive. It was very calm out to sea and very little was passing. We did see some Gannets, a single Fulmar, some Great BB Gulls and a couple of distant 'auks' which we could not identify. A few Ravens flew around the Bill area with dozens of Jackdaws. We then walked back towards the Obs Lighthouse via the Pulpit Arms pub (we didn't go in!!).
a view of Weymouth Bay and White Nothe Cliffs, tasken from the East Cliffs of Portland. the 30ft Rock pinnacle in nthe foreground is called Nicodemus Knob.
In the scrub around the pub we saw both Stonechats and Whinchats and more Linnets and Goldfinches. More sightings of Kestrels and Ravens ensued as we walked back to Obs. It was now 11:30 so we collected our lunch boxes and walked cross to the Bird Observatory to eat our lunch on the terrace. We sat in the warm sunshine munching away when one of the ringing group approached us and produced a GRASSHOPPER WARBLER in his hands. Another great bird for our day list, David and Sallie were well made up and so was I.
this is the only picture I got of the Grasshopper Warbler
From the Obs we drove to the north end of Portland and walked around the Quarries and scrub near Fancy Farm. We found half-a-dozen Northern Wheatears, another Kestrel and not a lot else. A few butterflies were on the wing, we listed Red Admiral, Painted Lady, Small Heath, Speckled Wood and Common Blue.
Kestrel in the scrub on Ferrybridge Mudflat
Next stop was Ferrybridge, the tide was high so not much mud was exposed and very birds were out there. A couple of Bar-tailed Godwits were joined by a single Ringed Plover, 8 Mediterranean Gulls and a single Sandwich Tern.
two Bar-tailed Godwits seen at Ferybrdige
We then drove around to the northern entrance to RSPB Lodmoor and a short walk found us along the west track where we watched a few waders, egrets and ducks. A few Black-tailed Godwits were feeding in the pools and a bunch of 12 Dunlins were roosting nearby. We saw 3 Great Egrets, 4 Little Egrets and 2 Grey Herons. Several Teal, Mallards, Canada Geese and Cormorants joined dozens of Mediterranean Gulls loafing on the muddy islands. David had a quick view of a Water Rail but both Sallie and I missed it!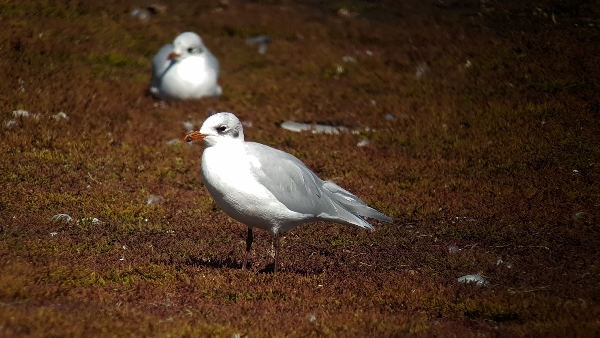 Mediterranean Gull at Lodmoor
After va while we drove round to the 'Post Box' Pool which is viewed from the northern perimeter along Beechdown Way. We spent our last hour scanning the pool for a SPOTTED CRAKE which had been reported over the last week or so. We added Green Sandpiper, Lapwing, Shoveler to our list and we had nice 'scope views of BEARDED TITS!!! We saw at least four of these iconic reedbed species.
my lovely companions for the day, David and Sallie, they were great company
Then I got onto a silhouetted shape in the reeds and I was pretty sure that it was the SPOTTED CRAKE but I never got a 100% ID on it. Furthermore a few minutes later a Water Rail appeared in the same area, so I dismissed the Crake, much to the disappointment of my guests. We stayed around for a few more minutes, enjoying the late afternoon sunshine and hoping that the crake would appear. David found two Common Snipe and the Bearded Tits reappeared before we called it day.
a record shot of the Water Rail
I dropped off Sallie and David at 5pm, our day out had been perfect, the weather was fantastic, the birding superb and the company excellent, what more could you possibly want? I really enjoy my job when it goes like it did today!