DAY 169 - 29TH AUGUST - STOFORD STREAM DAY 170 - 30TH AUGUST - LAMBERT'S CASTLE - SEATON MARSHES - COGDEN BEACH
29TH - STOFORD STREAM
WEATHER: a bright and clear morning with sunny spells, but quite cold with a northerly wind, temp in single figures, it felt like 5C
I took a short walk today, instead of turning left into the Valley from the lane I turned right and walked south along the stream which runs parallel to the village. It was really quite sheltered there from the biting wind and I hoped that a few species may be resting in there.
Common Whitethroat
Alas it was very quiet, but the first bird I bumped into was a Common Whitethroat, this was most probably one of the local breeding birds. Then all I saw was a single Robin, a Wren and a Blackbird.
After 2-300 meters the track emerges from the riparian wooded area and leads you alongside a large open field, you can stand back a little and survey the tree-line. It was there that I found a mixed feeding flock of Long-tailed Tits, Blue Tits, Great Tits and I found a female Blackcap with them. I watched the trees for quite a while but found nothing new.
blue sky today, a rare sight these days
After about ½ hour I retraced my steps back home, other species seen during the walk were: Herring Gull, Common Buzzard, Wood Pigeon, Dunnock and not much else. In fact, there was more species on my bird feeders than along the stream, I saw Goldfinch, Coal Tit, Chaffinch and lots of Great & Blue Tits feeding.
August 30th - LAMBERT'S CASTLE – SEATON MARSHES – COGDEN BEACH
WEATHER: a superb sunny day, lighter winds but still quite cold in the breeze. Top temp during the day 17C
I had another wonderful day out with Nigel Bleaken (who told me it was his birthday on arrival), so I was under pressure to find him a good bird for his annual celebration. Dawn had the car once again, so Nigel had to drive once more, we decided to go just over the Dorset border into Devon, Lambert's Castle to be precise.
This ancient hill fort is situated a few miles north-east of Lyme Regis and sits on a hill with outstanding views downs to coast. It is managed by the National Trust and crises of a dense mature woodland of mainly beech trees and several large meadows around the fort of oak, ash, birch and elm. One or two meadows have many crab-apple trees, which is a great place for birding.
The fort itself is nothing like the huge affair at Maiden Castle, Dorchester, but the position of it is outstanding, it is one of the most picturesque sites I have visited this year.
birthday boy at Lambert's Castle
We spent about 3 hours there it was both a productive and an exploratory visit, an eye-opener for me because we visited places I had never been before and I wondered why I hadn't? I was totally blown away by the panoramic views from the top of the eastern ramparts, you could see 15 miles down to the sea and eastward all the way to Bridport.
It was birthday boy, Nigel that made our first significant find, it was a female type COMMON REDSTART, they do breed there according to the information boards. Some of the meadows were heavily grazed by large black cattle and many apple trees were dotted about. The Redstart was a year tick for both of us. We then walked for about ½ hour to the escarpment, finding Great Spotted Woodpecker and a few common species. On the escarpment we found two Northern Wheatears and a pair of Common Buzzards.
It was in one of the apple orchards at the Castle that most birds appeared, it was this sheltered area which bordered the woodland that most birds seemed to favour. We heard a Nuthatch, then we saw a family party of Bullfinches and a couple of Coal Tits. A second Redstart was found, this one was a male but it disappeared as soon as it was found.
Northern Wheatear at lambert's Castle
Nigel then got onto a party of birds moving through the oaks, we saw three or four SPOTTED FLYCATCHERS, but we couldn't find our target species the PIED variety of flycatcher. We spent a good hour looking without a result, after a while the birds seemed to clear out and so did we. Our return walk produced the female Common Redstart again and we saw a couple of Mistle Thrushes in a tree, then a whole flock of them flew up, it was incredible, we counted 19 Mistle Thrushes in the flock!!
We then drove a further twenty minutes into Devon to the Seaton Marshes, it was much warmer there, we parked in the main car park which was filling up with family parties. A nice cup of coffee went down well as we sat in warm sunshine in the sheltered car park before we made our move. We walked to the Island Hide which is build at the end of a raised boardwalk and sits out in the middle of the Black Hole Marsh.
It was wonderful there, the light was superb, we were surrounded by waders on three sides, I was in heaven. We found a single Little Stint with a flock of Dunlin, Nigel picked out a distant Wood Sandpiper, then he found two Curlew Sandpipers which eventually came very close to the hide.
Little Stint with a Dunlin in the foreground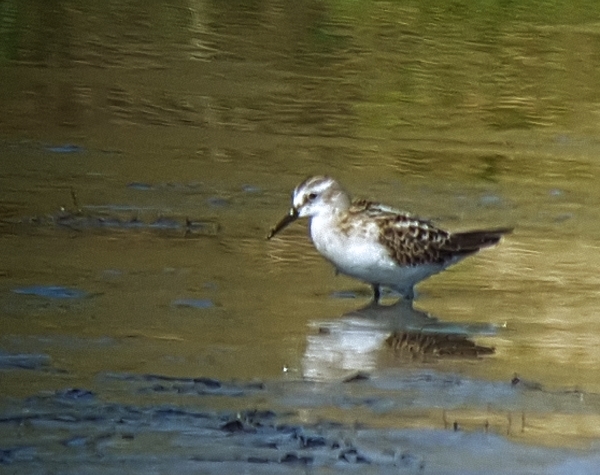 We spent a lot of time sifting through the larger waders looking for a Spotted Redshank but failed to see one, but we enjoyed Black-tailed Godwits, lots of Common Redshanks, a couple of Knot, Common Sandpipers, Curlew, Common Shelduck, Common Ringed Plover and many Eurasian Teal.
Curlew Sandpiper with a Dunlin
After our wader fest we sat in the car park and ate our picnic lunch before we drove further into Seaton and parked by the sewage works, how nice! From there we walked to another hide which overlooks the tidal river and we had close encounters with 5 more Northern Wheatears along the path as well as many butterflies and a few dragonflies.
Common Redshank with Black-tailed Godwit and a Eurasian Teal
From the hide we scoped a flock of 28 Redshanks, we added Oystercatcher to our wader list and a Little Egret was feeding very close to the hide, Nigel noted that dozens of Black-headed Gulls were seen at the marshes but not one of his beloved Mediterranean Gulls turned out for his birthday!
A quick look at the man-made lake called Borrow Pit produced Mallard and Mute Swan, Nigel did see a warbler fly across the water which he thought may have been a Sedge Warbler.
Small Copper - we also saw Common Blue, Meadow brown, Small Heath, Red Admiral, Gatekeeper, Speckled Wood and lots (hundreds) of Small & Large Whites.
From Seaton marshes we drove along the coast to Bridport then past Burton Bradstock to Cogden Beach where we finished off our birding for the day. The scrub that covers the meadows leading down to the beach looks great for a rare Shrike or Warbler so we concentrated on looking there. We found many Northern Wheatears, Common Stonechats, a couple of WHINCHATS, I got onto a LESSER WHITETHROAT but Nigel didn't, so he rubbished my sighting, Ha! It's his birthday so I let him rant on!
Little Egret - look at my yellow foot!
Finally we saw two warblers dash into the thick hedges never to be seen again and then a Spotted Flycatcher came very close, even Nigel got a picture of that one! Our new bird of the visit was a Tree Pipit, it sat in the hedgerow, pumping its tail, as they do. It was too far away for even a decent record shot!
The walk back to the car produced much of the same. We set off for home at 4:30pm.
Southern hawker
Our route home took us through Abbotsbury and in the fields above the village we saw a flock of wagtails in a field full of cows. We stopped and found that they were what we expected, YELLOW WAGTAILS, at least 30 of them were there. Our last bird of the day went on the list and into the can. The wagtail is species number 118 for the month.
Yellow Wagtail
Nigel dropped me off at 5:45 and then drove home, he arrived around 7:45pm, what great birthday he had enjoyed, he finished it off with dinner with Naomi his daughter and Wren his granddaughter, how nice was that!