MONDAY JANUARY 18TH 2021 - NINESPRINGS VIA BARWICK HOUSE ....................................... TUESDAY 20TH JANUARY 2021 - STOFORD TO CLIFTON MAYBANK WALK
MONDAY JANUARY 18TH 2021 - NINESPRINGS VIA BARWICK HOUSE
WEATHER: dull and overcast, light wind but warmer than of late. Temp 7C
It was a miserable start to the day, dull and grey and a bit windy, I didn't fancy going out birding but I did go for my exercise walk through the village at 11am. I saw many of the common garden species and I made a point of looking out to see who was feeding the birds, I was pleasantly surprised to count 8 feeders in peoples front gardens, there must be many more in the rear gardens!
My birding for the day was a late afternoon walk to Nine Springs, Yeovil Country Park. Dawn and I set out at 2:30pm and headed towards Barwick House where a public footpath takes you up through Barwick Park and a couple of fields into Yeovil Country Park on the southern outskirts of Yeovil.
The Lake at Barwick with a pair of Mute Swans in the background
Our main stop was at the Barwick House where the lake is situated, a pair of 'resident' Mute Swans grace the water (I am reliably told that it is a father and daughter combination so I don't where that relationship is headed?). Also on the water was a few Mallards, four Moorhens and I counted nine Little Grebes, what will happen when the breeding season kicks in I do not know, these birds are territorial and I don't think there is enough space for more than two or three territories on this lake, I see trouble ahead. Already I have heard them uttering their shrill, trilling mating call so it won't be long before the 'fun' starts.
a view of the slopes above Nine Springs
Walking up through the fields we saw the usual corvids as well as Redwings, Starlings, Magpies and a few Meadow Pipits. We crossed a lane and entered the Country Park, there were many dog walkers around the usual top meadow so we didn't hang about. From the ridge we could look down to Nine Springs where the large pool was visible, I scoped Mute Swan (the usual juvenile), Moorhens, Black-headed Gulls and lots of Mallards.
The view of the park from the ridge is Ok but most of the water is obscured, Dawn did not want to walk down to the 'Springs' after I told her of how muddy the tracks were. So after a short while we turned around and walked home. It is only 1.2miles to Nine Springs from our flat and very easy to get to on foot.
TUESDAY 20TH JANUARY 2021 - STOFORD TO CLIFTON MAYBANK WALK
WEATHER: dull and overcast, windy with some bright spells to start with then rain for most of the afternoon. Temp 9-11C
The forecast was better today especially for the morning, so I took advantage of that and walked across to Clifton Maybank to try out a few new tracks and try to get nearer to the Egrets feeding in the cow field next to Broadclose Farm.
The walk started at 9:30am, I made my way along the lane towards the train station and turned right under the bridge to the large grass meadow above the stream. I saw just four Buzzards in the field with the usual 50-60 Redwings, half a dozen Fieldfares and a flock of Starlings. The next field/meadow is adjoined to Clifton Maybank House, an array of mature Hornbeams form an avenue down to the mansion, I have this little fantasy that one day a small flock of Hawfinches will be feeding in the leaf litter below these magnificent trees. But. Alas, nothing stirred as I past through the meadow.
The Avenue of Hornbeam's leading down to Clifton Maybank House
At Clifton Maybank I saw a Cormorant sitting at the very top of a dead tree and I had to walk along the road for about 100 meters before I got to Broadclose Farm, I turned onto a concrete track when I got there. The oak trees along this track hold a huge Rookery and very soon this will be back in full use.
Great Cormorant in full song?? I don't think so, it is probably belching and the smell of its breath wouldn't be great!!
I scoped the distant fields behind Clifton Maybank and picked out five Little Egrets and a huge mixed flock of Jackdaws and Rook, there must have been 200 birds there.
I saw a couple of Roe Deer in the next field and I nearly trod on a Field Mouse near a trough
The track takes you towards Ryme Intrinseca another small Dorset Village but after 2-300 meters I turned off and walked into a wet meadow. A pair of Ravens flew from a fir tree where a large nest was perched in the top fork. The meadow led me to second meadow with even more mud, but it took me closer to the 'egret field'. I entered a small copse which gave me shelter from the wind and got me very close to herd of cattle around which was a flock of fifteen Little Egrets. I couldn't see a single Cattle Egret and very often the cows got in the way of the Egrets so my views were limited. I clicked off a few pictures before I moved on.
Little Egret in the mud
The mud got deeper and very clingy before I crossed the railway track near Bradford Abbas. The last meadow in this section had another herd of cattle and they were very interested in me, I had to barge my way through to get to the road. A flock of at least 50 Pied Wagtails and a lot fewer Meadows also fed in the muddy meadow. My god my boots were covered in mud I found it hard to walk and it started to rain as I crossed the road to a grass meadow, where I began my circular walk home.
The mud cleared slowly from my boots as I crossed the meadow, I walked under a bridge which carried the railway track, the birding wasn't good as I crossed another meadow back to Clifton Maybank except for a single duck! I binned the duck as it flew around the meadow and it turned out to be a female Teal, I wasn't expecting that!
An Egret dips into the mud after a morsal of food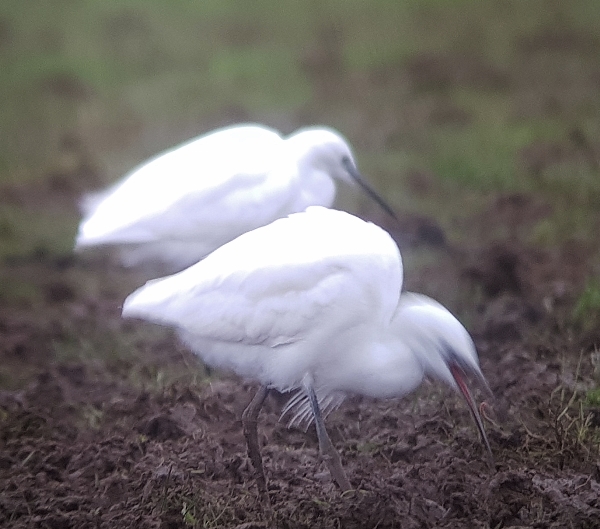 if you look carefully you will see a juicy worm in the Egret's Bill
The trip back was quite uneventful, it did stop raining as I approached Stoford which encouraged me to stop and scan the final grass meadow to look at the thrushes and buzzards. I am always hopeful that a rare thrush may be hopping about with the Redwings and Fieldfares, but not today.
the meadow above Stoford where the Thrushes and the Buzzards are found
The usual gardens birds visited my feeders but I never saw Nuthatch or a Great Spotted Woodpecker today, however, on the plus side, the number of Goldfinches has risen to 8 from the usual 3. I am still looking for my 80th Species for the month and I just found out that a male GARGANEY had returned to Nines Springs Park, in fact it was being watched when Dawn and I went there yesterday, doh!! This bird was there last winter, it is probably an escapeé from a collection somewhere.