AFTERNOON VISIT TO SUTTON BINGHAM RESERVOIR
WEATHER; pantys as usual, dull and cloudy with a biting cold wind.
Tody marks a turning poiint in my birding year! From tomorrow the lockdown restrictions are being lifted somewhat and we are allowed to meet up with a couple of friends and travel out of our local areas!!! The weather is supposed to be improving too!
For today, I was disinclined to leave the house I watched the garden activity from the lounge window and I went to the door when Fez came a calling.
In the afternoon I made a quick visit to Sutton Bingham which was dull and barren as usual. The Wigeon flock, which numbered nearly 200 birds, has reduced to a meager 11 birds now and I guess by tomorrow even they will be gone. So, no other wintering birds will be present and we await the arrival of summer visitors.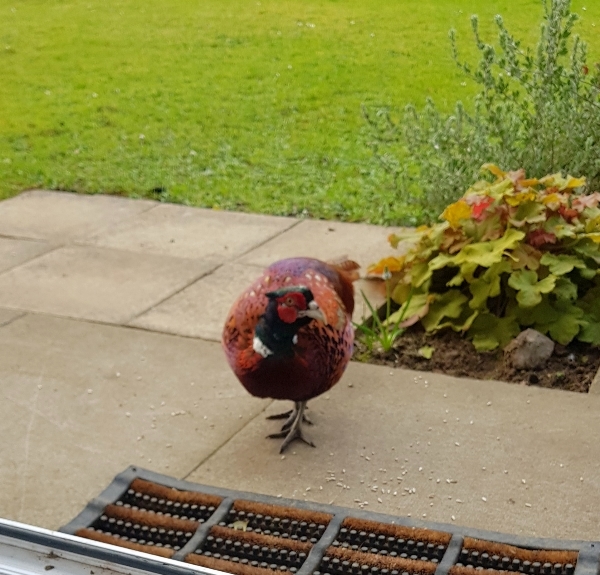 Fez comes to the front door and calls to me each morning, today he was there at 8am
A few gulls sat out on the boats and in the water around the sailing club, I noted all three big gulls, Great BB, Lesser BB and Herring Gull and a couple of Black-headed Gulls. The other species seen from the cuaseway and from the southern tip were; Great Crested Grebes, Mallards, Cormorants, Canada Geese and Moorhen.
Here you can see the Great Black-backed Gull with Herring Gulls and the smaller Lesser Black-backed Gull in the background
a big brute, the Great Black-backed Gull surrounding by the smaller Herring Gull
I can't wait to get back out to the coast and to Portland, it has been so frustating reading all about the birds that I have been missing due to the lockdown, we plan our first coastal outing for Tuesday, watch this space.