MORNING WALK AT ALNERS GORSE BUTTERFLY RESERVE
WEATHER: a bright, clear morning, full on sunshine, light breeze. The hottest day of the year so far, 30C midday temp.
The high pressure remained over the UK for yet another day and as forecast the temperature rose to over 30C in some parts of the country. I decided to return to Alners Gorse butterfly reserve to try to get a picture of the White-letter Hairstreak that I missed on Tuesday.
I got up early and left the house at 6am, it took just 20 minutes to get to Alners Gorse,I wasn't alone when I got there, a guy from Poole was already on site looking for Hairstreaks. He was a very experienced butterfly wather and with 30 minutes we had seen both my target species and a few Purple Hairstreaks.
A White-letter Hairstreak
It took me another 30 minutes to get my first picture and much longer to get a decent shot,. In the meantimre my birding pal from Yeovil, David Broadley, appeared and we spent the rest of my visit together looking for other species.
Small Skipper
We visited the area where I had enjoyed Silver-washed Fritillary and White Admiral on Tuesday and they both appeared although the Admiral was only seen breifly.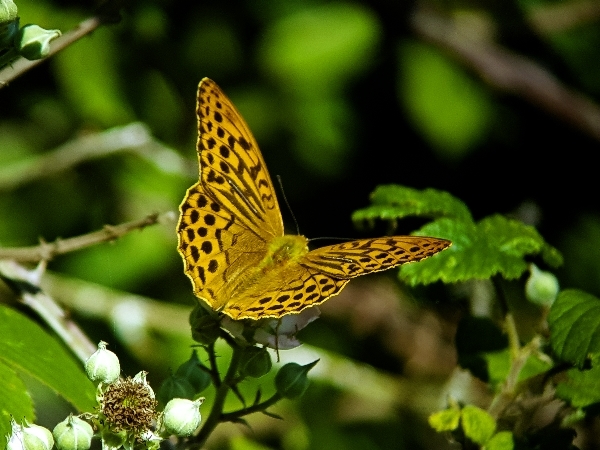 Silver-washed Fritillary
The Silver-washed Fritillary is well known to produced a series of genetic aberrations, having many colour forms thrughout its range. A local aberration called valesina is the type seen in Dorset, and today, it appeared at Alners Gorse and posed perfectly for the camera.
aberrant 'valesina' Silver-washed Fritillary
Other butterflies seen included: Small Skipper, Marbled White, dozens and dozens of Meadow Browns and very few others.
Small Skipper
I was back home by 10:30am and we spent the rest of the day in the garden.