MORNING WALK INTO YEO VALLEY
WEATHER; A superb sunny morning, with high altitude cirrucumulus cloud, no wind, a little chilly but just lovely.
It was a beautiful start to the day, it would have a beautiful start to any day come to think of it. It lifted my spirits and restored my faith in the Weather-God of Somerset.
The Blackcap along the lane was still in song, in fact I heard 4 different Blackcaps along the walk, both Collared Dove and Wood Pigeons were coo-ing, a Chaffinch sang a shortened version of his usual verse and a Wren burst into song as I made my way along the farm track into the valley.
Very strange looking Cirrucumulus clouds dotted the sky, these high-altitude tropospheric formations are not a common occurrence ( I remember an old saying – "Mackeral Sky – three days dry" but change is coming!!)
A lot was going on in the morning sunshine, Great Spotted and Green Woodpeckers were very voiciferous and showy, Crows and Jackdaws dashed about and House Martins were nosily going about their business of catching flying insects.
At the hawthorn hedge that divides the two large meadows I bumped into a mixed feeding flock, it was the loud call of the Eurasian Nuthatch that drew my attention to the flock. A dozen or so Long-tailed Tits were joined by Blue and Great Tits and the Nuthatch seemed to be leading the way. Those were the first L T Tits that I had seen in the valley this July!!
Eurasian Nuthatch
Nothing more happened until I got round to the River Yeo and the Bramble slopes at Rook's Hill. I did see and hear a Song Thrush, likewise a Common Pheasant. A few Herring Gulls flew over as did four Mallards and a pair of Buzzards were also very showy and noisy.
Green-veined White Butterfly
At the bramble clump I watched Common Chiffchaffs searching for food, I saw a Song Thrush carrying food and at least two more Blackcaps were in song. A Stock Dove flew over me and as I walked up Rook's Hill, I watched both Barn Swallows and Common Swifts foraging high up in the 'mackerel sky'. A Green-veined White Butterfly settled not too far away and gave me an opportunity to fire off a couple of photos.
two shots of a Common Chiffchaff in the bramble clumps
At the summit of Rook's Hill I flushed four Ravens, they only flew a little way down the side of the hill ahead of me so I attempted to sneak up on them. They saw me first and were gone for good. At the base of the hill near the exit I stopped to watch a Comma Butterfly on a clump of brambles, then a meadow Brown appeared, it looked promising so I set up my scope and watched the clump for about 30 minutes.
Meadow Brown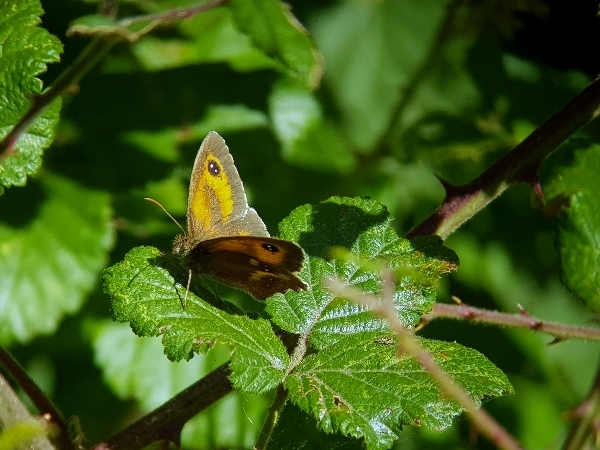 Gatekeeper
Comma Butterffly
Six species of butterfly turned up, Comma, Meadow Brown, Gatekeeper, Peacock, Speckled Wood and my first Ringlet of the year landed on some nettles nearby.
Ringlet
Speckled Wood
I also saw Beautiful Demoiselle Damselfly and a Marmalade Hoverfly, I think it was Epistrophe diaphana.
Marmalade Hoverfly