MORNING WALK INTO YEO VALLEY - AFTERNOON ON COGDEN BEACH, LYME BAY
WEATHER: at last a clear sky with wall to wall sunshine, quite chilly, light breeze. Temp 12C
I left earlier than of late, it was 6am as I walked round to the Yeo valley track, amazingly I didn't see a single Jackdaw on any of the chimneys of the houses along the road, usually there are dozens of them! It was very quiet again and something that I should get used to because that is what happens in July, the singing stops for most species! A single Song Thrush sang and several Wood Pigeons called, I also heard the usual Green Woodpeckers, Raven, Carrion Crow, Magpie, House Martins and a Wren scolded me from the hedge.
A nice find was a small mixed flock of Blue Tits and COAL TITS, the latter is a hard to find species in the valley so it was a bonus to see a family party of them. I watched Grey Wagtails on the stream but there was no sign of a Kingfisher today. I cut the walk short by taking a path across the second meadow missing out a good section of the stream and the River Yeo.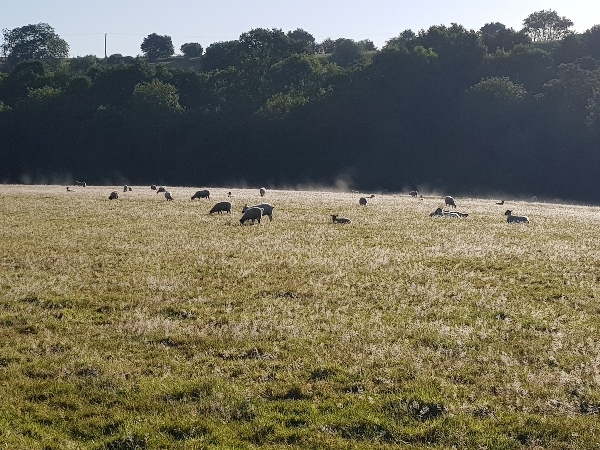 the second meadow this morning, you can see steam rising from the grass!
I stationed myself on the slope of Rook's Hill with the 'dead tree' and the 'fence' in view but I was disappointed with my sightings, it really was quiet. The dead tree attracted only two Goldfinches whilst I was there and a single juvenile Green Woodpecker. The fence was just as quiet, the pair of Common Whitethroats were still busy feeding chicks and they would sit on the fence in between feeds. Other than that only a Chiffchaff and a Blackbird appeared on the fence.
my only other picture from this morning's walk - a Rabbit
The only other excitement was the appearance of a Fox. I was watching a couple of Rabbits up ahead of me, one of them broke the skyline nicely and just as I set up the scope for a picture the Rabbit and his mate dashed off into the brambles. The reason for their flight was a Fox, it appeared from over the hill, sniffed the air and walked down into the meadow, it wasn't bothered by my presence.
I headed back home by walking up and over Rook's Hill, a Raven circled above me and appeared to land ahead on one of the oak trees, I practiced my stealth tactics by creeping up the slope. Those tactics didn't work, off went the Raven before I got anywhere near to it!!
One last piece of news was the sighting of my second HOBBY on the 'patch', again the bird flew from behind me and I caught site of it flying away to the south, very similar to the last one. At the exit gate I stopped to watch a young Robin, it had a plumage half-way between a juvenile and an adult. It still had a speckled head. chest and shoulders but half of its breast had turned red. It wasn't very obliging though, so I can't show you a picture.
I got back home at 9am and just after 10am Dawn and I headed off in the car to the coast for a day at the beach. We drove 40 minutes to Cogden beach which is a pebble beach situated between Abbotsbury and Bridport, we expected it to be quiet as there are no facitities whatsoever. No toilets, burger bars, café, Mcdonalds, it is bliss!!
Cogden Beach looking east, you can see Portland in the distance
It was far busier than we anticipated but no crowded we were able to keep our distance from everyone. On the walk down from the car park I noted Skylarks, Linnets, Common Stonechat, Sand Martin and a Common Kestrel, we had already seen Yellowhammer from the car on the way down.
looking west, with Golden Cap and Lyme Regis in sight
A very nice find was made during our walk along the coastal path, it was the sighting of two Northern Wheatears, they ar e birds that have eluded me so far this year!! So they are not only a July tick, but also a Lockdown tick and a year tick, wow!!! How good was that? I never expected to see a Wheatear on the coast in July but I expect these are returning migrants heading south already. One looked like a juvenile and the other an adult female type (it is hard to sex this species during autumn migration as the male looks very similar to the female).
with no scope I had to digi-bin (holding my phone to my binoculars) - Northern Wheatear
there are two Wheatears in this picture
So now I had 3 birds at Cogden for my July List: Yellowhammer, Kestrel and Wheatear, then a fourth tick appeared in the shape of a Tern! Two Common Terns came along the beach just off-shore, smashing, I guess they were from the breeding colony at Abbotsury.
the view from our picnic site on the beach
We spent a lovely afternoon, eating a picnic, reading, dozing and a little birding…. What a lovely way to spend the day.