EARLY MORNING WALK ON WEST MOOR NEAR THORNEY, SOMERSET
WEATHER: yet another superb clear morning, a birght blue sky no wind just prefect.
I was up and out before 5:30am!! The short drive to Thorney took 20 minutes, which meant that I was out on the moor at 6am. It was heaven out there, just me and hundreds of singing birds, oh, and a few cows!
The track from the main road was lined with hawthorne hedges, I heard at least 4 Common Whitethroats and I saw one of them. Also along the track I saw Dunnock, Robin and Blue Tit. A Great Spotted Woodpecker was a nice surprise too.
Once I broke from the cover of the hedge a vast open flat area of marsh, meadows, ditches and some copse of woodland lay before me. The track ahead of me stretched for miles in a dead-straight line with romanesque precision. A small concrete hump-backed bridge gave me enough height advantage to view miles of this verdant flat land.
the track - taken from the first concrete bridge
the 'drain' running under the bridge - great habitat for dragonflies
Sedge Warblers sang from all around me, I have never heard so many in one place, I could also hear Common Chiffchaff, Common Chaffinch, Common Buzzard and a very distant Common Cuckoo, believe me, not all of the birds are really common, its just a name.
My first hour was spent walking just a few hundred meters there was so much to see, I was fascinated by the song of the Sedge Warbler, there is so much mimicry in there, no two songs are quite the same.
the ubiquitous Sedge Warbler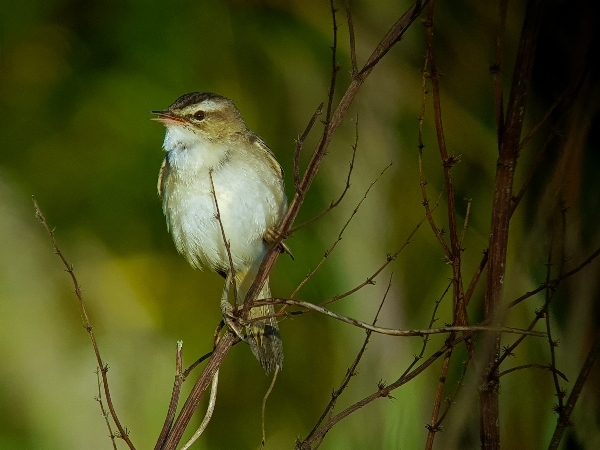 for a short video of the Sedge Warbler in action, click here: https://www.facebook.com/bob.buckler1/videos/10157044126101455/?t=34
I broke away from my adulation of the warbler to search for a Yellow Wagtail which was the main reason why I was there. I found a pair almost straight away, but they were very far off. My next bird to show well was the Reed Bunting, I love that little bird and his short three-part song.
the lovely Reed Bunting
I tried to record the song of the this Bunting but the Sedge Warblers just drowned it out
As I walked deeper onto the moor I found a field with grazing cattle, it had clumps of common sedge all over it. It was full of Yellow Wagtails, they were either collecting food or chasing one another around and they were much closer than the last time I was here.
the Yellow Wagtail habitat
the male Yellow Wagtail with food for the chicks
The Cuckoo called a few more times but I couldn't find it in the scope, I did see Great Cormorant, Grey Heron, Great Tit and I heard a Blackcap, Dozens of Skylarks were singing too. Another surprising sighting was that of a pair of Eurasian Curlews, I didn't think that they bred on this moor, I saw the pair of them in flight a few times.
As I walked back I found my only Dragonfly of the day, it was a Brown Hawker. Towards the end of the track and just before I left the moor the Cuckoo called from a copse very close to me. I scanned with both my bins and then my scope but couldn't see it perched then it broke cover and flew alongside of me and off into the distance.
female Brown Hawker
I was home before 10am, it had been adelighful 3 hours of superb birding, arn't we lucky to live on this special planet?? Except when you have to do gardening chores all afternoon! At the least the wallet stayed at home today!