MORNING WALK ON GREEN DOWN A SOMERSET WILDLIFE TRUST RESERVE
WEATHER: cloudy and windy with some sunny spells
Today I drove 12 miles to a butterfly reserve near Somerton to try to see a LARGE BLUE BUTTERFLY. Green Down reserve has been maanged for over 10 year specifically for the re-introduction of the Large Blue which went extinct in the UK in 1979. It is now one of the best places in Europe to see this rare beast but just like the ecology of this lovely insect the weather has to be just right. You need a warm sunny day and today was far from it.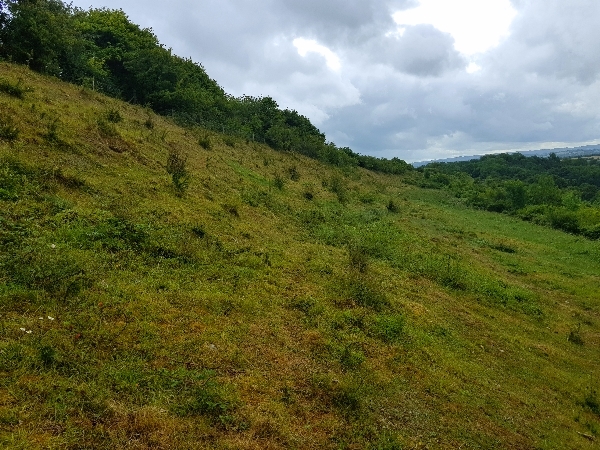 Green Down is a south facing escarpment, it has all the right food and host plants for the butterfly and it grazed by sheep for most of the year to keep the habitat just perfect.
One other ingredient in the ecology of the Large Blue is ants, the complicated life history of the butterfly involves a specific species of red ant, see the info below.
I arrived at 7am, it was chilly, cloudy and the grass was very wet with a heavy dew, all the wrong ingredients for a successful butterfly visit!! Some birds were flitting about in the bushes, I saw Common Whitethroat, Garden Warbler and i heard Chiffchaff and Blackcap.
Marbled White
Linnets and Goldfinches put in an appearance and over the 2 1/2 hours I spent there I also saw a Buzzard being chased by a pair of Jays, a couple of Ravens, a few Black-headed Gulls flying over and a Common Kestrel hovered over the reserve a few times. I thought I may have seen a Common Nightingale too!!
After a dull start it did brighten up and the dew quickly evaporated becuase of the wind. A few Meadow Browns began to fly as did Marbled Whites and a couple of Small heaths.
I found a few Pyramidal Orchids and on one of them sat a Small Skipper, two other butterflies emerged when the sky brightened a little and they were Comma and Small Tortoiseshell.
Pyramidal Orchids
Small SkippeR sitting on a Pyramidal Orchid
It wasn't until around 9am that the sunshine appeared then all of a sudden many butterflies began to fly, I found a Common Blue and that encouraged me to stay a little longer.
The beautiful tail pattern of the hovering Kestrel
Finally and all of a sudden I found three LARGE BLUE butterflies, fantastic! None of them sat with their wings open as they should early in the morning, but they did perched and pose for the camera a little, shazam!! Job done, I was home for 10am.
the large Blue Butterfly
A little later I went for a power walk in the village and found a pair of Bullfinches feeding in the grass verge along the lane, i also saw lots of Starlings, Sparrows and Jackdaws. The Red-legged Partridges were in the meadow as usual.
AN INTERESTING SIGN OUTSIDE A BIRD RESERVE I NOTICED THE OTHER DAY - THE LENGTHS SOME ORGANISATIONS WILL GO IN THE NAME OF BIRD CONSERVATION!!!!!!