MORNING WALK INTO YEO VALLEY AND AFTERNOON AT LYME REGIS AND LAMBERT'S CASTLE, DEVON
WEATHER: a superb start to the day, with a colourful sunrise and plenty of sunshine, no wind at first. Cloudy and a little windy in the afternoon. No rain!
I was up with the lark as usual, in fact, I was up before the lark!! I had my cereal breakfast with coffee at 5am and was out in the valley before 6. I went straight to the Green Woodpecker's nest to see if the young had fledged yet, but they were still there, calling endlessly for more food. I left after watching for about 20 minutes.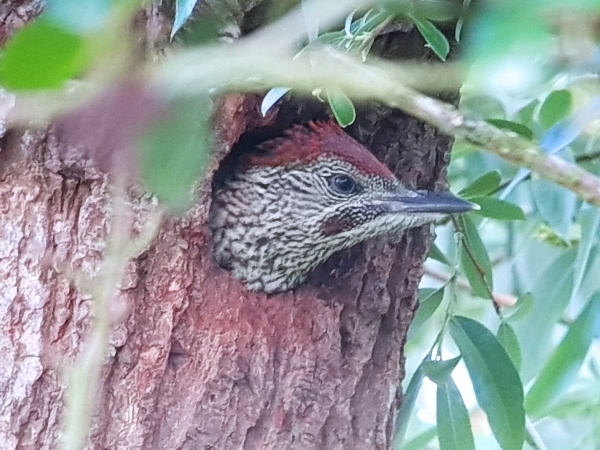 look at the size of this Green Woodpecker chick, he almost fills the hole. But his bill is still a lot shorter than the adult bird's.
Walking along the stream is not so exciting these days and that is because the foliage on the trees is far too dense, you can't see much. I heard plenty, lots of Wrens, Robins, Chaffinch, Great Spotted Woodpecker, Blackcap, Chiffchaff and Song Thrush.
However at the River Yeo, behind Rook's Hill, it is far more open with lots of bramble scrub and small hawthorn bushes. There I saw a lot, it was brimming with birds, lots of activity from family groups. I watched Blackcaps with young, a large party of Long-tailed Tits, young Great Tits and Blue Tits and a fair number of Chiffchaffs.
part of the slope with nettles, bramble and hawthorn
I stood in awe as a Marsh Tit appeared and fed in the brambles just in front of me, wow! I hadn't seen a Marsh Tit for a couple of weeks.
Marsh Tit - one of the special sightings on my patch
You can see a short video of the Marsh Tit feeding by clicking here:
https://twitter.com/i/status/1272803720527589376
I was back home by 9am and Dawn and I decided to take picnic to the beach at Lyme Regis, it had clouded over at Stoford but the forecast for the coast looked better. It was much clearer at the beach, sunshine and clouds, a nice breeze. We stayed at Lyme for a few hours before setting off back home.
A few miles inland from Lyme sits an ancient Hill Fort, called Lambert's Castle Hill. The area around the castle has excellent beech woodland but adjacent to this is a large area of heath. That is where we stopped hoping to find some bird and butterfly species.
the Heath at Lambert's Castle
In nice warm susnshine we walked around well marked footpaths on the heath, it was lovely there. We saw Linnets, Yellowhammer, Jay, Green Woodpecker and we heard a Chiffchaff singing.
Alos on show was many Large Skipper Butterflies and lots of day flying moths, I photographed one of them but can't find a name for it, do you know what it is??
Large Skipper
unknown moth
We also found a few spikes of Heath Spotted Orchids and a beautiful Golden-ringed Dragonfly.
Heath Spotted Orchid
Golden-ringed Dragonfly