MAIDEN CASTLE, DORCHESTER - HARDY'S MONUMENT MARTINSTOWN - LANKHAM BOTTOM
WEATHER: very foggy to start, cloudy with some sunshine later. Afternoon thunderstorm and heavy rain.
What a surprise I had this morning when I looked out of the window to see a thick fog! That immediately ruled out my visit to my local patch in the Valley so I decided to go to Hardy's Monument near Dorchester which is on high ground. I thought that Dorchester would also be clear of fog, because it was the last time that we had these conditions, so I hoped that I could pop into the Maiden Castle meadows and tick-off Corn Bunting for my June list.
I left the house just before 6am and drove carefully through the thick mist until I climbed up and over the hills where the air was completely clear and the sun was shining. However, in Dorchester the fog had not cleared so when I pulled up at Maiden Castle the visibility was very poor.
the track at Maiden Castle, Dorchester
there is a Corn Bunting on this track - you will have zoom in to see it
Nevertheless within 5 minutes I had Corn Bunting in the can and on the June list, I saw 3 of them within 50 meters of the car. I also saw Skylark and lots of Rooks, Crows and Jackdaws. Within 15 minutes I was on my way to the Thomas Hardy Monument which is found near Martinstown about 5 miles west of Dorchester.
my favourite 'love to hate' bird - the Corn Bunting
It was completely clear at the Monument and I had a fantastic couple of hours there all by myself. I took a circular track which drops below the monument through patches of gorse heath, some open scrub woodland and blocks of pines, beech and hazel. It was alive with birds and the habitat was ideal for my target species the Tree Pipit.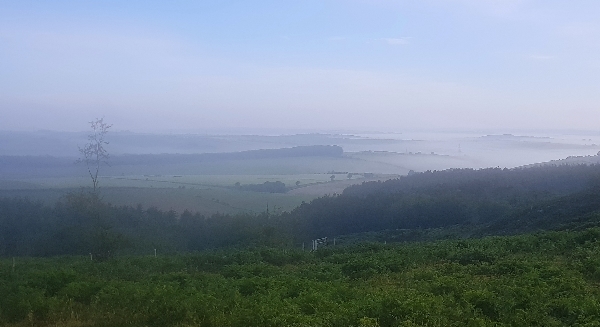 the view from Hardy's Monument
Yellowhammers seemed to be everywhere, almost in every bush, Linnets were the same and Goldfinches flew around in small groups. I was surprised to see one flock of over 20 Linnets, post breeding flocks already. During the first part of the walk I took a track that Guy and myself had used when we came down here to look at Nightjars. The track gives great views over the surrounding hillside both above and below you. From there I saw Green Woodpecker, Mistle Thrush, Common Kestrel and Common Buzzard but not a single pipit of any description.
the very ugly Hardy's Monument - Captain Thomas Hardy that is.
now that's what you call a Bunting - the Yellowhammer
So I walked round past a beech wood where I heard Bullfinches but did not see one and a Common Whitethroat was singing out in the open. From the top area near the monument I saw a Cuckoo, it was being chased by a couple of birds which definitely looked like pipits. I never heard a peep out of them and they followed the Cuckoo over the hill and far away.
More Yellowhammers and Linnets appeared, I watched a Common Chiffchaff singing from a dead branch and the usual common woodland birds appeared such as Blackbird, Robin, Wren, Song Thrush and Dunnock.
Common Chiffchaff
Once last piece of news from the Monument area was about a Rabbit and it was a bit distressing! I saw one on the footpath ahead of me and it did not move an inch as I approached it. I knew straight away what the problem was, the poor thing was suffering with the viral disease Myxomatosis. It was shaking and completely blind, what a shame, this disease is fatal in wild Rabbits and about 40% of the population can get it. It can take up to 10 days to kill them, I quickly put the poor fellow out his misery.
The Myxo Rabbit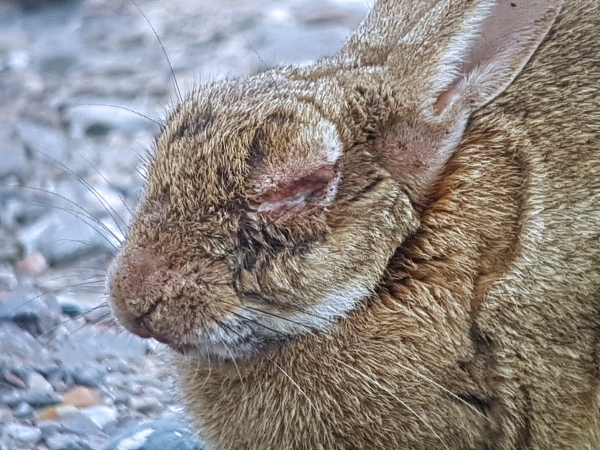 The moral to that story is......................... do not get sick if you are out birding with me!!
From the Monument I drove back towards home and stopped on top the ridge to walk along a nice escarpment called Lankham Bottom, I was hoping a few butterflies might be on the wing. Sorry to say that it clouded over as I got there so I cut the walk short. I concentrated on the scrub below the escarpment where lots of birds were flitting about. I must say I had a most enjoyable hour looking down on the hawthorn and blackthorn bushes.
a healthy Grey Squirrel
Yellowhammers and Linnets were once again the common species but I must have seen at least 6 Bullfinches, most them were males too! I watched Common Whitethroat, Common Chiffchaff, I heard Willow Warbler and Blackcap. A family party of Robins mingled with a family of Great Tits in the same bush.
Common Stonechat
Eurasian Bullfinch
Ravens and Skylarks called from above me and a distant stony field held Common Pheasant, Wood Pigeon, Stock Dove (7) and a couple of Hares. It was approaching 10:30 am and it was time for me to head off back home, I had no Pipits in the bag but the Corn Bunting was new for the June list which now stands at 97 species.
LET ME LEAVE YOU WITH - THE BEAUTY AND THE BEAST
See you tomorrow!