MORNING WALK INTO YEO VALLEY AND AFTERNOON WALK TOWARDS SHERBORNE VIA CLIFTON MAYBANK AND BRADFORD ABBAS
WEATHER: a gorgeous cloudless morning once again, light breeze.
Today was full of surprises and good news! First, one piece of good news was that my visit to the Nuthatch nest was rewarded with a sighting of the female at the nest. She was collecting the newly formed leaves from the buds of a Sycamore tree and then dropping them into the nest hole, I find this behaviour quite strange and, so far, unexplained.
My first surprise was the sighting of another birder, I turned from looking at the Nuthatch nest and there stood David Broadly. I have known him for 2O odd years and I knew that he had moved to Yeovil from London, Dawn and I saw him in Yeovil in January. He has been reading my blog and came to see what the fuss was all about.
We walked the usual route with me pointing out various nest sites, including the Kingfisher nest hole where there was no activity. We saw the usual Mandarin Duck (in flight), Raven, Goldcrest, Gt Spotted Woodpecker, Pheasant, Red-legged Partridge, Common Buzzard, Wren, Blue Tit and Great Tit, etc. and it wasn't until we almost reached confluence of the stream and the River Yeo when the next great surprise happened.
Goldfinch
It was David who found the bird whilst we were watching a very distant Pheasant sitting on top of a hedge, he saw another small bird sitting on horizontal branch and through the scope we could see that it was a COMMON WHITETHROAT. Well I never, my first Whitethroat recorded on my patch and it took another birder to find it……..I wasn't too happy that this interloper came over from Yeovil and found the bird I had been looking for, for weeks!!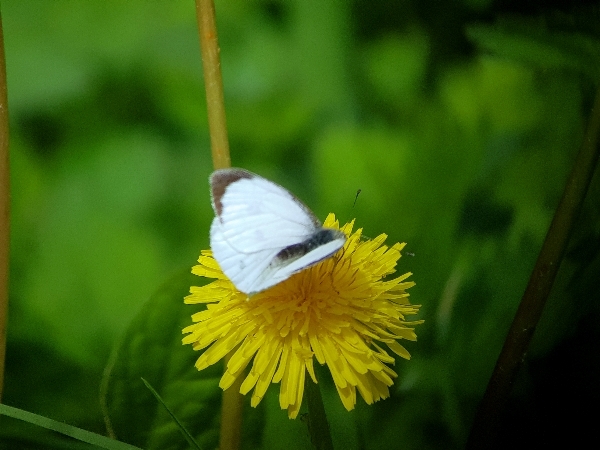 Small White
We continued the walk round to the bramble slope and he did it again!! We were watching the brambles and I was telling him of all the species that are breeding in the brambles: Robin, Linnet, Goldfinch, Song Thrush, Wren and Blackbird. He then pointed out a pair of Long-tailed Tits that were in fact taking food to their nest….also hidden in the brambles.
The 'fence' had just a Robin on it and apart from a Grey Wagtail on the river bank and a Little Egret that we flushed we didn't see much else. We walked across the meadow back to the stream and headed back past the delerlict building where a brick-layer was finishing the blocking up of all the windows and doors, the breeding Grey Wagtails are still able to get in through the holes in the roof.
strange cloud formation
I noticed that many damselflies were on the wing, dozens of them. I picked out a couple of Banded Demoiselles amongst the Beautiful variety.
a mature female Beautiful Demoiselle
I said goodbye to Dave and went home for a coffee. Dawn and I went back out after lunch for a second leg-stretching walk, we walked for miles. We went onto the Clifton Maybank track and continued through to Bradford Abbas and finally onto the wide track that leads to Sherborne.
On this wide track which runs parallel to the railway line and passes through huge cultivated fields, most of which had been ploughed recently. To my great delight at least 3 Skylarks were up singing and at least 2, possible 3, Common Whitethroats were singing along the hedgerow.
Dunnock
We walked past a couple of farms where we saw Mistle Thrush, lots of Swallows and not much else, we then walked across two ploughed fields and with Sherborne in sight we stopped for a little rest. Yet another Common Whitethroat was singing and my most wanted species made an appearance, YELLOWHAMMER. We saw a pair of them in a large bush but they quickly disappeared and did not come back.
So we set off for home, getting back around 5pm, I was well and truly zonked! But happy with two more species on my isolation list.