GAUCIN SWEET CHESTNUT WOODS - CUEVA DE GATO - LLANOS DE LIBAR - RONDA
WEATHER: ALL DAY SUNSHINE, VERY HOT AT TIMES, TOP TEMP 35C very little breeze.
Bill and I went to the chestnut woods at 7:30am whilst Pete and Chris had a lie-in, it was a beautiful, clear morning and not a stir of movement in the air. The woods lay still and very quiet, we were a little early as the sun hadn't quite risen and the light was poor. After a disappointing start when we hardly saw or heard a bird, things started to pick up. Our target species, the Crested Tit, came up trumps with a party of 5 showing well. Great Spotted Woodpeckers seemed to be everywhere, one or two were even drumming!
A view in the woods this morning
A flock of Pallid Swifts hawked the sky above us, whilst 2 Black Kites drifted over and a group of 11 European Bee-eaters flew noisily over the wood. We caught up with Eurasian Nuthatch, Jay, Blue Tit and not a lot else before we we back for breakfast.
Pete and Chris joined us after breakfast as we made our way to the Cueva de Gato near Benaojan. It took us quite a while to get there after making a couple stops along the way. In the car park we found Blackcap and Garden Warbler both of which were feeding on figs. High over the mountain ridge a huge flock of some 50-70 Alpine Swifts formed a swirling mass like a cloud of locusts, a few more flew much lower giving us quite a show. At the cave we watched juvenile Crag Martins at close range and found Cetti's Warbler, Grey Wagtail and more Blackcaps by the stream.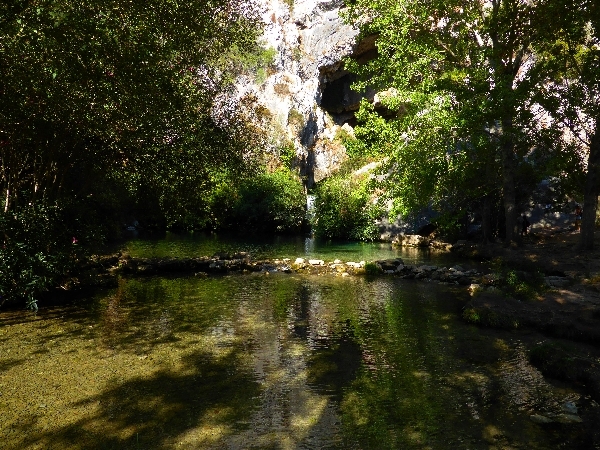 the pool looking towards the mouth of the Cueva de Gato
After climbing up to the cave's entrance to view the enchanting pool below us we got back into the car and drove to Montejaque and onto the Llanos de Libar which is the most beautiful valley hideen behind the town. We spent the next two hours scouring the mountain peaks, the rocky scree and trackside scrub for montane species. We had excellent views of several Black Wheatears, Rock Buntings, Crag Martins, Blue Rock Thrushes, Black Redstarts and many Griffon Vultures.
Small Copper Butterfly
Thekla Larks - taken by Bill Moorcroft
After eating our picnic lunch, whilst watching a row of drinking troughs hoping for Common Rock Thrush, without success, we drove further up the valley to look for more species. We found a huge flock of over 100 Red-billed Chough feeding in a meadow whilst very close views were had of Thekla Larks. Near a working Finca we found 4 nice species in a fenced compound, first a Whinchat appeared on a fence then a Black-eared Wheatear turned up followed by an adult Woodchat Shrike also on a fence. A lovely male Common Stonechat made up the quartet.
Red-billed Chough
Black-eared Wheatear
That preety much summed up our birding, we stopped on the way back down the valley to watch more of the same species before driving off for a quick coffee. For the rest of the afternoon we visited Ronda, joining the throngs of tourists walking all around the famous bridge. We did see Blue Rock Thrush and a Short-toed Eagle before we departed and headed for home.
Ashopdel sp.
looking up at the Ronda Bridge