LOS LANCES BEACH AREA – ALGARROBO RAPTOR OBSERVATORY – BUJEO PARK – OJEN VALLEY WALK
I knew this was going to be a tough one for migration watching because it has been so hot throughout the summer and there has been so little rain since last December. Today's raptor passage was abysmal, the number of birds seen was so small I think I forgot to count them. More of that later.
After taking breakfast at 7am we met at the bus for 8am just as it was getting proper light. Low cloud formed a dark canopy above us and fairly strong easterly wind moved the branches of the eucalyptus trees in the hotel grounds to and fro. Two factors which meant that raptor watching was going to be a poor prospect.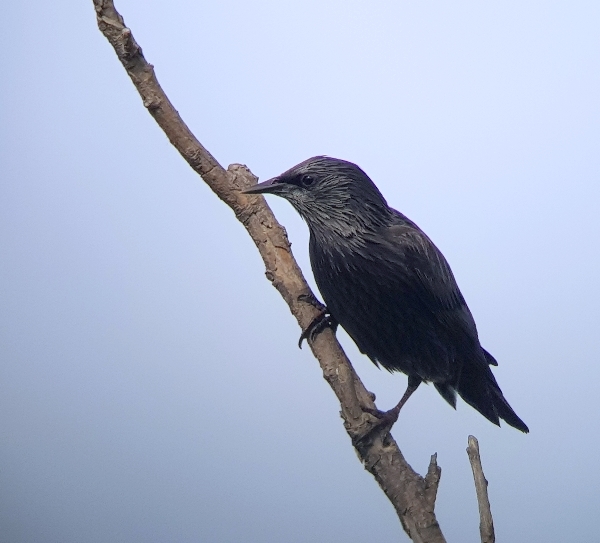 Spotless Starlings were very common along the track to the beach
Nevertheless, we had a great morning at Los Lances Beach, walking the boardwalk, scanning the beach pools, the grassland behind it and scrub surrounding the area. Hundreds of waders scurried around the muddy pools and the sandy banks, we quickly listed Sanderlings, Dunlins, Ringed Plovers, Kentish Plovers and Grey Plovers. Redshanks, Oystercatchers, Bar-tailed Godwits (3) and Common Sandpipers made up the numbers.
Grey Plover just changing its summer plumage
We found a small number of Audouin's Gulls and a large number of Yellow-legged Gulls. One or two Cory's Shearwaters skimmed the water and a Sandwich Tern was also picked out. Grey Herons, Little Egrets, Sand Martins, Barn Swallows and Common Swifts could be seen on or over the beach area too. From the hide we close views of Zitting Cisticola and a Flavissimo Yellow Wagtail. White Wagtails flew over whilst some unidentified swifts passed over higher up.
Audouin's Gull
Some interesting sightings were made in the horse paddocks and scrub areas behind the beach: Goldfinches, Corn Buntings, Crested Larks, Zitting Cisticola and lts of Stonechats were noted. With a greater scrutiny we picked out 7 Tawny Pipits and 3 Eurasian Hoopoes, but we could not find Greater Short-toed Larks.
On the way back to the bus we added 5 more Hoopoes, dozens of both species of Starlings, Collared Doves and a Common Kestrel (our only raptor!).
After stopping off for food supplies in Tarifa we made our way to Algorobbo Observatory, arriving around 11:30am. A couple of dozen birders were already in place and they told us that very birds were passing overhead but a trickle of could be seen looking towards the coastline.
It was dismal, with low cloud cover and a strong wind, we stayed for about 90 minutes and saw a few of the most common raptors we had missed a sighting of WHITE-RUMPED SWIFT. Sort-toed and Booted Eagles easily outnumbered the other species. I don't think we even saw a single Honey Buzzard.
record shot of Spotted Flycatcher
At 1pm we visited the small parkland at Bujeo which is found above the village of Palayo on the main road. It was even more windy in the park but there were areas of shelter and this is where concentrated our efforts.
We had good close views of Firecrest and many Spotted Flycatchers. One or two Common Redstarts flitted about, we also recorded Cirl Bunting, Chaffinch, Greenfinch, Goldfinch, Serin and Hawfinch. The Hawfinch was a female type and was seen by just three of the group. We went on to see Sardinian Warbler, Willow Warbler, Blue and Great Tits, Blackbirds and not much else.
two shots of the Monarch Butterfly
One really good sighting was that of a Monarch Butterfly, most us watched this delightful species gliding along a hedgerow. We also noted Eurasian Sparrowhawk, Common Kestrel, Griffon Vultures, Booted Eagle and Black Kites ging over.
Woodchat Shrike found by Guy
Lastly we ventured down to the Ojen Valley near our hotel, we drove a couple of kilometers along the road and turned off onto a track. We stopped to scan the fields all around us and came up with a couple of good species for the list. First we found a very distant Black-winged Kite which was hunting over a scrubby area. We saw it hovering and perching and performing its tail-pumping habit. It stayed in view for about 20 minutes, it was a great find.
Northern Wheatear - one of the three we saw in the Ojen Valley
Then a flock of large larks flew over us, they were calling and we identified them as Clandra Larks, we estimated a count of 50-60 birds, they landed about 100 meters from us but out of sight.
A very nice walk along the track produced a lot more sightings, we added Northern Wheatear (3 found by Chris) to the list we also Had good views of Short-toed Eagle, a huge number of Starlings (1000+), lots of Stonechats and Common Kestrels.