PALMONES SALT MARSH – PINAR DEL REY – MARCHENILLA TRACK – GAUCIN CHESTNUT WOODS – ENCINAS BORRACHAS TRACK – SIERRA DE LAS NIEVES NATURAL PARK
WEATHER: cloudy all day with sunny spells, very strong winds at Tarifa but much lighter inland. Temp 20-25C
We had another cracking day but we had to leave the coast at Tarifa to get out of the strong wind. We left the hotel at 8am and drove through Algeciras to the Natural Park of the Palmones Salt Marsh. It was still a little windy there and many birds sat on the sand bank resting. We saw 7 Mediterranean Gulls which completed our list of the 6 main gulls of southern Spain. A nice selection of waders were also present: Redshank, Grey Plover, Greenshank, Kentish & Greater Ringed Plover, Dunlin and Sanderling. 13 Sandwich Terns sat with the Med Gulls and a distant Osprey sat on a pylon.
a record shot of a Mediterranean Gull (2) with a Sandwich Tern at the back
The 'Umbrella Pines at Pinar del Rey provided a nice list of birds for us and we didn't have to work very hard them at all. As soon as we got out of the bus we saw Crested Tit right above us and within a few minutes we Eurasian Jay, Firecrest and Chaffinch on the list.
A short walk produced Short-toed Treecreeper and Great Spotted Woodpecker and some more Crested Tits. We heard a Common Buzzard calling but it never showed and flock of 50+ Bee-eaters went over us.
At the stream we heard Wren and saw another Great Spotted Woodpecker but not much else.
It took 20 minutes to drive to the Marchenilla Track which was quite windy and not many birds were on show. Lots of Common Stonechats sat on the fences, we saw Iberian Grey Shrike on the wires, a good number of Common Ravens and 6 Lesser Kestrels fed over a freshly cropped field. Griffon Vultures were ever present in the sky where we also logged Booted Eagle and Eurasian Sparrowhawk and a Short-toed Eagle sat on a pylon.
it was nice to see a splash of colour in the all-brown landscape
European Bee-eaters stole the show as we found a flock of 60 + sitting on the fences and telephone wires, they looked superb even in the poor light. I can't forget to mention the two Corn Buntings we saw as well as Spotted Flycatcher, Zitting Cisticola and dozens of Spotless Starlings. Paul noticed a venta at the end of the track and I was forced to stop for coffee.
We then drove up to Gaucin, my Spanish home Village where we stopped to walk in the Sweet Chestnut Woods on the Ronda Road. It was very sheltered there but also very quiet, it took a while but we found Eurasian Nuthatch, Long-tailed Tit, Firecrest and lots of Blue Tits.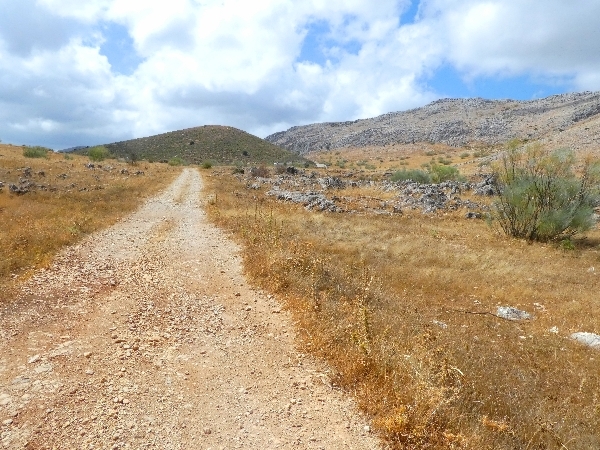 Encinas Borrachas track near Ronda
Another 20 minutes along the road found us in the limestone mountains just west of Ronda, we pulled over at a roadside gateway and quickly found Black Wheatear, Blue Rock Thrush, Common Kestrel and a Northern Wheatear,
The Encinas Borrachas Track was just 2 minutes further on, we arrived at 1pm and spent nearly 2 hours walking through the wonderful scenery. We added more birds to the trip list including: Black-eared Wheatear, Woodchat Shrike, Thekla Lark, Spectacled Warbler, Red-legged Partridge and we saw several more Black Wheatears, Blue Rock Thrushes and Iberian Grey Shrikes.
Southern or Iberian Grey Shrike
Our last venue was the huge Natural Park called Sierra de las Nieves where we had our late lunch sitting at the picnic tables near the entrance to the park. We immediately found a pair of stunning Black-eared Wheatears, the male in particular looked like a fresh spring bird. A female Common Redstart also flitted about in the lower branches of the trees nearby.
Moving further into the park we stopped near an area of heathland in an open valley, we had a lovely time there watching a very obliging Dartford Warbler. We also saw at least 6 Black Wheatears, 2 Black Redstarts and 4 Red-billed Choughs.
Dartford Warbler taken through the bus window
Before turning around and driving off the reserve we Parked by a small stream and a pine forest, there we saw Grey Wagtail and we searched for Coal Tit without success. It was approaching 5pm and we had a long journey back to Tarifa so we called it a day. We had seen 29 new species, most of our targets were on the list now, we were happy with our day.
We were back at the Hotel at 6:30pm in good time for another delicious dinner, it was still warm enough for us to eat out on the terrace, a nice glass of Rioja went down well.