MONTENMEDIO GOLF COMPLEX – LAGUNA MEDINA – LAGUNA JUNCOSA – SANULAR 'PONDS' BONANAZA SALT PANS – LAGUNA TARELO – CHIPIONA BEACH
WEATHER: Wall to wall sunshine, light breeze, top temp. 30C
Another epic day, 95 species on the list with some great sightings of Marbled Duck, Red-knobbed Coot, Ferruginous Duck, White-headed Duck, Penduline Tit and many more.
It was another hot one! The wind around Tarifa was again too much for us so we went inland again, but it was hot. We set off as usual at 8am and drove towards Cadiz stopping at the Golf Complex, Montenmedio. We spent some time near the entrance hoping to see some passerine migrants but all we got was a flight view of Iberian Green Woodpecker and a perched Little Owl.
The trip to Laguna Medina took another 30 minutes we noted many species along the way including both Marsh & Montagu's Harriers, Booted & Short-toed Eagles. When we arrived at Laguna Medina we thought that we may not be able to visit because the whole area was engulfed in a shroud of smoke form a distant wild-fire.
Adult and chick - Great Crested Grebe
Fortunately, the smoke began to clear as we made our way along the reserve track. The laguna was covered in thousands of birds we spent a lot time sorting out the ducks, grebes, herons and egrets. The local birs Conversation group was present and were making a 'duck' count. They helped us locate one of the 5 Red-knobbed Coots present, we had already found 10 Ferruginous Ducks, lots of White-headed Ducks and dozens of Black-necked Grebes.
juvenile Penduline Tit
From the hide we found Reed Warbler, a party of 5 Penduline Tits, Purple Swamphen, Glossy Ibis and good numbers of both Common and Red-crested Pochard. Along the track we had sightings of Common Waxbill (4), Cetti's Warbler, Garden Warbler, Zitting Cisticola, Red-legged Partridge and Sardinian Warbler.
Lots of Swifts were feeding overhead we had good views of Common, Pallid and Alpine Swifts as well as lots of Red-rumped Swallows. We also noted an Osprey flying over and a single Marsh Harrier, Black Kite, Honey Buzzard and Eurasian Sparrowhawk.
At Laguna Juncosa some 20 minutes from Laguna Medina we noted that the water level was very low and soon it would be dry. We listed a good variety of waders: Wood Sandpiper, Ruff, Common Snipe, Pied Avocet, Curlew Sandpiper, Dunlin, Greater Ringed & Kentish Plovers, Glossy Ibis, Purple Swamphen and a good number of Red-legged Partridges.
Marbled Duck - a beautiful bird and always a show stopper
After stopping in Sanlucar to buy lunch supplies we stopped at the first of three 'ponds' to eat our lunch, during which time we scoped the pond to find MARBLED DUCK (6), Squacco Heron, Purple Swamphen, White-headed Duck and lots of common species. In the pines we found Pied Flycatcher and in the reeds we found Mediterranean Chameleon.
Record shot of the Mediterranean Chameleon
Pond No. 2 held nothing new for us except Common Kingfisher and at pond 3 we added Night Heron, Great Cormorant and another Red-knobbed Coot to our list.
The Salt Pans at Bonanza were disappointing somewhat, we did see a good variety of species, but many were too far away and many 'pans' were completely empty. We did add Bar & Black-tailed Godwits, Common Shelduck, Caspian & Little Tern, Slender-billed Gull and Little Stint to the day list. The numbers of Greater Flamingos. Pied Avocets and Slender-billed Gulls were all in their hundreds.
two shots of Caspian Tern
A brief stop at Laguna Tarelo produced absolutely nothing new, a dozen or so of Night Herons but many birds had deserted this laguna.
my companions - Linda, Richard and Paul with an ocean going cargo ship in the background on its way to Sevilla
Our drive to Chipiona via Algaida Pine woods and Trebujena Marsh produced nothing new at all! When we arrived at Chipiona marina we immediately encountered our target species the LITTLE SWIFT! At least 12 were in the air at one time, click, click! After an ice-cream, a coffee on the beach and listing of Ruddy Turnstone and Sandwich Tern we set off for the hotel at 5:20pm.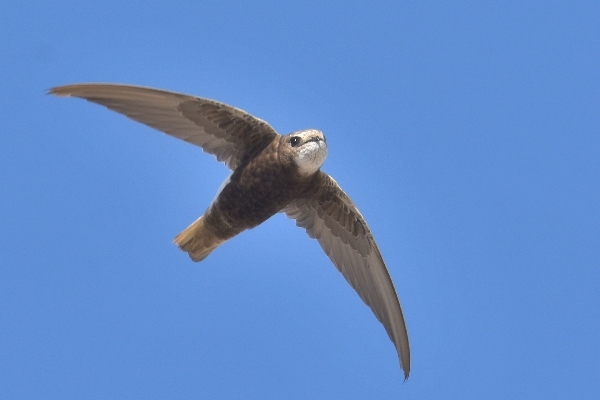 juvenile Little Swift - taken by Richard Pettett
It was almost 7pm when we got back, so a quick shower and a change of clothes and onto the dining terrace for a delicious meal of fish. The log revealed that we had seen 95 species bringing our total to date to 148.