LAMIN RICE FIELDS - ABUKO NATIONAL PARK – LAMIN LODGE – LAMIN RICE FIELDS II
WEATHER: hot, sunny and humid 30C
It was another great day's birding in sunny Gambia, so after a lovely breakfast on the outside terrace at the hotel we set off for Lamin Rice Fields. It took about 40 minutes to get there and soon we were birding in the open rice fields.
Birds of prey featured first with a Shikra sitting out nicely, an African Harrier Hawk flying over and perching in a palm, then a Gabar Goshawk flashed by right over the top of us and landed in another palm not too far away. Wow, that was special!
Shrikra
The area was full birds, I mean chock-a-block, the sky was full of Black Kites, Hooded Vultures, Herons, Egrets, Doves and Weavers. We spent a lot of time watching those before we began our walk across the rice fields.
A Purple Heron flew across the sky in front of us, African Jacanas were common, we saw a single Black Crake, Striated and Squacco Herons, Great Egret and lots of Cattle Egrets. Flocks of Piapiac, Long-tailed Glossy Starlings, Blue-cheeked Bee-eaters and many Pied Kingfishers.
We searched the rice fields for Painted Snipe without success but we added Northern Red Bishop and we had a good sighting of rarely seen Little Bittern. In the pools near the mangrove swamp we saw many doves coming down to drink also Senegal Thick-knee, Spur-winged Lapwing, Whimbrel and Common Sandpiper.
We left the rice fields around 10am and walked across the road to Abuko National Park where a contrasting forest habitat produced a completely different set of bird species. From a raised hide in the Darwin Centre we watched Fanti Sawings and African Palm Swifts swooping down to take a drink from a large pool where several pairs of Black-headed Herons were building their nest in the surrounding trees.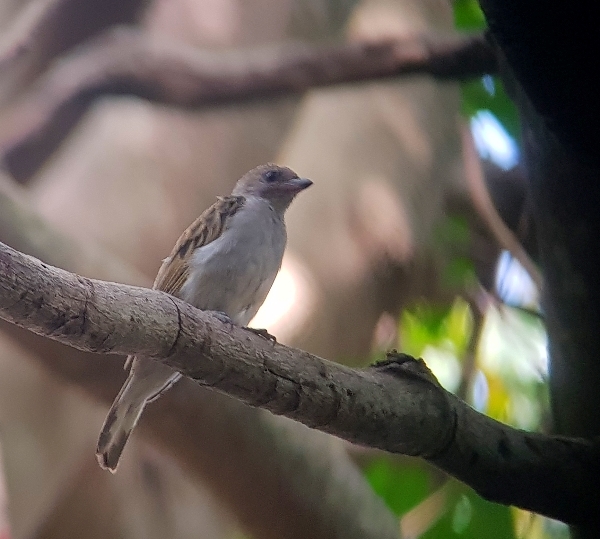 Lesser Honeyguide
We had several brief sightings of Violet Turaco before one landed in view in a nearby tree, but other than that very species were seen there. Back on the trail we spent the next hour or so searching the trees and following calls for all kinds of species. We eventually caught up with Green Turaco, it gave very short, but excellent views at times.
African Goshawk
We saw Red-cheeked Cordon Bleu, Bronze Mannikin, Lesser Honeyguide, Yellow-breasted Apalis Common Wattle-eye, African Red-breasted Paradise Flycatcher, African Thrush, Black-necked Weavers, African Pied Hornbill and others. Our best sighting by far was that of an African Goshawk, what a beauty and didn't sit still for our cameras?
a better picture of the Blue-bellied Roller
Others birds were heard and not seen such as: Oriole Warbler and Western Bluebill, we hope to catch up with those at a later date. For lunch we drove down a bumpy dirt track to Lamin Lodge.
very common but also very beautiful - Speckled Pigeon
Lamin Lodge is one of those special places that you will never forget! It is restaurant deep in the mangrove swamp on the edge of wide creek, it looks as though it should have fallen down a long time ago, but we had a nice lunch sitting on the top floor overlooking the river and mangroves, it was magical.
A Green Vervet Monkey joined us for lunch and stole half a sandwich from our guides plate, we also saw a Swamp Mongoose as we were leaving. Before driving back to take a second walk in the rice fields we went for a short walk. We heard a Wryneck calling without seeing it and we found Grey-headed Sparrow, Little Weaver, Beautiful Sunbird, yellow-fronted Canary, Subalpine Warbler, Red-billed Firefinch. An Osprey flew over us as did another Harrier Hawk, hundreds of Black Kites and Hooded Vultures circled on the thermals.
who said that elephants are not found in the Gambia?
We spent the last two hours of the day back in the rice fields hoping for a sighting of the Painted Snipe but it too busy with locals working in the fields. Again we saw many species a few were new for the day: Malachite Kingfisher, Giant Kingfisher, Blue-bellied Roller, Senegal Parrots (they were excavating a hole in the trunk of a palm tree), a few Blue-cheeked bee-eaters came down and perched in bushes near to us.
Malachite Kingfisher
It was lovely out there in the afternoon light, much more comfortable as the temperature dropped and the humidity reduced. We left the rice fields around 5:39pm and returned to the hotel. Dinner was taken out on the terrace in the warm evening temperature of around 20C, smashing!