TUJERING SCRUBLAND – HOTEL SENEGAMBIA AND BEACH AREA
WEATHER: overcast for most of the morning, sunshine later. Hot and humid all day. Temp 25 -30C
What can I say? Other than, it was another terrific morning, I know….change the record Bob, but why should I when the birding is so good?
this little beauty is on the grass outside my room most days - White-crowned Robin Chat
Tujering was once a flourishing forest which was decimated in the 70's and 80's, but it developed into a fantastic scrubland with scattered trees and lots of scrub. Slowly it is disappearing with small holdings being-developed and more encroachment by the local population.
I still love this open area because you have a lot of sky to watch and fewer trees for the birds to hide in! Another advantage here is the type of trees, they all seem to have small leaves except for the huge Boabab Tree.
Black-crowned Tchagra
We stopped to admire a Grey Kestrel perched on a pylon as we left the Kololi district and headed south to Tanji. The day list rose exponentially as we left town because the roadside power lines were drooping with the weight of perched birds (I may be exaggerating a little). Apart from dozens of doves we saw Piapiac, Yellow-billed Shrike, Blue-bellied Roller, Glossy Starlings, Senegal Coucal, Western Grey Plantain-eater, Hooded Vultures and Yellow-billed Black Kites.
Klaas's Cuckoo
Once on the ground we followed a winding track into the scrub our first birds were Cisticolas, the Singing and the Zitting, both showed briefly. We could also hear Red-winged Warbler but it failed to show.
One of our first birds seen in the trees was a small green cuckoo, the Klaas's Cuckoo, it was fly catching from a small trree, a wonderful start.
Searching the few trees available to us we found Common Chiffchaff, Willow Warbler, Whinchat and Common Redstart!! Hang on a minute…..I thought we were in Africa and not Somerset! This area is loved by wintering western palearctic species we went on to find Olivaceous Warbler too.
A male Beautiful Sunbird
Some local specialities took a while to find, but we eventually saw the White-fronted Black Chat, Brown-backed Woodpecker, Chestnut-crowned Sparrow Weaver (this bird is a sparrow but it weaves an intricate nest just like weavers do) and Yellow Penduline Tit, we only heard the latter.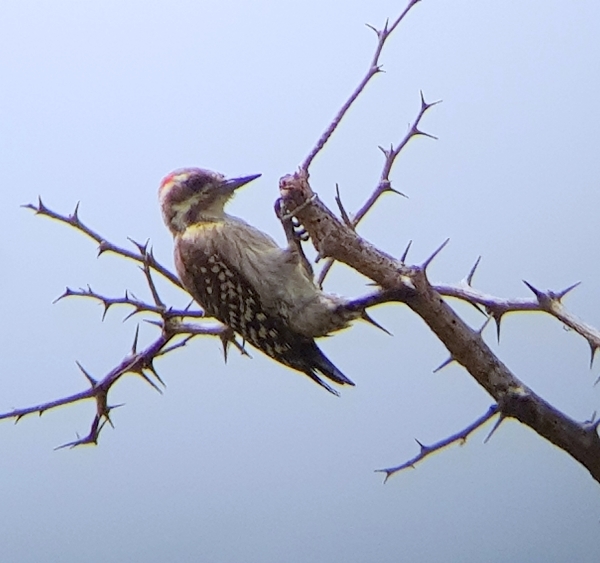 Brown-backed Woodpecker, a very small species of about 11 cm.
Birds of prey featured heavily in our enjoyment, we saw two Lanner Falcons, Beaudouin's Snake Eagle, Dark Chanting Goshawk, at least three Ospreys, a Lizard Buzzard and the usual Hooded Vulture and Yellow-billed Kite.
Dark Chanting Goshawk
Other sightings of interest were: Striped Kingfisher (a non fish-eating species), Variable, Beautiful and Scarlet-chested Sunbirds, Tawny-flanked Prinia, Black-crowned Tchagra, Common Gonolek, Little Bee-eater and Pied-winged Swallow.
Pied-winged Swallows
Striped Kingfisher - our seventh Kingfisher species of the trip after: Giant, Pied, Woodland, Malachite, Blue-breasted and Pygmy.
We left at 12 noon, the clouds had cleared up and it became very hot. We added a few species along the track back to the bus such as: Mottled Spinetail, African Golden Oriole, another Grey Kestrel, Olivaceous Warbler (two were found and one of them was singing!) and Northern Wheatear (seen by Modou our guide).
Once back on the bus we drove back along a dirt track to the main road, Modou spotted four Black-headed Lapwings in a grassy field, a new bird for the list. There was two Wattled lapwings also in the field, a bonus!
African Grey Hornbill seen earlier today at Tujering
For the afternoon we were left to our own devices, some downtime and a well-earned rest. I arranged a short birding trip to the beach, only one of the eight turned up!! So, Cheryl and went to beach with a scope and our bins, it was useless down there. We saw a few passing birds but the beach was crowded with sun bathers and the birds were too far off-shore. We managed to ID Grey-headed Gull, Sandwich and Royal Terns and a smaller tern looked like an Arctic Tern, but we couldn't be sure.
We had plenty of time to pack our bags for tomorrow's journey up river, we had an early dinner and an early night.