TRANSFER FROM TENDABA TO GEORGETOWN ISLAND WITH STOPS AT SOMA WETLANDS FARAFENNI PEANUT FIELDS – WATER HOLES – KAUR WETLANDS – NAJAU PONDS - PENCHANG PONDS – WASSU QUARRY
WEATHER: another hot and humid day, sometimes with a light breeze, 35C at times!
The air-conditioned bus was a godsend today, we really appreciated it as temperatures reached 35C. Our journey to Georgetown Island was punctuated with many stops, it took us all day to get there but it was an enjoyable trip. I've lost count of the number of places we stopped at and have only included those that provided new species and good sightings of others. We found this Chameleon by the roadside a little earlier in the journey.
African Chameleon
The wetlands at Soma were disappointing because very few species were seen there and those that were seen were quite distant. We did see both Gull-billed and Caspain Tern, Woolly-necked Storks, Pied Kingfisher and lots of common egrets and herons.
Sunrise this morning at Tendaba Camp
The same goes for the peanut fields where we searched for Abyssinian Ground-Hornbill, most of the fields were being worked and so there was a lot of disturbance. We gave up after only 20 minutes out there, we saw Striped Kingfisher, Dark Chanting Goshawk, Abyssinian Roller and not much else. We stopped to look at a Brown Snake Eagle along the road just before the peanut fields.
Striped Kingfisher
We then went to the water holes which are found alongside the main road, there we had much more excitement and lots more birds. The first watering hole produced dozens of species including the diminutive Namaqua Dove and the enigmatic Exclamatory Paradise Whydah. What a bird the male is. We also saw Bush Petronia, Yellow-fronted Canary, Red-cheeked Cordon-bleu, hundreds of Bishops and countless doves.
a typical watering used for cattle
The diminutive Namaqua Dove
RTed-cheeked Cordon-bleu
At the second watering hole we sat and ate our picnic lunch whilst watching even more birds. Its great when you sit and the birds come to you. We added Cinnamon-breasted Rock Bunting, Black-rumped Waxbill, Red-rumped Swallow and a group of White-throated Bee-eaters came down to splash into the water. Harrier Hawks flew over us and a even more Namaqua Doves were seen.
this African Harrier Hawk came down to bathe at the second watering hole
Apart from birds there was a great mass of butterflies coming down to drink up minerals and saltsfrom the wet soil around the pool, many Grass Yellows were joined by Guineafowl Butterflies and Diadems.
Kaur Wetlands is usually very productive and is one of my favourites places to stop, but today it was not so good. We did find a pair of Egyptian Plovers which ordinarily should have be the highlight of the day, but of course we had already seen one on the coast. We did find Marsh sandpiper, lots of Woolly Storks, Common Greenshank and lots of common species.
a blurry shot of the Marsh Sandpiper
It got very hot after lunch and it was difficult to stay out of the vehicle for very long, we had short stops at various ponds looking for Pygmy Goose without success but we did find a few new species. At Njau ponds we added Yellow-crowned Bishop and a Gabar Goshawk flew into a tree very close to us. Overhead, Modou our guide picked out a pair of African Hawk Eagles, they were very high up but quite identifiable with their distinctive black and white markings.
the head and shoulders of a Levaillant's Cuckoo
Penchang Ponds produced a few more species, we added Common Moorhen, Reed Warbler, Red-throated Bee-eater and a few others to the list. It was the Quarry at Wassu that produced our best birding of the day by far. By the time we arrived there it was late afternoon, the temperature had dropped significantly and a breeze kept us cool.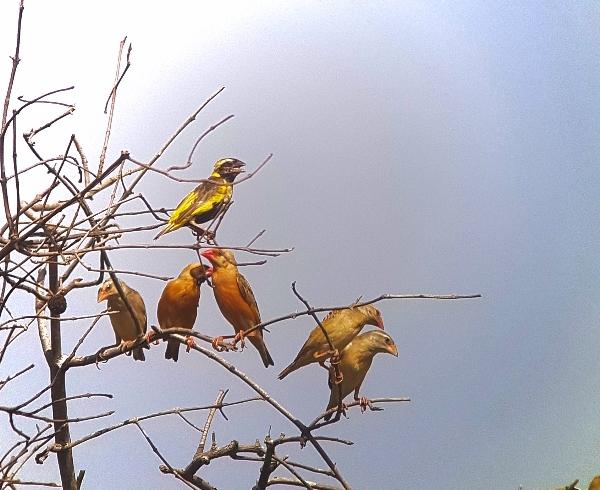 Red-billed Queleas
The quarry is well known for hosting a huge colony of Red-throated Bee-eaters, they did not disappoint, hundreds of them filled the trees and bushes all around the quarry. The quarry itself was half-filled with water and held several wetland species, we saw Spur-winged Lapwing, Black-headed Lawing and Wattle Lapwing along with Senegal Thick-knee, Green sandpiper, Black-winged Stilt and Long-tailed Cormorant. But the best bird by a country mile was the GREATER PAINTED SNIPE.
The beautiful Red-throated Bee-eater
male Greater painted Snipe
Unfortunately the Snipe was a male (there is a role reversal with this species), so it wasn't so colourful but all the same it was smashing to see. We also had good close views of Levaillant's Cuckoo, White-billed Buffalo Weaver, three species of Glossy Starlings, Piapiac and much more.
We were exhausted but there was very little travelling left to do, we go to the ferry some twenty minutes later we were at our 'Camp' on Georgetown Island by 6pm.
Within 10 minutes we were out again, a short bus drive down the lane found us searching for Four-banded Sandgrouse, which we found in semi-darkness. Back at the 'camp' we ate dinner at 8, which was delicious. We all went off to bed at 9pm, I think we shall sleep well.