COASTAL PENINSULA NEAR LOUTRA – LOUTRA VILLAGE - KALLONI SALT PANS – RIVER TSIKNIAS
WEATHER: quite cloudy with a very cold wind blowing all day. Top temp 11C.
What a terrific start we had to our 8-day tour of the Greek Island of Lesvos. Guy and myself had travelled overnight from London and we met up with Richard at a hotel near Mytiline Airport and Mervyn was going to join us later.
The coast road heading east from the airport takes you through some beautiful scenery with rolling hills and pretty sandy bays. We stopped in this habitat to look for warblers, the Ruppell's in particular. The scrub covered the hill side from its peak down to the ocean, a short walk along the road produced a few sightings.
The coastal scenery is stunning on Lesvos
Sardinian Warblers and a single Eastern Subalpine Warbler went onto the list before we found our most wanted species the Ruppell's Warbler, we had great views of this little beauty. Other birds seen were Raven, Linnet, Great Tit and out to see we watched a fishing boat coming back into port, it had an entourage of hundreds of gulls and shearwaters. We identified Scapoli's Shearwater, seen in good numbers and Yellow-legged Gulls seen in hundreds.
Ruppell's Warbler
A quick stop down at a coastal marsh produced Reed Warbler, Eastern Olivaceous Warbler, dozens of Sand Martins, Swallows and House Martins. We heard Great Reed Warbler but we did not see it. Above us, swarms of Alpine Swifts were joined by Common Swifts with more Sand & House Martins and more Olivaceous Warblers sang from the tamarisk bushes.
A short search in the village of Loutra to look at the Laughing Doves, produced only one of this new addition to the Lesvos Breeding birds.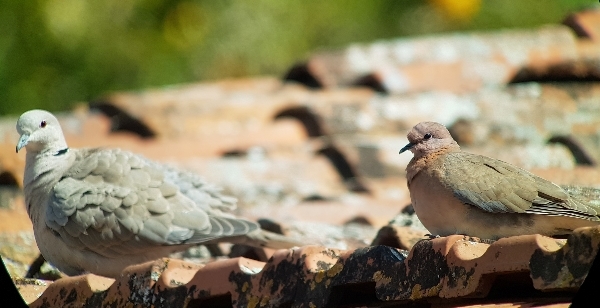 Laughing Dove next to a Collared Dove for size comparison, how convenient!
The rest of the day was just a whirlwind of birding as we visited many sites along the route towards Skala Kalloni where our hotel is situated. The number birds seen was ridiculous, so many goodies were out there.
We visited the River Tsiknias a couple times to look for a 'first for Lesvos' Jack Snipe, we eventually found it after some good advice from various people. Lots of birders were about including many other Birding Companies it was very busy along the tracks. We also saw Spotted Crake, Common Snipe, Glossy Ibis and more Wood Sanpipers in the same small section of the river!
A first for me on Lesvos, Javk Snipe
The Salt Pans were relatively quiet and lots of pools held too much water, which made it too deep for waders. The spring had been very wet, which in turn had brought out the spring flowers in abundance, the roadside verges and hedgerows were a blaze of colour it was beautiful to see.
Spotted Crake
New species kept on coming, we saw Short-toed Eagles, both Long-legged and Common Buzzards, Black Stork, European Bee-eaters, Collared Pratincoles, Woodchat and Red-backed Shrikes, Whinchats, Yellow Wagtails of various races, Black-headed Buntings, Common Whitethroats and so many Wood Sandpipers you couldn't count them.
a Black Headed Bunting
Guy got excited when he found a Red-throated Pipit, it was one of his 'must-see' species, it was on a small pool with 50+ Wood Sandpipers, a Little Ringed Plover and a Little Egret.
wild flowers
Lesser Spotted Fritillary
Both Guy and myself had travelled overnight and we were now getting fatigued, it was 6pm by the time we left the field. We had seen over 60 species with many great sightings on the list, if it wasn't for that very chilly wind it would have been a perfect day.